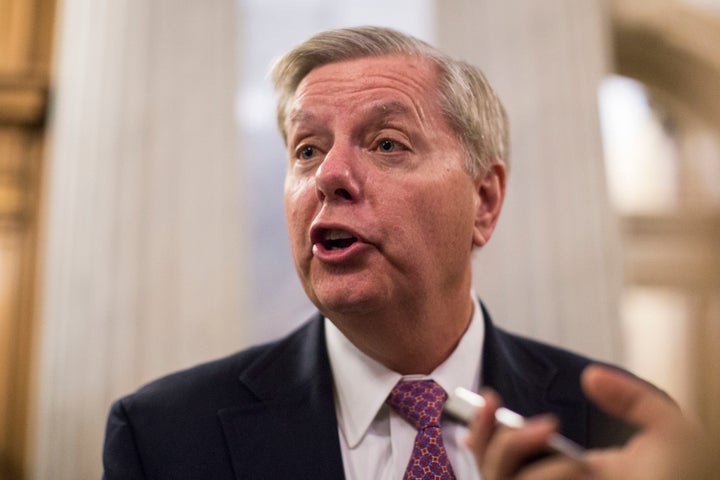 WASHINGTON ― After watching NBC's Commander-in-Chief forum on Wednesday night, Lindsey Graham is mulling a move to Canada.
The Republican senator from South Carolina had nothing positive to say Thursday about either presidential candidate's performance during the forum, which focused on foreign policy issues, and again distanced himself from his party's nominee.
"It makes me want to move to Canada," Graham told reporters at the Capitol.
Despite having some positive expectations for her, Graham wasn't impressed with Democratic presidential nominee Hillary Clinton's performance, calling her "defensive."
"I thought her idea of we don't need any troops in Iraq and Syria ― even though we got 7,000 in Iraq and probably close to a thousand in Syria ― was disappointing," Graham said.
But Graham, who has served in Congress since 1995, saved most of his criticisms for Donald Trump.
Earlier this week, Graham appeared to be warming to Trump, crediting the real estate mogul for presenting a "more disciplined message" in recent weeks. But after watching the candidate praise Russian President Vladimir Putin during the forum Wednesday night, Graham's tune changed.
"In terms of competency, I think Trump fell way short," Graham said. "You're running to be the leader of the free world, and if you find admiration of Vladimir Putin, then I'm not with you."
"I don't understand how any candidate to be leader of the free world could praise Putin, who's a thug and an autocratic dictator," Graham continued.
Graham had similarly harsh words in a later scrum with reporters. "I think this is the biggest miscalculation since people thought Hitler was a good guy," he said of Trump's kind words for Putin, according to Bloomberg.
"He's been a leader far more than our president has been a leader," Trump said.
The Republican presidential nominee went on to say that if he were elected he would keep the Islamic State out of Iraq once defeating them by taking the country's oil.
Taking Iraq's oil, Graham said, would "start World War III."
Other Republicans weren't so eager to discuss Trump's adulation of Putin.
"I'm not going to go down that path," Senate Majority Whip John Cornyn (R-Texas) said when asked if he agreed with Trump that Putin is a better leader than President Barack Obama.
Sen. Bob Corker (R-Tenn.), the chairman of the Senate Foreign Relations Committee, said he'd rather not be "the referee" when it comes to rhetoric on the campaign trail.
"It doesn't really have to do with anything about public policy," Corker said of Trump's remarks about Putin.
When pressed further on the issue, Corker did advise that Trump should be careful and not be affected by a foreign leader's compliments.
"One has to be careful not to succumb to flattery when there are issues like this that are very important for us to resolve," he said, referring to tensions between the U.S. and Russia.
On the other side of the Capitol, House Speaker Paul Ryan (R-Wis.) sidestepped a question about Trump's friendliness toward Putin.
"Vladimir Putin is an aggressor that does not share our interests," Ryan said. "It certainly appears that he is conducting in state-sponsored cyberattacks on what appears to be our political system ... That is an adversarial stance."
But does the Republican presidential nominee's praise of Putin concern him?
"I made my points about Putin clear. I'll just leave it at that," Ryan said.
Popular in the Community