WASHINGTON -- Six states have primary elections Tuesday, with Sen. Lindsey Graham (R-S.C.) and House Majority Leader Eric Cantor (R-Va.) hoping to thoroughly pummel their upstart conservative opponents.
Graham is facing six challengers, and despite conservative dissatisfaction with the fact that he occasionally sides with Democrats, it doesn't look like any of them will be able to knock him out Tuesday. Cantor's opponent, a libertarian college professor, also hasn't been able to gain a lead against the incumbent, although his vocal supporters have caused headaches for the congressman.
Maine, Nevada, North Dakota, South Carolina and Virginia all have their elections Tuesday. Arkansas has only a few runoffs -- one between two Republicans vying for attorney general and two other runoffs for positions in the state legislature.
Here's a look at the key races The Huffington Post is watching:
SOUTH CAROLINA SENATE: The question has become not so much whether Graham will beat his six GOP challengers Tuesday, but will he get more than 50 percent of the vote to avoid a runoff? Last year, many conservatives who consider Graham too liberal -- because he voted for President Barack Obama's Supreme Court nominees and wasn't opposed to immigration reform -- felt he would be prime for a defeat by a tea party candidate. Graham has even been repeatedly censured by Republicans in his own state. The congressman, however, has benefited from a significant fundraising advantage and polls show him with a commanding lead over the field.
VIRGINIA-7: Cantor is facing a feisty challenge from Dave Brat, whom Slate's Dave Weigel describes as "a professor running a libertarian-funded program at his school and running against Cantor for his debt ceiling votes and refusal to rule out immigration reform." Cantor has gone after Brat and tried to brand him as a "liberal college professor." Cantor is widely expected to beat Brat, but the the tea-party-backed Brat and his vocal supporters have still been a thorn in the side of the congressman. During a local GOP convention last month, Brat backers loudly booed Cantor in front of his family.
VIRGINIA-8: Seven Democrats are battling for the nomination to replace retiring Rep. Jim Moran (D-Va.) on Tuesday. The seat is considered safely Democratic, meaning the winner will likely be in Congress next year. All of the candidates support Obamacare, gay rights, equal pay, net neutrality, raising the minimum wage and expanding Medicaid. The candidate with the most money and support from some prominent Democrats -- including former Vermont Gov. Howard Dean (D) and former Obama official David Axelrod -- is Don Beyer, the co-owner of nine auto dealerships who also served two terms as lieutenant governor of Virginia. Patrick Hope, a former state delegate who founded the Virginia Progressive Caucus, has charged that Beyer did not do enough during his time in Richmond to help families on welfare. Laverne Chatman, former president of the Northern Virginia Urban League, injected some star power into the race when her friend, Oprah, headlined her kickoff fundraiser. Chatman is also the only woman running in the race.
MAINE-2: Both state Sen. Emily Cain (D-Maine) and state Sen. Troy Jackson (D-Maine) have been vying for progressive support in their race to succeed Rep. Mike Michaud (D-Maine), who is running for governor. Cain has picked up the support of EMILY's List and the League of Conservation Voters. Jackson, who also touts the fact that he's a logger, recently scored an endorsement from the son of John Steinbeck, who liked the candidate's rural populist message. Cain has had a fundraising advantage during the campaign and has tried to go after Jackson for his votes against pro-abortion and pro-marriage-equality legislation. Jackson has insisted that he won't vote to restrict women's reproductive rights while in Congress and now calls his 2009 anti-marriage-equality vote "the worst vote I ever took." Republicans Bruce Poliquin and Kevin Raye are vying for their party's nomination Tuesday, although the district leans Democratic.
NEVADA-4: Republican Assemblyman Cresent Hardy and tea party activist Niger Innis are hoping to oust Rep. Steven Horsford (D) this fall, and both have tacked to the right in an attempt to win over GOP primary voters. In April, the two rushed to show how much support they've given Cliven Bundy during his standoff with the Bureau of Land Management, which has tried to collect land fees from the rancher. Their support for him came even after The New York Times reported on his racist comments toward African-Americans. Innis has attacked Hardy for voting to implement Obamacare; Hardy has responded that he regrets his votes but does still support expanding Medicaid. Hardy also attracted attention in February for saying he opposed the Employment Non-Discrimination Act because it would amount to a "segregation" law.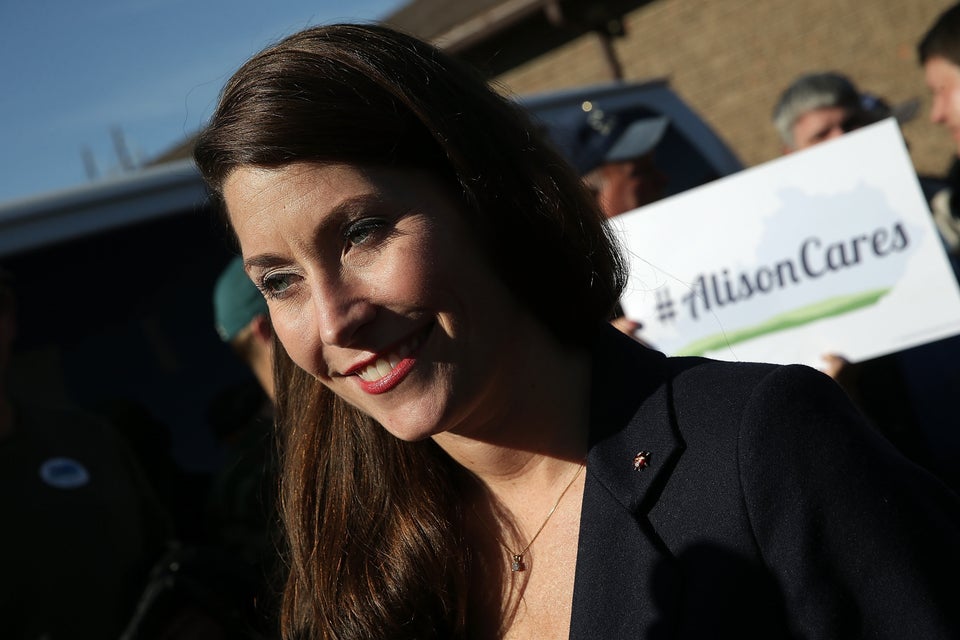 Guns In Campaign Ads
Popular in the Community