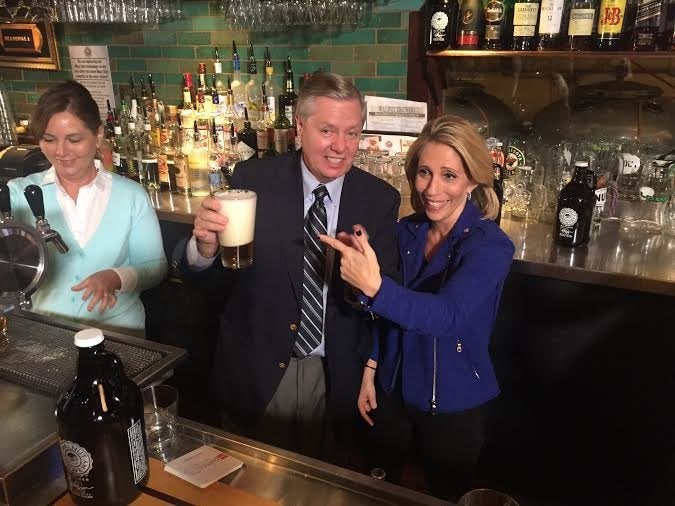 BOULDER, Colo. -- Sen. Lindsey Graham (R-S.C.) says Washington lawmakers should drink more alcohol together in order to get things done. On Tuesday -- the eve of the third Republican presidential debate -- the presidential hopeful decided to lead by example.
Immediately upon entering Walnut Brewery in downtown Boulder, where CNN hosted a pre-debate party for GOP officials and the media, Graham turned his sights on the bar. Along with CNN host Dana Bash, Graham proceeded to pour glasses of liquor and beer to excited customers who rushed forward at the chance to be served by a presidential candidate.
The only problem? Graham appeared unable to correctly pour a beer. Over and over, the senator produced a glass with excessive foam.
"Who wants this one?" Graham yelled at one point, met only by silence.
He took it in stride, however, jovially playing the star behind the bar.
Asked later whether he wanted a shot of whiskey instead, Graham gamely complied. Without skipping a beat, he produced a bottle of Jameson Irish whiskey and poured two shots. A single for him. A double for this reporter.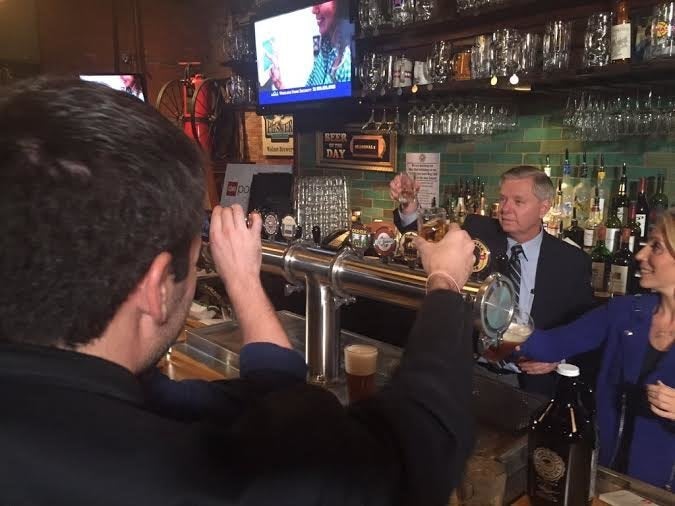 Several shots and a toast to the health of Medicare and Social Security later, Graham was on stage for an interview, cracking jokes and eliciting laughter.
"I don't drink very well, as you can tell from the bar," he said at one point.
Reflecting on his campaign, he noted his low position in the polls.
"We're at 2 percent. I think we're peaking too soon. We're going to have to cut back on our spending," Graham cracked.
Asked about potential candidates in the Democratic presidential race he'd enjoy spending his time with, Graham cited former Secretary of State Hillary Clinton and Sen. Bernie Sanders (I-Vt.)
"I think Bernie can hold his liquor," Graham said, adding that there is "a side of Hillary Clinton that's a lot of fun."
Pressed for an example, Graham cracked, "Not on national television."
Graham didn't spare his fellow Republicans from some good-natured digs, either. Of his friend, Sen. John McCain (R-Ariz.), Graham joked, "When John McCain hears that someone has been shot at, that's the next country we're going to."
A game of "date, marry, or disappear forever," followed next. Asked which of these people -- Hillary Clinton, Sarah Palin, or Carly Fiorina -- he would "date, marry, or disappear forever," Graham initially resisted, joking that he "didn't know we were going to do the Mormon thing here."
Finally, he said he would date Palin and marry Fiorina "'cause she's rich." Asked by Bash if that meant he would "disappear" Clinton, Graham shot back, "No. Is she rich? 'Cause she said she was flat-broke."
The conversation wasn't all bar games. Graham called marijuana a gateway drug, and said he didn't support legalizing it. But, he added, "count me in for medical marijuana" and said he supported a federal law allowing it.
Outside the bar, a group called ProgressNow Colorado protested with two people in Jeb Bush and Marco Rubio costumes. They held signs that said, "Koch Puppet," a reference to the wealthy billionaires Charles and David Koch.