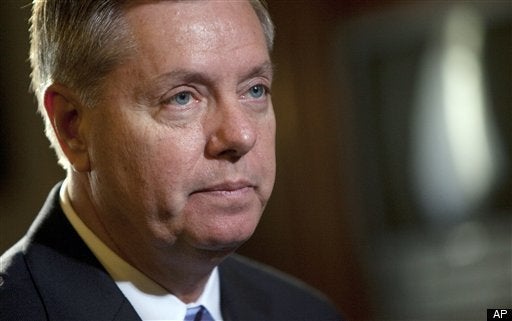 When Sen. Lindsey Graham (R-S.C.) jilted his climate-change partners this week, he abandoned more than a few senators and the White House. He also left behind his first-quarter donors. Almost all of the political action committee money that Graham took in during the first three months of 2010 came from energy companies hoping he'd reach a climate change deal, according to a review of his filing with the Federal Election Commission.
Graham, who isn't up for reelection until 2014, doesn't appear to have been aggressive in his first-quarter fundraising, taking in only $37,000 from PACs. More than $30,000 of that, however, came from energy companies -- mostly nuclear and natural gas companies that would benefit greatly from higher prices for carbon emissions.
PACs associated with Duke Energy, Exelon, Progress Energy, the Edison Electric Institute, PG&E and American Electric Power, among others, contributed heavily to Graham. Missing from his list of contributors are any of the Big Oil companies.
Exelon, a mostly nuclear company, for instance, has estimated it could make an extra billion dollars a year if climate change legislation passes. Higher carbon prices would set off a rush of investments in clean energy companies and a spike in demand for cheap, energy-efficient technologies, which would primarily benefit the lowest emitters of carbon.
The companies that donated to Graham don't seem to be worried that he took their money and ran -- they are just waiting for him to come back around.
"While we are disappointed by this temporary setback, we remain hopeful that the issues will be resolved quickly, and that the U.S. Senate will make passage of an energy and climate bill an urgent priority," said a spokesperson for Exelon, which donated $2,500 to Graham's campaign in January.
EEI and PG&E did not return calls for comment, but Duke Energy, Progress Energy, NEI and American Electric Power all expressed disappointment in the setback and continued confidence in the bill.
"We'd like to think of this as a sort of rain delay," said Mitch Singer, a spokesperson for NEI. "We appreciate the support these three senators have voiced for the legislation, and we have a wait-and-see attitude."
They may not have to wait for long. Senate Majority Leader Harry Reid (D-Nev.) said at a press conference Wednesday that he is going to move ahead with climate change legislation before he addresses immigration, which may pull Graham back on board.
In a speech in Nevada last weekend, Reid told a crowd that he'd be moving on immigration reform, which sent Graham into a tailspin. Though Graham has been a longtime backer of immigration reform and had recently called on Democrats to make it a higher priority, he responded by pulling out of climate change negotiations and also demanded immigration reform be taken off the table.
Popular in the Community