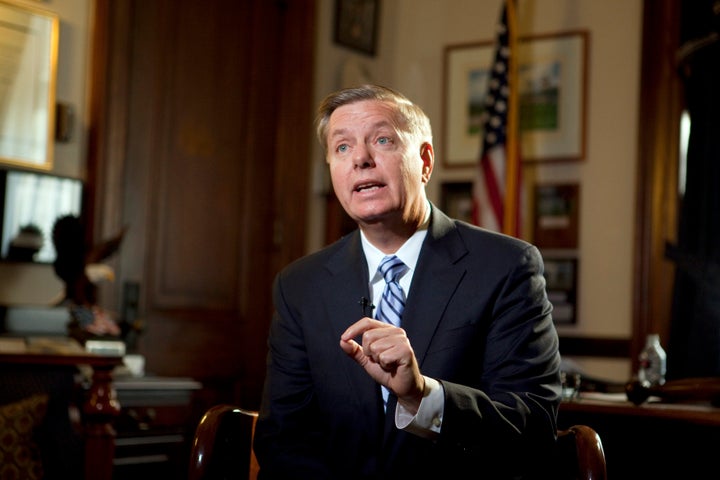 WASHINGTON -- Sen. Lindsey Graham (R-S.C.) said the United States should take a more aggressive approach in Libya to oust dictator Muammar Gaddafi, bombing the capital city so members of Gaddafi's inner circle "wake up every day wondering, 'will this be my last?'"
Graham defended the United States' involvement in Libya, including the newly-approved use of predator drones in the country. Russia and China have accused the U.S. of overstepping a U.N. mandate against excessive force in Libya, arguing Western allies have made the situation in Libya worse.
"I like coalitions: It's good to have them, it's good to have the U.N. involved. But the goal is to get rid of Gaddafi," Graham said on CNN'S "State of the Union."
"A military stalemate is ensuing, and the only way I know to make this thing successful is to put pressure on Tripoli," he said. "So I would not let the U.N. mandate stop what is the right thing to do."
Graham, who appeared on the show with senate colleagues Joe Lieberman (I-Conn.) and John McCain (R-Ariz.), criticized the Obama administration's actions in Libya, saying the conflict could turn to a stalemate if the United States does not take a more active role. Although the United States is still heavily involved in the conflict, NATO assumed control of military operations in March.
McCain, appearing from Cairo after a trip to Libya last week, agreed that the United States should take more leadership within NATO to prevent a prolonged conflict.
"NATO is running this by committee," he said. "The worst thing that could happen in a stalemate. … You would open the door for Al Qaeda to come in."
But McCain differed slightly with Graham on strategy, arguing the best way forward would be to win the battle on the ground rather than "taking a chance on taking [Gaddafi] out in an air strike."
Lieberman, a long-time ally of McCain with respect to foreign relations, echoed McCain's statements, adding that the United States had "a half in, half out" approach to the conflict that could give Gaddafi and his allies confidence that they can remain in power.
"Every time we pull back it says to Gaddafi that he can tough this out, and I want him to feel that we're going to squeeze and squeeze until he's out," he said.
Popular in the Community