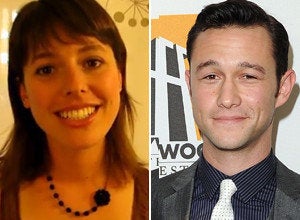 Lindsey Miller, a 26-year old graduate student from Los Angeles, was one of the young patients who felt deeply moved by the film. Diagnosed with pancreatic neuroendocrine cancer in 2010, she keeps a personal blog about her medical journey. Now, a few months after initially seeing, relating to and loving "50/50," she's decided to enter the dating world, and wants the film's star to be her first date.
"After seeing Joseph Gordon-Levitt's performance and seeing/reading some of his subsequent interviews about the film I thought, 'This guy gets it. And he's cute. I wonder if I could ever run into him somewhere,'" she writes. "But even though I live in LA, it seems impossible to find him... Maybe YouTube can help."
In her blog, Lindssy describes how she sees herself.
"With cancer, there are generally only three categories of living patients: those in treatment, those in remission, and those who have been cancer-free for many years (survivors,)" she writes. "I don't fit fully into any of these categories so I made up a new one: I am a liver."
Popular in the Community