Lindsey Port, 35, doesn't really know Al Franken. She met the Minnesota Democrat in passing at political events, but that's about it. And she never even called on him to resign from the Senate after a number of other women accused him of sexual harassment.
But for some reason, she's being blamed for his downfall.
Port has spoken out about sexual harassment. In November, as a Democratic candidate for the Minnesota state House, she and state Rep. Erin Maye Quade (D) accused state Sen. Dan Schoen (D) of harassing them. Schoen eventually stepped down, and Port became one of the most visible faces of the Me Too movement in Minnesota.
She initially received a flood of goodwill for speaking out. But the reaction changed when the Franken allegations surfaced.
Port's willingness to call attention to sexual harassment went from being applauded to being questioned. Members of her own party said she had "softened the ground" for Franken's resignation in early January, and some people even wondered if she was secretly a conservative operative who had planned to take down the popular senator all along.
On social media, Port saw comments that questioned her identity, motives and truthfulness.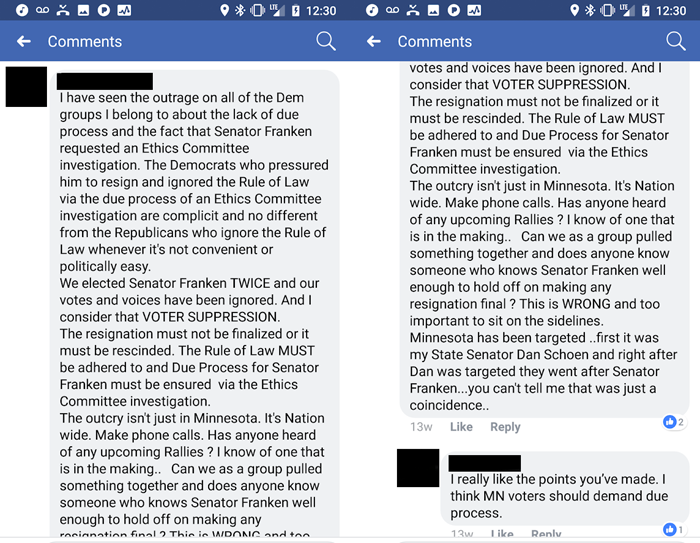 This Facebook commenter above was right that it wasn't just a "coincidence" that the Schoen and Franken scandals happened so close together ― but it's not because there was a large GOP conspiracy to bring them down. The country was in the middle of the Me Too moment, when powerful men like Harvey Weinstein and Matt Lauer were facing a reckoning for their years of abuse, and more women were feeling emboldened to speak up.
That the backlash came from within her own community is particularly disheartening for Port.
"I honestly think the most frustrating part of it has been not only Democrats ― this is our team, these are the people who are supposed to be with us ― but it has been primarily women. There's definitely a generational divide, 100 percent. But it has primarily been women pushing this," she said of the criticism she's faced.
Speaking out has cost Port financially. About a week after Franken's resignation, she dropped her state legislative bid because donors began pulling their contributions, and she felt she couldn't focus on the district and its priorities.
Port also co-operates a nonprofit, Blueprint Campaigns, that helps progressive individuals from traditionally underrepresented backgrounds run for office. The nonprofit also lost donations.
"We had $70,000 pulled the week that Al Franken said he was going to resign," Port said. "In that same window, I also lost $6,000 from my own campaign."
One person asked that her contribution to the campaign be returned. The rest of the unhappy donors, to both the campaign and the nonprofit, pulled their pledges. One donor told Port that she was "too controversial" to support at that time, as MinnPost reported. Port had never had any contributions taken back before.
Meredith Stacey, Port's partner at Blueprint, said she also noticed that after the allegations against Franken broke, people weren't reaching out or returning their phone calls quite as frequently.
"No matter who it is, it's always about the fall of men and never about the women who were just trying to work and do their job and have to endure this over and over and over."
"Democratic donor doors are very shut to me right now," Port said. As evidence, she noted that Ken Martin, the chair of the Minnesota Democratic-Farmer-Labor Party (the state's version of the Democratic Party), unfriended her on Facebook ― an accusation that he denies.
"God's honest truth, I've never unfriended anyone," Martin said. "So to be honest with you, I don't even know how to do it."
"I guess what I am concerned by is any kind of insinuation that me personally or the state party hasn't stood by Lindsey. We've been very supportive of her in these efforts. We believe her," he added. "We think that at the end of the day, if there's any retaliation going on ― as I mentioned to her the other day ― I want to know about it. Because I will call those donors myself."
Port said she hasn't been able to get Martin on the phone to tell him about the problems she's had and the donations that were pulled. She also said she's asked him to raise money to replace the sums that Blueprint Campaigns lost, and he hasn't followed up.
Martin said that he hadn't heard from Port about any request to help her raise money and that he has tried to be as helpful as possible in supporting her.
Feelings about the Franken scandal are still raw in Minnesota. The issue remains so divisive that a number of state Democrats were only willing to give their opinion about the situation off the record.
The former senator's Facebook page is filled with people saying how much they miss him:
"I am still incredibly bitter that you were forced to resign. You were/are one of the good guys."

"I hope you don't retire from politics, Al Franken. There was no due process when you left. I thought it was premature."
State Rep. Erin Maye Quade has also heard the insinuations that she and Port were part of some grand conspiracy to oust Franken or that they'd put party members in a difficult position because after denouncing Schoen, Democrats then were forced to weigh in on Franken.
"I'm the one who gets harassed, and all of a sudden I face all the consequences," Maye Quade said. "No matter who it is, it's always about the fall of men and never about the women who were just trying to work and do their job and have to endure this over and over and over."
"I was more surprised about how much my story was never really about me after that," the lawmaker added. "It was always about the men and their downfall."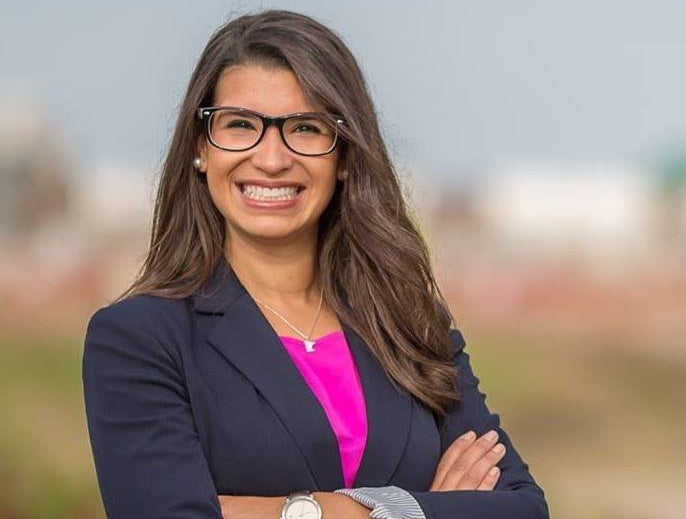 Port and Maye Quade aren't the only women who have faced the ire of Franken supporters. At least one major Democratic donor has said she'll reconsider her support for senators who called for Franken to quit ― including Sen. Kirsten Gillibrand (D-N.Y.), who was one of his toughest critics. (Recall that Port never actually urged Franken to resign.)
MinnPost first reported on Port's decision to drop her state legislative bid because of the backlash she received after the Franken scandal. The story received surprisingly little pickup, especially compared to the attention her initial allegations against Schoen garnered.
But one person who did notice was Laura Flynn, a member of the advisory board for the Movement Voter Project, which raises funds for nonpartisan and progressive groups around the country that are mobilizing and doing voter engagement work. In February, Flynn mobilized other MVP donors and so far, they've raised $26,000 for Blueprint.
"Yes, this is a story about an individual woman facing backlash because of what she did, because of speaking out. ... But secondly, it's a real question for the Democratic Party," Flynn said. "If you're going to turn on the most forward-thinking young people who can actually go out there and run grassroots campaigns and win elections ― it's very clear here in Minnesota, we're not going to be able to win the statehouse if we're going to silence or quash those voices."
Another person who has supported Port has been state Rep. Ilhan Omar (D), who made history in 2016 when she became the first Somali-American legislator in the country.
"I think that for women, we've always known what is at stake," Omar said. "It's really important for people to realize that once you take that step, yes, there are people who are going to be against you, but there are going to be people ― if not as much, but more ― who will stand by you, who will uplift you, who will celebrate you for living your truth, for being brave and for continuing to widen the door for other women to step through."
Support HuffPost
The Stakes Have Never Been Higher
Popular in the Community