Nominated for a Billboard Music Award in the same category as Lady Gaga and Daft Punk. Shined in a harmonious duet with John Legend. Closing in on 4.8 million YouTube subscribers and 630 million combined video views. Not to mention a new album, Shatter Me, landing at number two on the Billboard charts.
And she's just getting started.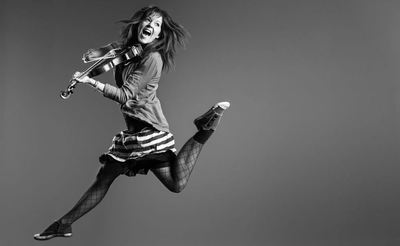 How do you categorize Lindsey Stirling, the classically-trained violinist who dances, performs, and creates an energetic roller coaster of a symphony every time she plays? You can't. She's that unique, and her music and performances are that special. Just ask the legions of fans who watch her videos on YouTube every day, or rush to her high-in-demand concerts. Stirling's music -- made in the classical vein and fused with pulsing energy, dubstep, and heavy elements of dance and electronica -- has taken the industry by storm. Although it almost didn't happen.
Perhaps you have heard the story of Stirling's participation in America's Got Talent in 2010. A dream run to the quarter-finals quickly became a nightmare when she faced a stinging rejection from former host Piers Morgan. From there, her ability to succeed as a solo act was doubted. This, combined with an industry unsure of her marketing potential, put Stirling at a crossroad in her career. Yet what could have been the end actually turned into the beginning -- the true rise of the phenom with the violin.
Using the rejections and doubts as fuel to take matters into her own hands, she began using YouTube as her publishing platform and connection with the fans. This move proved highly successful, making Stirling one of the most watched musicians on the Internet. Her online success translated to sales of over 327,000 copies of her first album, Lindsey Stirling, which has been nominated for a 2014 Billboard Music award for Top Dance/Electronic Album. Her talent and success also granted her the opportunity to join John Legend for a duet of his hit song, "All of Me." This has led to the anticipated release of her second album, Shatter Me, which has had a strong debut at number two on the Billboard music charts.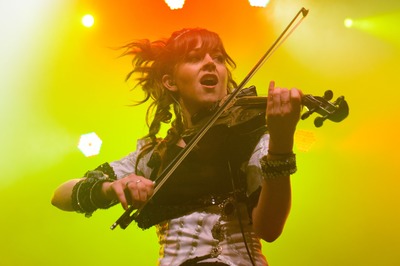 I had a chance to catch up with Lindsey to learn more about what motivates and drives her as a musician, what Shatter Me means, and how she has grown musically, professionally and personally during her fascinating journey.
MTW: What inspires your music and dancing?
LS: I have always loved violin and I love to dance, so I figured why not put the two together? I always enjoyed watching Bond, Barrage, Vanessa Mae, Celtic Woman... and so I figured, "I can do that too... and maybe push the limits a bit..."
MTW: Take us through your mind as you play the violin. What do you "see" when you're playing your songs? What do you feel?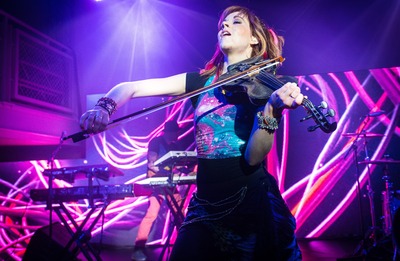 LS: When I'm in my "happy place" I don't necessarily see as much as I feel. I would describe it as just being totally immersed in the music. It's almost like the vibrations of the music and emotions behind it become an extension of me. And it's not even so much a "feeling" as it is an experience. Also, when I'm on tour I love playing live because the exchange of energy between the audience and myself is very dynamic; it helps get me pumped up and excited. There's nothing that helps a performance like a healthy dose of adrenaline, haha.
MTW: Why did you choose to name your second album Shatter Me?
LS: Before I even started writing music for my second album, I had a vision in my head of a ballerina stuck inside of a music box, perfect, unblemished, innocent, and doing the same thing every day since the beginning of her existence. As soon as I saw it, I knew that would be the cover of my album, and that the music I created would be dedicated to breaking her free of her "shell." I named the album Shatter Me because I wanted to inspire people to shatter their fears, step "outside of the box," and have the courage to become who they want to be.
MTW: What are some of the differences, musically and stylistically, between your first album and Shatter Me?
LS: I was really nervous going into production of my second album because I didn't want it to sound too much like the first... my biggest fear was that the music would just sound like "more of the same." And as an artist, I wanted to grow and develop my sound without losing any musical integrity. In other words, I wanted my second album to be different, but to still sound like "me." Most of the singles from my first album were produced by my friend, Marco G, and I absolutely loved working with him. He actually produced "V-Pop" and "Ascendance" on my Shatter Me album. However, in an effort to come up with other original-sounding tunes, I collaborated with other producers such as Silas and Kill Paris. In fact I enjoyed working with Silas so much I kept going back, haha. He produced seven of the songs on this album.
MTW: Do you feel any different as an artist now compared to when you released your first album?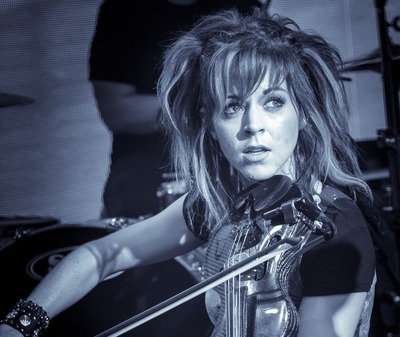 LS: I feel like I've grown a lot -- musically, professionally, emotionally. Life has a way of doing that. There have been a lot of ups and downs, things I did right from the start, and things I had to learn the hard way. It was during the most difficult, trying times that I believe I learned the most, and amidst those times, I feel that [I] created some of my most inspiring work.
MTW: You have persevered through rejection to break new ground in the music industry. What's the greatest lesson you've learned during this journey?
LS: Looking back, I am so grateful to God for giving me hope and instilling in me the knowledge that 1) He loved me; and 2) That He wanted me to succeed. Because there were PLENTY of times I felt like giving up, and many times when I almost did -- but I just couldn't make myself do it. It was like God was telling me, "Don't stop now; keep going; you're almost there!" And that was the truth... because it was during those times when I almost did "throw in the towel" that I had almost achieved the success I had been hoping for.

MTW: Ultimately, what is the message -- or messages -- you hope fans take away from your music?
LS:My goal from the start has always been to inspire others to love themselves for who they are, pursue their dreams, and to strive to make this world a better place. All of my songs tell a story; stories of triumph amidst temptation, breaking free, discovering personal worth, finding joy in the simple things in life... My hope is that my music will empower in others a healing from the past, the strength to pursue a new beginning, and the love and capacity to write their own story, complete with a happy ending.
***
The lead photo is from Lindsey Stirling's website, www.lindseystirling.com
The rest of the photos are by Mikael Hakali, provided by Lindsey Stirling's Support Staff
Popular in the Community