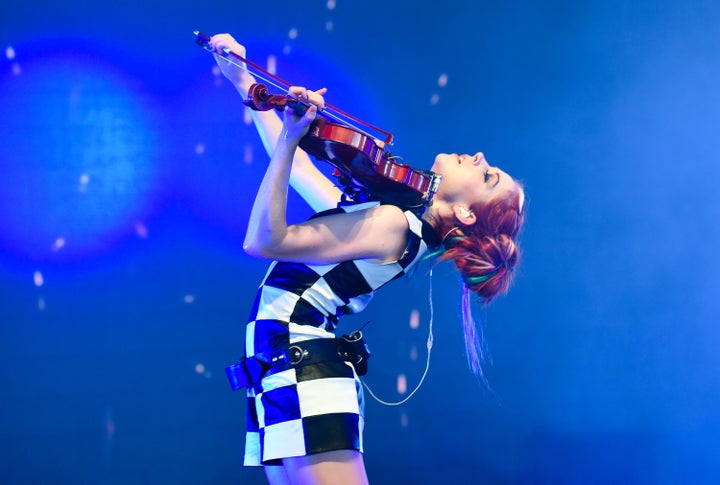 In her most popular YouTube music video, boasting 154 million views, Lindsey Stirling tiptoes around an icy landscape with her violin. She would strike a severe figure in her hooded outfit if the camera never caught her face ― bright and friendly despite the theatrically foreboding tone of her song, "Crystallize," an instrumental dubstep tune released in 2012. 
Stirling is an electric violinist known mainly by the animated performances of original material and covers she uploads to YouTube. Her videos demonstrate lithe twirling, a gymnast's flexibility and total mastery of one age-old stage direction: "smile with your eyes." Her subscribers, numbering over 8.3 million, leave supportive messages in the comments section (an odd pattern on a platform nearly synonymous with "internet troll") that she occasionally reads. Her Instagram page is an album of goofy faces, her travels, her friends ― relentless fun. The comments section is similarly filled with exclamation points and all-caps enthusiasm. It may come as a surprise, then, to know her most recent two studio albums were inspired by personal despair. Stirling's 2014 "Shatter Me" tackles her recovery from anorexia, while her upcoming "Brave Enough" was sparked by the sudden death of her close friend and keyboardist, Jason Gaviati.
After her manager pulled her off the couch, Stirling told The Huffington Post that she adopted a dog, Luna, who is seen in some of her Instagram pictures, and got to work shaping up her then-fledgling album. Like countless artists before and, surely, after her, the 29-year-old found that pouring these terrible experiences into writing helped. "I think we live in a world of masking and covering up wounds rather than actually feeling them," she reflected.
"Brave Enough," she said, follows a theme of "vulnerability," reflecting her mindset after the loss of her friend. Describing Stirling's work in terms of something so cohesive as a theme, however, might seem unfitting. Her new album features a range of collaborators across a range of genres including EDM superstar Zedd, rapper Lecrae, Weezer's Rivers Cuomo and former Jack's Mannequin songwriter Andrew McMahon. Her collection of YouTube videos span "Phantom of the Opera" to dubstep to video game music, making her style a confused mélange of sounds to relax to and dance to.
Stirling doesn't seem to care.
"I don't love categories. I don't love labels," she said. "I've always thought that when you're talking about art or people ― labels are for food, you know? I don't think people or art should have to be put into a box."
It's perhaps a blessing, then, that the performer dodged the chance to step into the genre-obsessed entertainment industry through "America's Got Talent," in which she competed as an unknown in 2010. The reality series offers an intense national spotlight and the chance to headline a Las Vegas show, but cut her in the quarterfinals. ("To be honest, I didn't perform amazingly that night," Stirling admitted.) Instead, she took her music elsewhere, and that egalitarian space suits her. 
Like a human amalgam of a Tumblr feed, she is seemingly equal parts musicianship, unconventional instrumentation, shameless self-expression and a photogenic goofball, appealing to anyone who might relate to one or all of those qualities that have melded together in one red-headed package.
"That's the unusual thing about the internet," Stirling summarized. "It opens the gateway so more unique art can come out, because everything doesn't have to go through gatekeepers anymore." So far, she's played with Celine Dion, Wiz Khalifa, Charlie Puth and, in 2014, as a guest performer returning to "America's Got Talent" after finding a different road to success. 
In her online corner, the violinist has found a place where she can thrive ― connecting her music with an audience that delights in connecting with her.
"Brave Enough" is available Aug. 19.
The Huffington Post receives a percentage from the purchase of tickets bought via a link on this page.
Calling all HuffPost superfans!
Sign up for membership to become a founding member and help shape HuffPost's next chapter
BEFORE YOU GO
PHOTO GALLERY
Celebrity Homes