Food Informants is a week-in-the-life series profiling fascinating people in the food world. We hope it will give you a first-hand look at the many different corners of the food industry. Know someone who would make a great Food Informant? Tell us why.
Erika Nakamura and Amelia Posada are the owners, managers and butchers in chief of LA's artisanal butcher shop Lindy and Grundy. (Erika is Grundy and Amelia is Lindy.) The two, who also live together and are a couple, opened their store on Fairfax last spring (profiled on HuffPost Food). Lindy and Grundy has already been feted as one of the most best butchers in Southern California -- and quite possibly its most sustainable.
Erika got her start in the culinary world in Tokyo, where she was born and raised. Her first job was cooking at her family friend's Indian restaurant. After college, Erika moved back to New York City and went on to attend The French Culinary Institute. She found professional kitchens stressful, so she started working at the meat and fish counter at her neighborhood gourmet grocery, which specialized in local and sustainable products. Soon after, Erika started an apprenticeship at an upstate New York butcher shop. After two weeks, she knew she had found her calling. Erika was a natural butcher.

Amelia was born and raised in Pasadena, CA by her hardworking, chef mother, who specialized in developing menus for food allergies, like gluten intolerance. She gradually became more involved in community outreach programs and eventually moved to Brooklyn, NY, to complete her degree in journalism. Amelia was a vegetarian when she met Erika and the two started dating. As Erika pursued her culinary interests, Amelia worked as a floral designer at luxury New York hotels. Over the years, she became an adventurous eater and, after 14 years of vegetarianism, developed a taste for bacon. Amelia's curiosity and enthusiasm for the culinary arts eventually led the couple to move to the Hudson Valley for a butchering apprenticeship. It was soon after that she was motivated by what she saw as the injustice of factory meat farming to become a full-time sustainable butcher.
Here's a week in the life of Amelia and Erika -- AKA Lindy and Grundy.

Monday, August 22
Amelia
9:30am: Slept in late -- Monday is my one day off. It's my favorite day of the week.
9:32am: Checking email and all social media accounts, getting back to people.
11:45am: Leave in car, we head to the shop.
11:55am: Grab chicken liver pate, crackers and snack while opening mail and looking over invoices.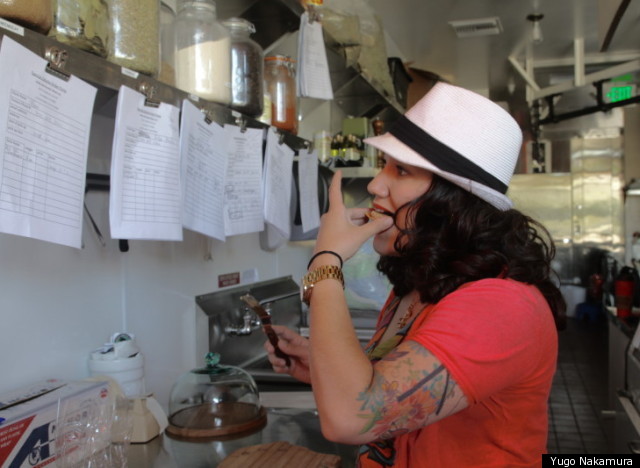 12:20pm: Talk to cattle rancher about picking up 3 whole steer on Wednesday -- we are out of beef again.
2pm: Leave to drop off chorizo at Picca, a new restaurant. The Executive Chef, Ricardo Zarate, is a friend of ours. We make all of our own sausages in house. Our chorizo is amazing and Picca uses it on the menu. We hand tie each link of chorizo with butchers twine, so that they are about one inch long, as per the request of Chef Zarate!
4:20pm: Lunch (ahi tuna sandwich and veggies and a beer).
5:15pm: Back at home, pour glass of wine, check email and place cheese order with Cowgirl creamery, via email.
5:45pm: Nap for an hour.
7:30pm: Make dinner: penne pasta, with our sweet italian sausage.
Tuesday, August 23
Amelia
7:30am: Wake up, text employees the morning prep/to-do list while snoozing.
9am: Leave house to go to Koontz hardware to pick up mineral oil and other provisions for the shop.
10:15am: Arrive at butcher shop, grab an apron and hair net, inspect the shop, check temps, make sure everyone set the cases up correctly, check in with all employees, put cash in register drawer. Erika writes out daily cut list.
10:55am: Yell out "five minutes!" to my crew. Make sure my red lipstick is on.
11am: Open the shop for business
11:15am: Regular customer, Rick, walks in. We catch up, then I help him with his usual order: 3 chicken breasts, butterflied and pounded, 1 lb. of beef 'n bacon grind, pulled pork.
11:35am: Fill out forms for the CA Department of Food & Agriculture, fax forms to my inspector.
Erika
12pm: Start butchering beef for the case.
1:30pm: We're taste-testing sausages for accuracy (new cooks at the shop, so have to make sure the sausages are done correctly!). Our kielbasa turned out DELICIOUS.
4:30pm: Time to butcher another pig to get more chops in the case! Now realize that we didn't schedule any employees for the afternoon/evening...oops! Now we have twice as much to do!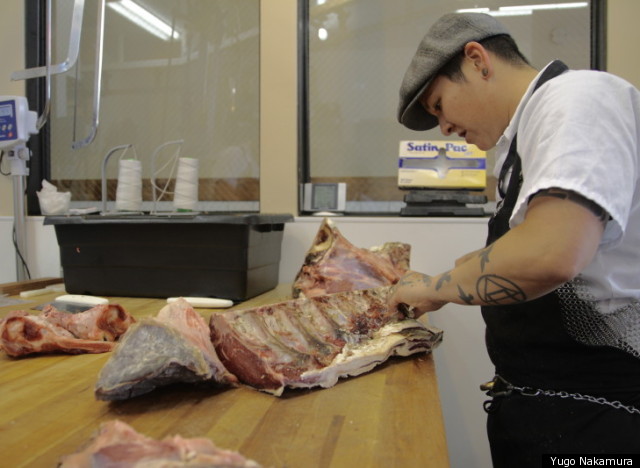 6:45pm: Several people in shop, we're cutting dry-aged steaks up the wazoo!
7:30pm: Closing time! Close friend Kim, walks in to help us close.
7:40pm: Local chef calls us, he needs 200lbs of beef and chicken bones for stock! We start getting his order together.
9:30pm: Finished closing up shop for the night, now lugging all the bones into reefer truck to deliver to restaurant.
10:45pm After we give him the bones, chef brings us out an 8 course feast and drinks!! WE ARE SO LUCKY!
12:30am: STUFFED from late dinner. Leaving downtown, heading home.
1am: Get ready for bed, pass out. we're pooped.
Wednesday, August 24
Amelia
7am: Alarm goes off, snooze until 7:20.
8:15am: Check email & social media accounts.
8:30am: Leave for the shop.
8:55am: Check all stations, check all temps in meat cases, walk in. Erika writes out daily cut list.
10am: Erika starts cutting lamb for the case (and teaching the boys how to break lamb).
11am: Open for business.
11:15am: We both taste test sausages before they get linked for the case.
3pm: Terry, the driver, is here with 3 whole steer from Rancho San Julian, our cattle rancher in Lompoc, CA.
3:15pm: We alert the customers that we have to close the shop for 30 minutes or so to load in the beef, so we finish up with the folks in the shop and then start to prepare for receiving the beef: we flip the sign to closed and scribble a note to put on the windows, saying, "come back in 30 min, we have to accept beef delivery, thanks!"
3:35pm: Amelia climbs up onto ladder, thermometer and receiving list in hand, ready to guide the meat onto hooks for the Lindy & Grundy boys who are hauling the beef in.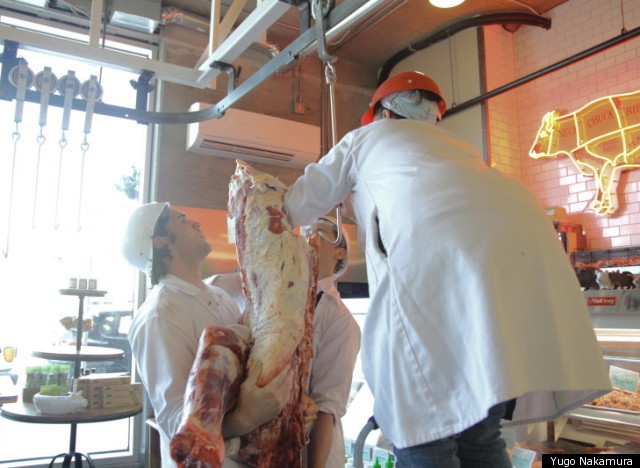 4:15pm: Beef is loaded in and has been inspected and temperatures have been taken! We sweep, mop and sanitize the shop, wash up and open back up.
4:45pm: Erika starts breaking beef, fresh for the case!
7:30pm: Closed! Start breaking down the cases
9pm: Head home.
9:45pm: Cook late dinner: our beef & bacon grind -- burgers!
12am: Crawl into bed.
Thursday, August 25
Amelia
7am: Wake up, put laundry in dryer, crawl back into bed to check email and social media on my phone.
7:25am: Text employees the morning to-do/prep list.
7:55am: Make up.
8:30am: Leave for the shop.
8:45am: Enter shop, grab apron, hairnet, wash up.
9am: Check in with all employees, adjust cases, check temps on all coolers, inspect shop and record sanitation requirements. Erika writes out daily cut list.
9:40am: Pig delivery arrives, so I put boxes of dairy in fridge until I can restock them after accepting delivery.
9:58am: My guys start loading pigs, I help guide them into hook, through cut tendon on rear trotter.
9:20am: All pigs are loaded, so I take 3 internal temperatures of each pig and inspect the animals. We got in 2 pigs, split. One weighed 207 lbs., the other was 202. Check the kidneys and whole carcass.
9:55am: Back to processing area, wash hands .
10:05am: Start paperwork, reapply red lipstick.
11am: Open for business.
7:40pm: Close for business.
7:45pm: Start repapering trays of meat with fresh trays and paper, then wrapping for the night (this process is then repeated in the morning).
9pm: Grab a leftover roasted chicken, some cowgirl creamery cheese, head home.
9:15pm: Cut up chicken, heat up tortillas, make chicken & kimchi tacos. Mmmm.
10:50pm: Set 3 alarms for the morning, head to bed.
Friday, August 26
Amelia
7am: Wake up, check emails from bed, text employees morning prep list.
8:30am: Get to shop, grab apron, hairnet and wash up.
10am: 45 minute skype interview with author of book we're being featured in.
11am: Open for business, Erika starts butchering beef for the case.
12pm: Erika still butchering up a storm!
4pm: COFFEE RUN! We're all exhausted.
9:00pm: Leaving the shop to go drop leftover roasted chickens to friend, Evan Kleiman (she loves our chickens, so we offered to drop some off!).
9:25pm: Heading home to meet friend who has ordered pizza from our favorite spot: Vito's!
10:35pm: Head downtown to a big party.
11:10pm: HUGE line at venue, friends let us in though, PHEW! Too tired for a line!
11:30pm: Settle down in booth with friends and beers.
11:45pm: Customers spot us and approach us to rave about our roasted chickens!! (Thinking to self: where were you these past few days??? Hahah, we had leftover chickens all week!) They are right though, the chickens are delicious.
12:20am: Leave bar, head home.
Saturday, August 27
Amelia
8:20am: Head to shop.
9am: Erika writes out her daily cut list, everyone filling special orders -- we have 23 to fill before 11am so everyone is hustling while also setting up case!
11:15am: ALREADY SLAMMED…. SATURDAY IS SOOO BUSY!!!!! Erika is butchering ALLLLL DAY, Amelia is on the counter with customers!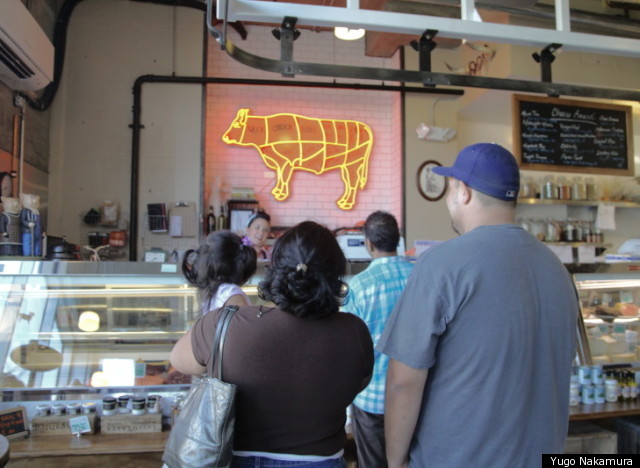 3pm: A friend brings us all food!! What a saint!!!
6:15pm: Attempt to eat first bite of food of the day…foiled! Customers walk in, back to the counter I go!
7:30pm: CLOSED! Flip the sign to closed and start breaking down the cases and checking Sunday's special orders.
9pm: Finished! Head home.
Sunday, August 28
Amelia
7am: Wake up!
8:10am: Grab coffee.
10am: Special VIP regular arrives for his weekly Sunday order: butterflied leg of lamb, 8 chicken steaks, 2 full racks of pork spare ribs and 3 lbs. of lamb loin chops.
10:15am: Customer leaves, we scramble to finish special orders and set up cases before 11am!! AAAAAAAAHHHHhhhhHHHHHhH!
11:10am: SLAMMED already.
12:30pm: Erika breaks a side of pig to replenish pork case.
5:30pm: We were supposed to close at 5pm on Sundays, but people keep flooding in! Last customer of the day, they get: 3 types of cheese, BBQ sauce, mustard, bacon, ground beef, sirloin tip steaks.
5:45pm: Our student, Spencer arrives for the pig butchering class he won at a silent auction -- we donated a class. A mutual friend arrives with him to snap photos! We get him washed up, and geared up to butcher!
6:15pm: He wheels out a pig and starts class with Erika.
8:15pm: Spencer finishes up his first hog butchering class and he did a GREAT JOB!!!!!!!!!!! Spencer, want a job?? I head home to eat drink and relax with the wifey. Monday is our day off, so Sunday we try to let loose! Yaay!
PHOTO GALLERY
Food Informants
REAL LIFE. REAL NEWS. REAL VOICES.
Help us tell more of the stories that matter from voices that too often remain unheard.