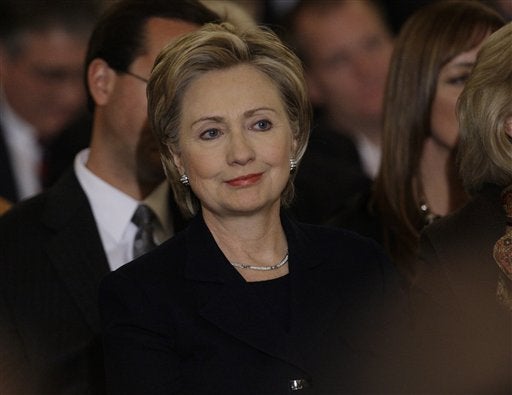 One of the interesting factoids about President-elect Obama's (D) choice of Sen. Hillary Clinton (D-NY) as secretary of state is that protocol will dictate that Clinton sit immediately to the right of Obama in cabinet meetings, making for great photos and a fascinating dynamic. The vice president sits immediately across from the president, and each cabinet secretary sits to their right in alternating fashion based on the date the department or agency was created.
Along those lines, according to the order of presidential succession -- per the Succession Act of 1947 (61 Stat. 380, 3 U.S.C.§19) -- the secretary of state is fourth in line to the presidency, after the Vice President (Biden), Speaker of the House (Pelosi), and President Pro Tempore of the Senate (Byrd), meaning that Hillary Clinton will be just four heartbeats away from the presidency after she is sworn-in.
Here's how the Obama administration line of succession is currently shaping-up:
Note: Currently, neither the United Nations ambassador nor the head of the Environmental Protection Agency (EPA) are cabinet-level positions. But there has been considerable discussion that Obama intends to elevate both slots to cabinet level. However, since succession is determined by the order of creation of each agency or department, it is unclear whether both posts would be placed at the end of the line (after Homeland Security) or whether the initial creation of each office (UN ambassador in 1945 and EPA in 1970) would dictate their placement.
Popular in the Community