Cayla Ferari and John Breznicky were just looking for a way to decorate the walls on their New York apartment.
Cayla, a graphic designer, had created an illustration of a stripped-down version of an NYC subway map and John, an engineer, liked it so much that they decided to take the illustration and create a large-scale piece of artwork for the wall in their new apartment.
Two months and four color versions of the NYC map later, the couple's friends starting asking for more cities to be made, including San Francisco, Boston, Chicago and D.C., Breznicky told The Huffington Post via email. And Lineposters was born. "At that point we decided to turn our NYC design into a 18" x 24" black and white offset poster. In our limited free time and weekends we started selling our then, single poster, in parks or on the streets of NYC in the summer of 2011," he added.
New cities will be added throughout the fall and there are already over 50 hand-illustrated prints of 16 different cities, including Paris, Moscow and Boston. On the horizon is Seoul. There is a 5-way-tie for what comes after that.
"People started to buy multiple prints they wanted to hang as a collection of places they have been and we started to realize that our hobby was quickly turning into a fun and rewarding business," Breznicky says.
So what are their favorite maps?
"Biased answer, but I really love that the NYC design kind of becomes a skeleton for the land and boroughs of NYC. If you're from here or know the map well, you can look at our poster and clearly see where the Bronx, Manhattan, Queens and Brooklyn are, without the land being drawn in at all," Breznicky says. As for Ferari, she told The Huffington Post: "While NYC is always going to be nearest and dearest to my heart, I think every time we add a city, it's my new favorite. Right now I'm really in love with the Barcelona map. It's great to see them take on other forms and Barcelona has this under-the-sea plant-like quality that is so cool. I see technology-meets-nature which I think is such a great combination of aesthetics."
What cities would you like to see memorialized in map form? Leave suggestions as comments.
Related
Before You Go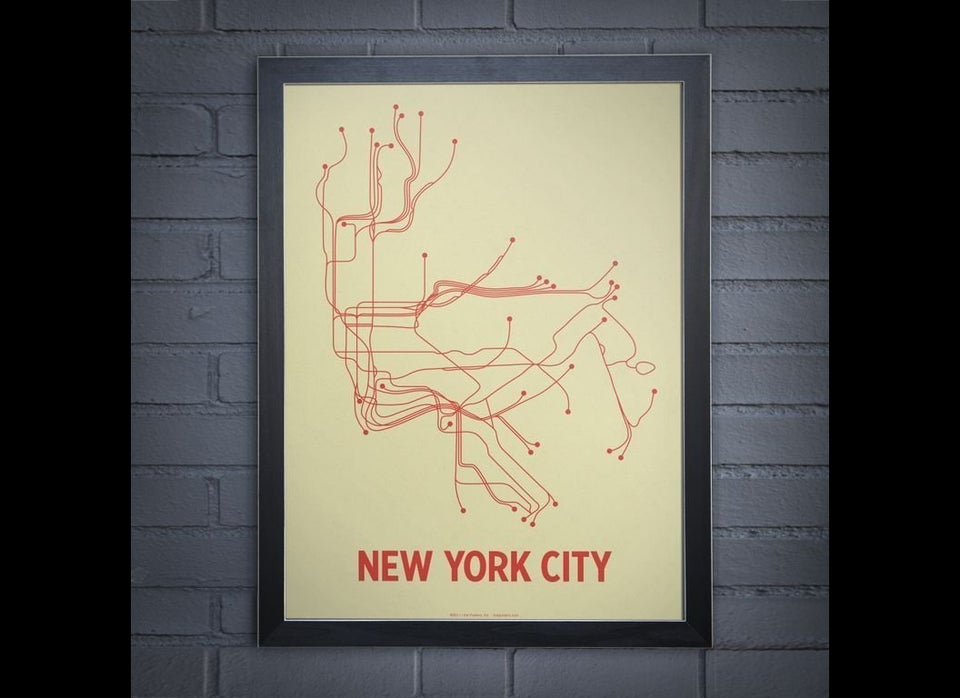 Modern & Graphic Interpretations of City's Transit Systems