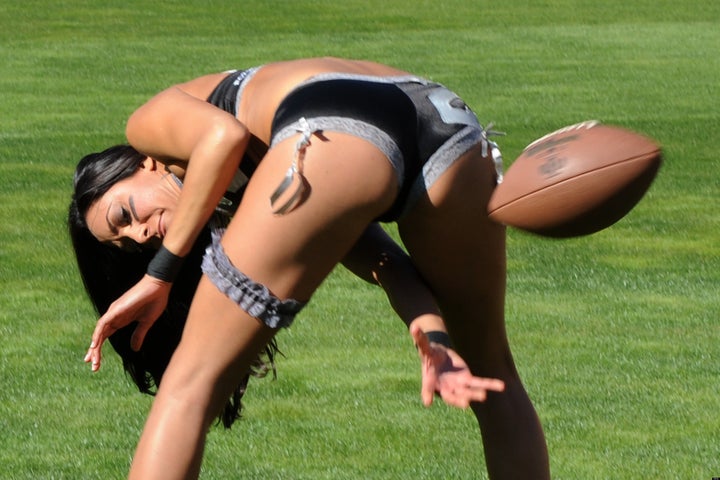 UPDATE: The Lingerie Football League rejects the Broward New Times report. According to the league, the players were fined "because they wore apparel that was in conflict with league sponsors." Moreover, the league says it has previously allowed players to wear shoulder pads for photo-shoots without punishment, including a Men's Health feature story.
Two Lingerie Football League players have been placed on probation for wearing too much, according to BrowardPalmBeach.com. Specifically, the article claims that two of the league's premier players are in hot water for wearing shoulder pads in a recent photo shoot.
Michael Mooney writes that "during games, the women wear shoulder pads, elbow pads, kneepads, and helmets. But when the women of the LFL are photographed, the league generally has them wear only the satin bra and underwear."
Mooney, who also wrote the article that accompanied the controversial photo shoot, has been "banned from being credentialed to cover any LFL or Miami Caliente events and/or games." Click here for more details.
Several ex-Lingerie Football League Players have criticized the league for allegedly failing to live up to its medical obligations, and documents have revealed that players face $500 fines for wearing clothes that go beyond the league's skimpy uniforms during games.
Calling all HuffPost superfans!
Sign up for membership to become a founding member and help shape HuffPost's next chapter