Those who know me know that I've never really been one to celebrate (or care about) Valentine's day -- with or without a man in my life. In the past week my inbox has gotten so flooded with Valentine's day product press releases that my eyeballs hurt from exaggeratedly rolling them. So why am I writing about buying lingerie for Valentine's day? Well last night I went to an event at NYC lingerie shop La Petite Coquette and I just can't not write about it.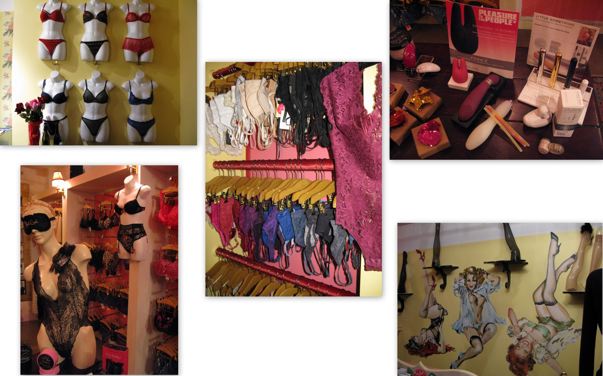 I spent the majority of the night rubbing elbows (and caressing nighties) with the store's owner, Rebecca Apsan. "I was dating a man who was obsessed with ripping off my lingerie -- he gave me the money to open the store," Apsan reminisced. La Petite Coquette (which translates to "The Little Flirt") has been enhancing women's lives (and men's!) for the past 32 years -- everybody from celebrities to randy housewives to businesswomen just looking for the right size bra. A staff writer from TV series Sex and the City was so transformed by her experience there that she wrote the store into the script.
Regardless of what your plans are for Valentine's day, La Petite Coquette is worth checking out -- if for no other reason than to indulge and just feel good. "Beyond making or breaking an outfit, lingerie has the ability to transform," says Apsan, "allowing a woman to reinvent and revitalize herself, or simply to remember who she is." And who knows, maybe it'll get you laid too... Apsan claims that she's at least partially responsible for the majority of the stroller population in the neighborhood.
Interest piqued? Until February 13th, the lovely folks at La Petite Coquette are offering a special Valentine's Day discount of 15% off when you enter ILUVLPC online at checkout.
Happy shopping...and happy flirting :)
Related