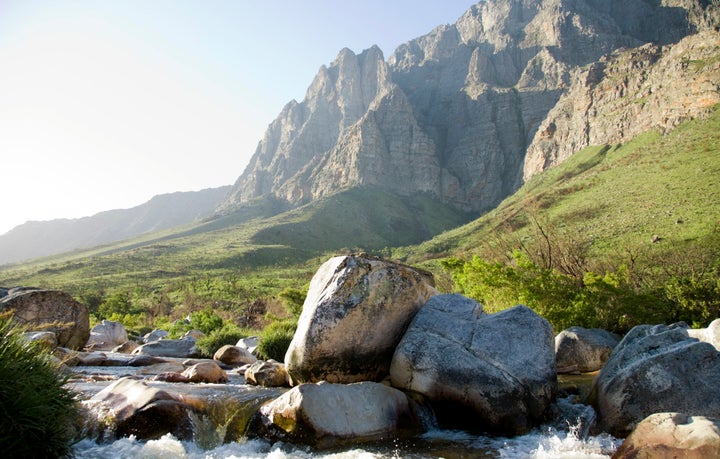 As a licensed psychotherapist, I'm trained to look for depression based on the "I'm not good enough" stories we tell ourselves, the emotional havoc that divorce, illness or financial distress can create, or mapping the depleted chemical river running though the brains of recent generations straight into my client. But tinkering with their minds in my softly-lit office goes only so far. Research is telling us it's time for an environmentally inclusive look at psychological wellbeing.
It turns out that people living in urban areas have higher rates of depression than those in more rural ones. And people with access to nearby natural settings have been found to be healthier overall. But it's not just fresh air, the exercise benefits of a walk or upping your natural dose of vitamin D that matters. There is something more subtle, powerful and compelling that occurs as we are increasingly alienated from nature.
Many traditions have been pointing to the emotional sustenance of nature over millennia. The indigenous Nuu-chah-nulth, the First Nations peoples living on the west coast of Vancouver Island, Canada, speak of the "Hishuk Tsawalk," translated as "Everything is one, everything is connected." Within this community, it is understood that cultural diversity and biodiversity cannot be separated: They coexist on the same continuum physically, emotionally and spiritually.
Indigenous traditions understand health as a dynamic state requiring harmonious relationships between body, mind, spirit/soul and environment. For example, many Native American personal health assessments include inquiry into the patient's environmental health: "Are the salmon in your rivers ill?" Traditional healing restores balance between the person, community and the spirit of nature.
A third century Mahayana Buddhist sutra reveals a similar philosophy of interconnection. Indra's net, an infinitely vast web adorned with jewels spanning the universe, symbolizes the intimate connections between all that exists. This story recognizes that plants and animals (including humans) exist as part of one complex, interwoven and diverse ecosystem on which they are entirely interdependent.
Because more and more research is validating an undeniable link between the natural environment and mental health, it should come as no surprise that as alienation from nature increases, so does depression. Estimates suggest by the year 2020 mental health disorders will rise to 15 percent of the global burden of disease, with depression alone constituting one of the largest health problems worldwide.
With more than half of the world's population living in cities, many people go through the day with little to no contract with the natural environment. And recent surveys reveal that children in developed countries spend 95 percent of their free time watching TV, texting or on the computer, and only 5 percent outdoors.
The understanding of the mental health benefit of being in nature is multifaceted and evolving. The Journal of Environmental Psychology published a study suggesting that natural settings activate the parasympathetic nervous system associated with the relaxation response and replenishment of physical and emotional energy. Another report out of the Deakin University found an experience of nature increases the activities of the right hemisphere of the brain. Since our urban activities are strongly analytical or left-hemisphere dominant, it restores balance to the functions of the brain as a whole.
Nature Practice -- Come to Your Senses
Poetically, we could say that being in nature wakes up our ancestral roots, those instincts tuned to the earth rhythms of the seasons. Some part of us recognizes that the ecosystem is the essential currency on which all life depends. Or perhaps when we witness the roots of the trees growing into the stream and the leaves tipping upward to be nurtured by the sun, it's just easier to register the way life self-organizes into a functional, interdependent whole.
I think that some part of us, down in our bones, simply recognizes nature as "home."
The instructions for a restorative nature practice are simple: Go outside and be present. And while it is simple, it's not always easy.
We have gotten really good at being somewhere other than where we are. We dream of being home while at our work desks, create our shopping list when driving and worry about our career over the weekend. The key is to shift out of our thinking mind and into our senses. It can be helpful to find a comfortable natural setting where you could sit or recline comfortably and start with your eyes closed.
Listen to the sounds: a breeze, water, insects. What sounds are nearest to you, and what is the farthest thing you can hear?
Smell any scents carried in the air: soil, flowers, water.
Feel the air on your skin. Is it cool, warm? Notice how it is to breathe in the freshness. What about the texture of the grass, sand or tree bark -- whatever you are directly in contact with.
Open your eyes and see the colors in the sky, plants, earth. How many shades of green, blue and brown can you distinguish?
Experience the qualities of how you are feeling right now.
Let the time be yours to rest, walk or explore. If your thoughts wander back to habitual worries or planning, remember you can always renew the choice to come to your senses. And research tells us you'll be happy you did.
Leslie Davenport is the author of the classic book on self-healing "Healing and Transformation Through Self-Guided Imagery." A pioneer in the health care revolution that recognizes psychospiritual dimensions as an integral part of health, she is a founding member of the Institute for Health & Healing at California Pacific Medical Center in San Francisco, serves on the faculty of John F. Kennedy University and is a clinical supervisor with the California Institute of Integral Studies. Visit Leslie on Red Room.