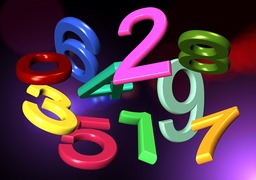 Clients of mine recently called to ask for my assistance regarding a house they wanted to purchase. Specifically, they wanted to know what the number of the address meant and if it was auspicious. Though I am not a numerologist, I have studied numbers and added my intuitive impressions regarding color to the meanings that we know today. It is my experience that by recognizing the colors of what the numbers may represent, and applying that additional knowledge to the equation, you can manipulate a more harmonious and positive outcome.

THE BASICS
If your address is already a single digit, you can skip this step. However, if multiple numbers are involved, add the numbers of your potential address together so that you derive at a single digit.

THE HOUSE NUMBERS AND COLORS
#1 - Encourages freethinking through leadership.
Orange -- energy and motivation.
#2 - Sentimentality, sensitivity and universal love.
Lavender/Purple -- harmony and calm.
#3 - Good for starting a family and partying.
Beige -- grounding and firm footing.
#4 - Financial security and career structure.
Green -- balance and growth through stability.
#5 - Travel and busy-ness are keywords.
Blue -- organization and order
#6 - Enjoy a sense of family unity here.
White -- clarity and spiritual bonding .
#7 - Appeals to writers and artists
Aqua to promote tranquility
#8- Home-based businesses and physical pursuits.
Red -- passion and motivation.
#9 - Healing and forgiveness and always a full house of people who need it
Yellow -- healing abundance.
Note that this is only a general outline of what might be beneficial to your personal environment when looking for the place you will call home. Each house and the number of people living in it will enlighten you to expand to a larger "canvas" because you will also be taking those people into consideration.