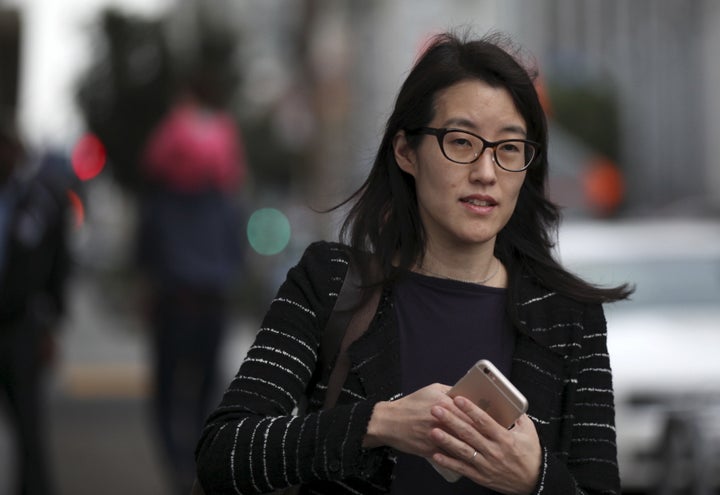 It's hard to combat gender bias when you don't even realize it's happening. And a lot of men still don't see the sexism right in front of them, a new study of venture capitalists and startup founders makes clear.
Nearly 80 percent of the female venture capitalists who responded to the survey, conducted by LinkedIn, said they have witnessed episodes of overt or unconscious sexism in their industry. Only 28 percent of the male investors said they saw sexism. Similarly, a majority of female founders said they've witnessed sexism versus just 8 percent of male founders.
Part of the problem is we misunderstand or just don't see some of the bias: Women who responded to the LinkedIn survey described instances to which most men (and some women) wouldn't give a second thought.
One female venture capitalist said her colleagues asked her why she wouldn't want to work in a more female industry. Another founder said investors "routinely ask her in meetings when she plans on having kids."
These aren't comments that people make to men. And though they perhaps seem harmless, they function as signals to women that they do not belong. Ellen Pao, who famously lost her discrimination case against bigshot VC firm Kleiner Perkins, described far worse incidents at her former firm ― from offensive comments to being left out of dinners with clients and denied promotion for attributes considered valuable in men but viewed suspiciously when embodied by a woman.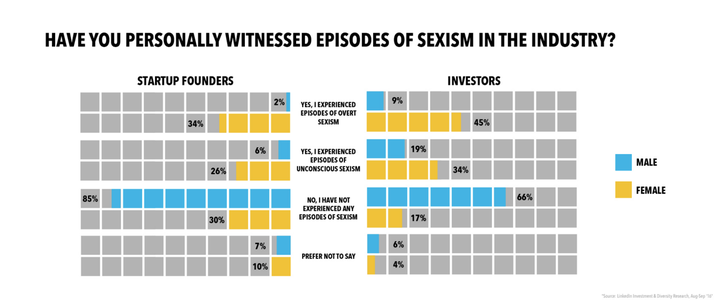 "Two very different realities are going on that are highly influenced by your gender," writes Deborah Jackson, founder and CEO of the investment firm Plum Alley, responding to the study.
It's fairly well-known at this point that the venture capital industry is woefully behind when it comes to diversity. Fewer than 6 percent of venture capitalists responsible for decision-making are women, according to one study.
The lack of women investors means that women who want to start companies don't get much funding. Women founders receive just 7 percent of the $60 billion in venture capital deployed last year, notes LinkedIn's Caroline Fairchild. Black male founders received 2 percent.   
But even more troubling, the LinkedIn study shows there's a lack of awareness of the problem at all. Investors told LinkedIn that diversity wasn't a priority ― and that they believed the biggest impediment to diversity was the lack of talent available.
Though you might be inclined not to care much about a niche, elite industry like venture capital, you should. VCs have an outsized influence on the websites we visit, the apps we use, the products we buy and the way we think about the world. 
Venture capitalists are the ones that spot and fund startups that go on to be the next Facebooks or Ubers of the world ― massively influential companies that can shift the economy and the culture.
Men shouldn't be the only ones deciding on the next big thing. They're inevitably going to miss cool new products and services that would appeal to women. 
Remember the Apple Watch? One of the reasons it flopped is because women in particular didn't like it, Plum Alley's Jackson writes. Apple, of course, is dominated by men.
Investors are drawn to products that they understand. Jackson gives a complicated name to this intuitive phenomenon ― "investor product affinity" ― and she cites as an example an instance where she declined to invest in a football-related app.
"I had no product affinity for a football app because, as with most women, football is not my thing," she writes. "If you are a man you probably won't have affinity for many products that make a woman's life easier and fits their needs."
And women aren't a niche market, Jackson points out. Indeed, women make more buying decisions then men.
VCs should be in a frenzy to hire more of them. Instead, respondents to LinkedIn's survey said diversity will just happen, but they have no plans to change the way they work.
Calling all HuffPost superfans!
Sign up for membership to become a founding member and help shape HuffPost's next chapter