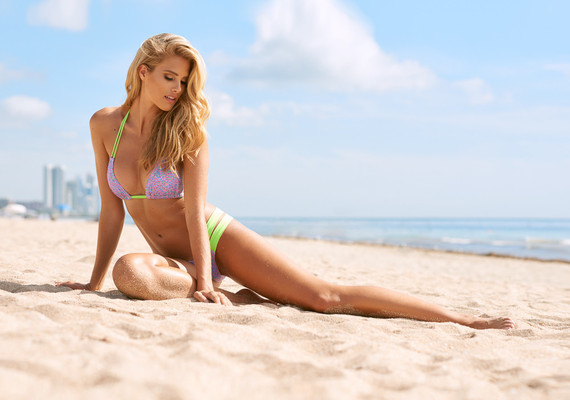 As its tagline infers, LinkedIn is a social networking site for business professionals. Yet throughout the years, there are many who feel that LinkedIn has become more Facebook-esque in its posts from users and the engagement that ensues from them. So in late February 2016, when I spotted the above photo, I questioned the motive behind it. When other similar pictures followed, I was intrigued. I was quick to discover that bikinis do have a place on LinkedIn--in the proper context, of course.
There are certain things that will stop you in a scroll down an Internet page. The sight of an attractive, voluptuous, bikini-clad female arching her back on a beach is one of them. But on a politically correct site like LinkedIn, on which posts from users should have a certain formality and austerity, these images--please pardon the expression--stood out.
Accompanying the pic was one line of text: Is this appropriate for LinkedIn?
In the next few days came comments, lots of comments, from LinkedIn users. People of both sexes weighed in and showed their disdain, berating this individual for posting content that seemingly had no place on a professional networking site. Yet interspersed among the complaints were words of praise for the bold stroke. And of course, there were guys just being guys.
As a red-blooded male, I can honestly state that I am not offended by these photos. I find the 'solve-if-you're-a-genius' posts or the 'find-the-first-word-that-pops' puzzles that have saturated the LinkedIn stream for quite some time far more insulting.
As a social business psychologist focused on LinkedIn strategy, I noticed a unique behavioral shift taking place, and was fascinated by what began to play out on the site through this series of posts.
As a digital journalist, I saw this activity as unprecedented, and wanted the story.
On the Nature of Appropriateness on LinkedIn
There are obvious parallels between business behavior and mating behavior. Both involve an endgame, a pursuit, and rituals of courtship. Factor in a consumer good (a bikini) that is intrinsic to sexuality, and the attitude will prevail over the aesthetics of the product. As sophisticated as we humans like to think we are, every now and then, we are served reminder that we are merely representatives of kingdom Animalia.
On Facebook, posting a picture of a gorgeous woman in a bikini would be like tossing a goldfish into a bathtub full of piranhas. Few men would have their filters working, and you could expect a barrage of lewd comments and bawdy innuendos. But on LinkedIn, there is a sense of decorum that must be retained in content posted by users and respondents.
The bikini posts drill down to the core of what is and what is not appropriate on LinkedIn. If they were originated by a senior executive at a Fortune 500 company, or the managing partner of a prestigious investment banking firm (irrespective of gender or age), LinkedIn Nation would certainly not approve. These individuals would be duly chided and likely reported.
In this case, however, the source was a 28-year old South Florida female entrepreneur, Candice Galek, the owner of Bikini Luxe, a manufacturer of designer swimwear. She was merely promoting her business online. What some might consider a breach of etiquette was, in fact, a completely appropriate piece of marketing communication that has served her well and resulted in a ton of new business.
Though her posts may seem controversial to some, Candice has stretched the LinkedIn platform to its limits. Failing to gain traction with images of males, she went with Plan B. After testing side-by-side images of the swimsuit alone versus the swimsuit when worn, she began posting pictures of beautiful women in tropical settings wearing the merchandise. The response was immediate, and her promotional efforts on LinkedIn quickly became a bumpy rollercoaster ride.
The campaign drew the ire of many LinkedIn purists whose excessive complaints led to the deletion of her posts and, eventually, the suspension of her LinkedIn account. After her reach-out letter to LinkedIn CEO Jeff Weiner did not net a reply, Candice was able to get a LinkedIn executive on the phone to plead her case and eventually got her account reinstated. She was also given a yellow "follow" button on her profile page, becoming the only LinkedIn non-influencer to be given that privilege.
As this piece goes to press, Candice is dealing with a problem that most LinkedIn users would kill to have--specifically, she cannot keep up with her notifications. She has received 250,000 profile views in the 90-day period ending on May 15, 2016. A non-bikini post related to Bill Gates drew 44,000 likes. There are 7,000 invitations to connect awaiting action in her LinkedIn inbox. She now finds herself managing the fastest growing and most engaged sub-community on the site.
An Interview with Candice Galek
I caught up with Candice as she was trying to catch her breath from the whirlwind of activity that swept her into the LinkedIn mainstream, and gave her new-found social media fame.
JD: Take me back to February 2016 when you made your first post on LinkedIn. Did you anticipate the type of response you received?
CG: To be honest, I knew that there would be some backlash. At the time, all I had was a portfolio of photos and not all that many connections on LinkedIn. The first post instantly created the debate when I purposely asked the question: Is this appropriate for LinkedIn? Yes, I did receive some flak and a few personal attacks. I was told that these photos didn't belong on LinkedIn, that I should remove them and post them on Pinterest. My feeling was, 'Hey, if you don't like my posts, hide them from your feed.' I did not put these pictures up on LinkedIn to offend or humiliate anyone. I just wanted to sell swimsuits.
When LinkedIn suspended my account, I was devastated, and my fight-or-flight reflex kicked in. I wanted to know the reason why my posts were deleted. Was it purely a number of votes? Or did I exceed some set ratio for inappropriateness? Needless to say, I was relieved when my LinkedIn account was restored.
Overall, I would say that the response was mixed. One of my followers told me that he was dropped by a client after the client saw that he liked one of my posts. Others told me that they were inspired by what I was doing, and they were going to take a few liberties and be more aggressive in promoting themselves. That particularly gave me a great deal of satisfaction.
JD: How did you deal with being a polarizing figure on LinkedIn?
CG: Things happened so quickly, and it was strange. I engaged with everyone who commented on my posts, whether they said things that were positive or negative, and thanked them for taking the time to provide an opinion. I found that the personal message disarmed some people who initially condemned me, and they eventually became my supporters. Intelligent people knew that I was promoting a business and ignored the sexual overtones. They liked and shared my posts.
I stand behind the images I post on LinkedIn. There are companies that use images that are far more provocative than mine. Victoria's Secret has a company page on LinkedIn. If they were to post shots of their models in lingerie, it may ruffle a few feathers, but they are a huge company and people would tolerate it because they are a huge company. As for me? I am hot a huge company, just a small business owner with a dream.
Look, I understand that LinkedIn is a professional networking site. If your post is directly related to your business, contains no profanity, and appeals to the psyche of your buyers, then isn't it appropriate? People could argue that religion or politics also don't' belong on LinkedIn. But what if you are a minister or a senator? That is your job and you have a right to promote yourself. I design and manufacture swimsuits. That is my job. I have the right to promote my products to potential buyers, and my buyers are on LinkedIn.
JD: Remarkably, your posts went viral on LinkedIn, something that is nearly impossible to achieve. What has that meant to you professionally?
CG: LinkedIn has been an amazing platform for me. I added 31,000 connections and 37,000 followers within the first two months. I have met some highly influential businesspeople and decision makers at big-name companies. I have also received some sage advice and mentoring. And I have made new friends. I am receiving about 50,000 LinkedIn profile views per week and have been told by several LinkedIn employees that I am the most viewed person on their site.
In addition, I have numerous offers on the table. I have drawn interest from global manufacturing companies who want to partner with me. I am being asked if I am going to write a book or launch a podcast. There are people who want to help me develop a line of clothing, as well as a line of skin care and tanning products. None of this would have happened if not for LinkedIn. In addition, there are plenty of opportunities for me to help others. I want to be more involved in philanthropy and contribute to the greater good.
JD: What was your biggest takeaway from this experience?
CG: When I started the LinkedIn campaign, all I had was a swimwear website. I was just trying to sell my products. Now I have a brand. I feel like I am on the path to building something remarkable, something that only existed as a pipe dream. Every day, I am taking notes, learning, and growing. I can fully attest to the power of LinkedIn.
JD: What would you say to others who are in a fight to get their businesses noticed?
CG: I want people to know that a young female entrepreneur did something a little different, a little out of the box on LinkedIn, and it propelled her business. I sell designer swimwear, and wanted to promote it--just like anyone would want to promote their business. Much of what has happened, I cannot explain. But I'm thrilled with the results. I wish I would have started sooner. There are so many professionals struggling out there, trying to find jobs, land new clients, or just get a few likes on their posts. I want them to know that LinkedIn works. It really, really works.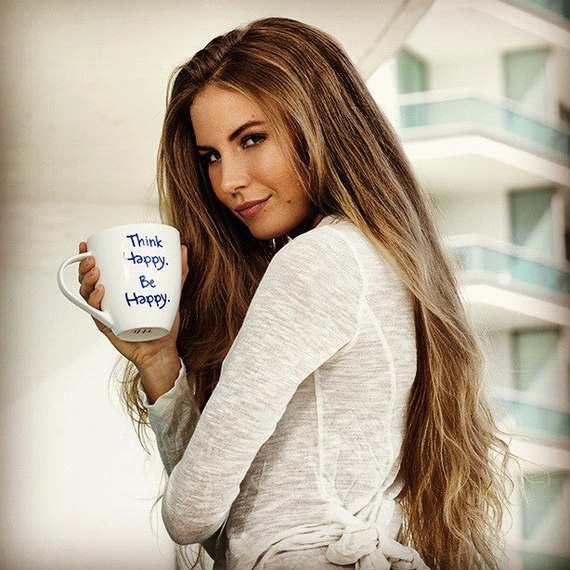 ♦ Nobody has pushed the envelope on LinkedIn quite like Candice Galek. She is a crusader for anyone who is battling for visibility, trying to gain a following, and build a strong brand on the site. Her messaging on LinkedIn is exemplary, as is her ability to engage an online community, and convert opportunities into real-world business wins.
♦ There are those who still would refuse to applaud Candice for her courage and candor, saying that she crossed the line of decency. To them I would say that she is doing what LinkedIn was engineered to do--that is, help us make key connections, generate business leads, and capitalize on economic opportunities as they present.
♦ Prior to, say, 2014, when you scanned the LinkedIn home page feed, there was nary a post that did not fall into a business category. Now it seems as if (almost) anything goes on the site. LinkedIn users are increasingly showing their humanity, their humor, and their alter egos, sometimes to the chagrin of the purists. Abraham Lincoln, Albert Einstein, and Winston Churchill continue to inspire us from beyond the grave. What comes next is anybody's guess.
Just, please, no silly cat videos.
Related
Popular in the Community