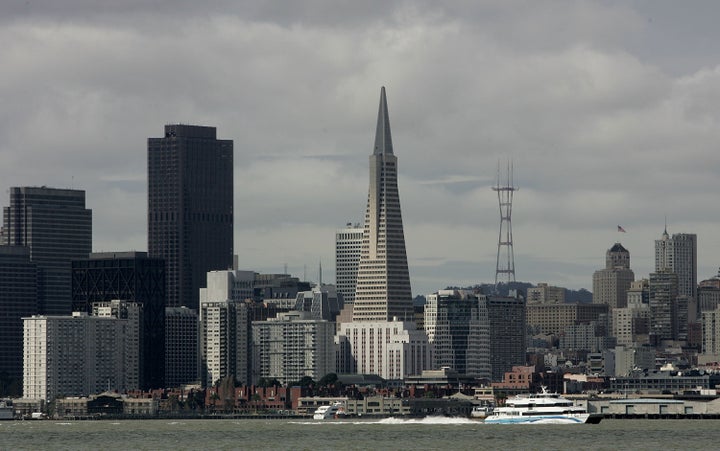 Following the lead of other Silicon Valley-based tech firms, social networking giant LinkedIn has taken out a lease on a large block of office space in San Francisco's Financial District.
Currently operating out of its offices in Mountain View, the business-centric social network has secured three floors at One Montgomery Tower, equaling a grand total of 57,120 square feet of office space.
While LinkedIn spokesperson Erin O'Harra said the company hasn't released exact figures for the number of employees it expects to station in San Francisco, she noted that the space can hold up to 400.
"LinkedIn's major expansion in our city and continued growth of technology companies, start-ups and new jobs is another sign that San Francisco is now the 'Innovation Capital of the World'," said San Francisco Mayor Lee in a statement. "As tech companies from around the country and around the world look to locate in San Francisco, in part due to the extraordinary pool of tech talent here, I will make sure that the city remains a place where the tech industry can grow and thrive."
This news comes hot on the heels of the announcement of fellow tech giant Salesforce taking out 400,000 square feet of space on Fremont Street in the single largest long-term lease signed anywhere in San Francisco in over a decade.
Like Google and Facebook before it, LinkedIn is planning on keeping its headquarters down on the Peninsula; however, the company is making a concerted effort to have a presence in the city. There are a number of reasons why large tech companies such as LinkedIn make this decision. Primarily, it's a way to attract top San Francisco-based talent exclusively interested in working in close proximity to where they live.
Even though the Montgomery Tower is outside of the mid-Market enterprise zone that Twitter famously took advantage of last year, it being the location for LinkedIn's move is notable. The building sits just across Market Street from the SoMa District, an area that's experiencing a social media-sparked explosion in office space rentals that has seen rates spike by 25 to 30 percent since mid-2010.
While SoMa is the hot ticket for office space at the moment, it's becoming increasingly difficult for companies to find large, contiguous blocks of commercial real estate in area--even ones willing to pay top dollar. That's led a considerable number of tech firms to broaden their search into the city's traditional business center of downtown and, in turn, many Financial District landlords have been remodeling their interior floor-plans to more closely resemble the types of "create spaces" found in SoMa.
Partly as a result of spillover from SoMa, office space in the Financial District is similarly becoming a attractive commodity. According to a report by the CAC Group, the vacancy rate for the most desirable class of office space in the neighborhood decreased by 35 percent last year alone.
LinkedIn is scheduled to move into its new digs sometime this spring.
Popular in the Community