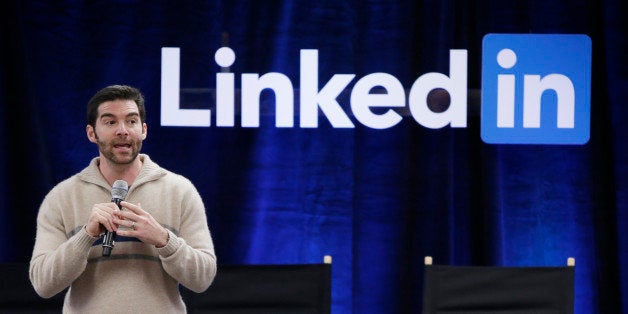 It's time to start using LinkedIn a little more like Facebook or Twitter.
The professional social network -- which many use as a virtual résumé -- works much better to help you find your next job if you post regularly to its newsfeed, according to experts. Nevertheless, a large portion of LinkedIn users fail to update their pages on a regular basis.
A recent survey conducted by Pew Research Center found that only 13 percent of LinkedIn users engage with the site on a daily basis. Over 61 percent of users admitted they use the site less than once every week, making LinkedIn the least frequently visited social platform behind Facebook, Twitter, Instagram and Pinterest.
Failing to regularly update your LinkedIn account is a "big mistake," and job recruiters notice, according to Jesse Siegal, senior managing director of the recruiting firm The ExecuSearch Group.
"Posting to LinkedIn at least once a week is key," Siegal told The Huffington Post. "One way recruiters gauge someone's level of interest in a field and knowledge of industry trends is through frequency of relevant activity on LinkedIn."
Domini Clark, principal of executive and technical recruitment at Blackmere Consulting, echoed Siegal's advice, suggesting that frequent activity is a good way to "communicate without overselling."
"If you're posting regularly, it's more likely that I'm going to see it," Clark said. "It's all about visibility."
As with good prose, an attractive LinkedIn profile should show, not tell.
Being an active LinkedIn user will naturally provide more concrete examples that showcase your level of professionalism. For example, rather than simply claiming in your summary that you are "creative," you should post a link to a portfolio of your most original work. To recruiters, this demonstrates your creative skills in a more convincing manner.
Similarly, instead of claiming that you are "compassionate," post a blog about the time you volunteered at a local homeless shelter and how it impacted your sense of compassion. Forty-two percent of hiring managers surveyed by LinkedIn said they view volunteer experience as equivalent to formal work experience.
Siegal said users should avoid buzzwords like "creative" or "compassionate" altogether, and instead focus on highlighting personal initiatives that help prove these traits in an objective manner. Replacing buzzwords with keywords may also be effective.
"Ditch the buzzwords, add the keywords," Siegal said. "As a recruiter, I put keywords in the search, not buzzwords. ... Recruiters cringe when they see [buzzwords] and [this] can many times lead to the offending profile being overlooked."
If you don't have time to post stories you have written on your page, Siegal noted that simpler activities can help, such as "liking" posts, commenting on articles and joining groups.
"Not everyone needs to be an author or writing their own blog ... but something is better than nothing," he said. "Get in the habit of being consistent with your activity."
For more on how to use LinkedIn smarter, check out these 10 tips:
PHOTO GALLERY
10 Tips To Boost Your LinkedIn Profile
CORRECTION: An earlier version of this story misspelled Jesse Siegal's name.
Calling all HuffPost superfans!
Sign up for membership to become a founding member and help shape HuffPost's next chapter