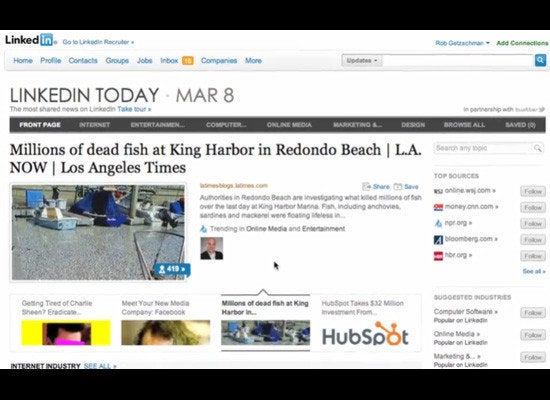 Business-focused social network LinkedIn announced Thursday the launch of a personalized news aggregation product called LinkedIn Today.
Available online or via the network's iPhone app, LinkedIn Today aims to create a news destination for the professional set by displaying popular headlines and links that are relevant to the user.
Busy professionals can view which stories are most popular among their friends, co-workers and connections within their own industry.
"You know and trust most of your connections and coworkers, so if they share an article, it's a good signal that it's something you should be paying attention to," Liz Reaves Walker explained in a post on the LinkedIn Blog.
Users can also get the skinny on top stories from outside their personal networks by subscribing to LinkedIn's industry-specific news feeds. LinkedIn Today will also show the user which stories are being shared across several industry networks.
"We've heard from a lot of users that they may work in one industry, but they pay attention to news across multiple industries. For example, maybe they need to stay informed on the industries of their clients, or maybe they closely follow news in the industry they want to work in next," wrote Walker.
"Right now the news product includes 22 industries," according to VentureBeat, "but Walker said it could add more filters, for example job title (a section showing what CEOs are sharing) or location (a section for healthcare professionals in India)."
CNET notes that LinkedIn has already partnered with Twitter and hopes to integrate the Facebook Like in the future. "The company also wants to put LinkedIn share buttons on major news sources," writes CNET.
In a guest post written for TechCrunch, former LinkedIn Business Development Manager Mrinal Desai said that the new product could transform LinkedIn into "the Wall Street Journal of social news."
But not everybody is convinced. Gigaom countered with the following statement: "[LinkedIn Today is] the same most-shared link you would find by going to virtually any other aggregator such as Yahoo News. And that's a potential flaw for LinkedIn's new service in terms of getting traction with users."
View the video (below) to get a visual feel for LinkedIn's social news product.
WATCH:
Related
Popular in the Community