Health and wellness has been one of the top talked-about trends in contract interiors in recent years. In fact, we believe this discussion is the shift from "building" sustainability to "human" sustainability. Health and wellness programs in the office have transitioned from a nice-to-have benefit to an almost expected practice among top employers. In fact, the International Foundation of Employee Benefits Plans' report on Workplace Wellness Trends 2017 found that among employers offering and measuring their wellness efforts, more than half found a decrease in absenteeism, 63 percent are experiencing financial sustainability and growth, 66 percent reported increased productivity and 67 percent said employees were more satisfied. With numbers like that, how could we not consider health and wellness a top workplace priority?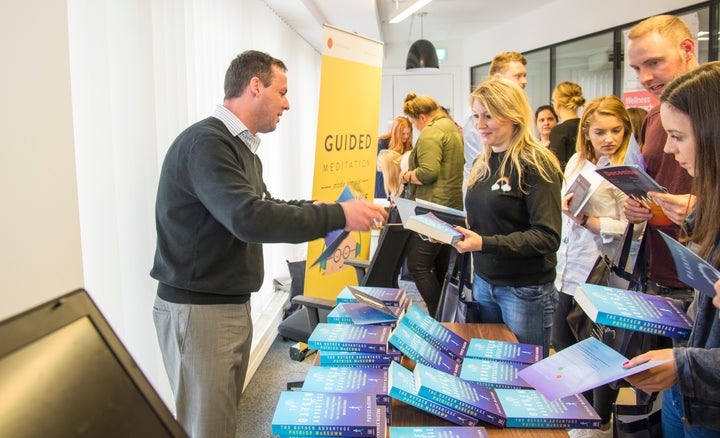 I recently had the opportunity to chat with Michael Susi, Senior Manager of Global Wellness at LinkedIn. Headquartered in Sunnyvale, Cali, LinkedIn has a robust health and wellness program focused on what they call the six tenets of wellness: Thoughts, Breathing, Nutrition, Movement, Rest and Hydration.
Michael and his team support wellness efforts for all LinkedIn offices in more than 30 cities around the globe. With a goal of helping people be their best by meeting them where they are, the program, which originated in 2011, utilizes unique strategies to accomplish each of the tenet's goals.
Thoughts: To promote healthy thinking and rejuvenation, LinkedIn installed what they call mindfulness lounge areas, which are areas for employees to get away from their desk and de-stress. The rooms hold more than one person, and are fit with privacy screens to allow for different activities within the room - meditation, yoga, breathing exercises, etc. Within the rooms, technology use is discouraged to promote taking a break from screen time.
Breathing: Health and wellness programs are great, but they often appeal more to those already focused on their health, and have a hard time engaging the unengaged. To combat this, LinkedIn launched a program to help employees focus on their breathing. "Everyone breathes, so it's a logical first step in getting employees to think about their health," said Michael. The company issued devices that help employees monitor their breathing patterns. What they found was employees who used the devices were more conscious of their breathing and began to resort to healthier breathing patterns, especially in stressful situations.
Nutrition: LinkedIn does not ban unhealthy foods like sugary drinks and snack foods. Instead, the company takes innovative steps to encourage employees to make healthy choices. Michael explains their tactic: "We make healthy choices, like water and fruit, easily accessible in attractive displays in plain view. We then put the non-healthy options like sugary beverages and snacks in harder-to-reach areas such as cabinets, or higher shelves."
Hydration: Dovetailing on the idea of promoting healthy food and beverage choices, LinkedIn has added fruit- and vegetable-infused water to its breakrooms in some offices. "Instead of choosing from plain water and sugary beverages, employees can select strawberry, cucumber or other naturally infused water as an alternative to high-sugar beverages," said Michael. As a result of these efforts, the company saw a 31 percent decrease in soft drink consumption.
Movement: Michael explained, "Exercise is great, but sometimes – from a time perspective – it's just not feasible. Therefore, we try to give employees the opportunity to move, be it via standing desks that employees can raise and lower on their own, walking meetings, or strategically-placed printers to encourage a few extra steps." Interestingly, the whole wellness movement at LinkedIn started from the company's need for more conference rooms. As this video indicates, the company's CEO, Jeff Weiner, encourages walking meetings, which were born out of a need for more conference rooms as the company rapidly expanded. On a larger scale, the company has built-in wellness spaces such as gyms, as well as multi-purpose rooms for yoga, dance, and massages.
Rest: "We tried nap rooms and they didn't really work for us," said Michael. Instead, the company works to encourage employees to employ healthy rest habits. To educate them, LinkedIn held what they call "sleep fairs," or essentially mini trade shows dedicated to educating employees on the importance of sleep and to providing tips on how to get a good night's rest. The sleep fairs are part of a larger initiative at LinkedIn to promote sleep as the wellness goal for 2017, and LinkedIn plans to host more sleep fairs in offices around the country and internationally in the weeks to come.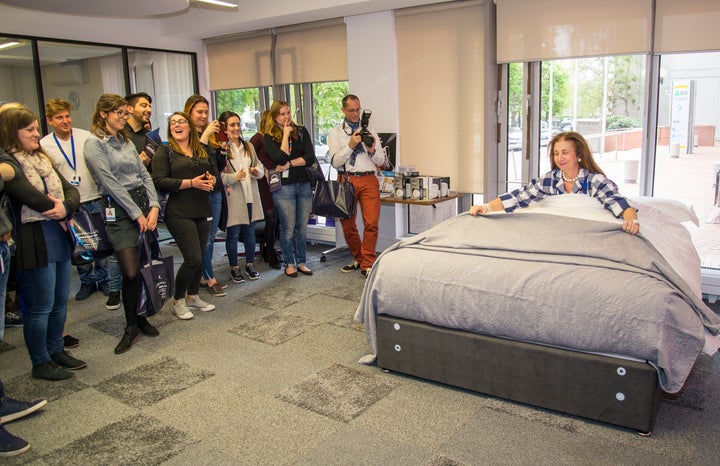 When asked about how the program is measured, Michael said, "Our program originated to benefit recruitment and retention. Having a program that encourages top talent is key, but it's also important to take care of the talent you already have. At LinkedIn, we don't have measured vacation, people utilize vacation as it works into their schedules. Therefore, one of our measurements is based on absenteeism, or the practice of regularly staying away from work without good reason, which for us, is quite low."
As a direct result of these wellness initiatives, LinkedIn has found that 75 percent of its employees feel more loyal to their company. Every month, 30 – 35 percent of unique employees participate in their wellness rewards program, which encourages employees with non-financial-based incentives to participate in wellness activities. "For a wellness program that does not penalize employees for not participating, and does not offer financial incentives for participation, that is a great participation standard."
As for the future of the wellness program, Michael said they will continue to focus on one individual tenet per year. "Sleep was the main focus in 2017, and we will look at a new tenet for 2018. I believe that true behavior changes through a series of education and practice. We want to keep creating opportunities to learn about wellness and find the best way to fit a healthy wellness lifestyle into the daily lives of our employees, be that in the office or on personal time. The future of wellness is meeting people where they are, and at LinkedIn, we want to be a leader in that."
This article originally published in the Business of Furniture, a division of Bellow.Press on September 12, 2017. It is republished here with permission.
About the author: Amanda Schneider, LEED AP is a researcher, writer, consultant, and the founder of Contract Consulting Group, a research-led strategy firm focused exclusively on the Contract Interiors market. Do you work in the industry? Are you interested in getting PAID for your opinions? Click here to Join In for PAID market research opportunities!
Popular in the Community