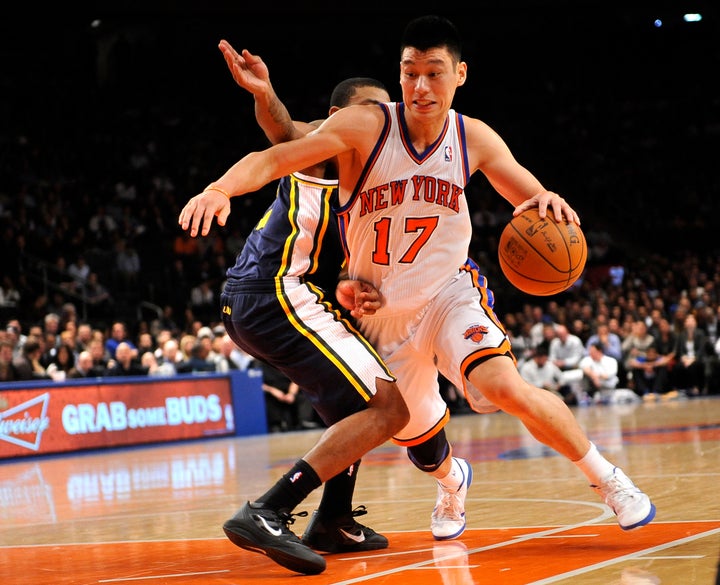 Jeremy Lin wasn't supposed to score the most points in his first four starts since the ABA-NBA merger in 1976. But everyone knows his story by now; California Division II Player of the Year, state champion, no D1 scholarship offers. In averaging 27 points, eight assists and four rebounds during his first five career pro starts (all Knick victories), the question is whether Lin can sustain such overwhelming success.
Aside from garnering attention as the first American-born NBA player of Chinese or Taiwanese descent, Lin is an intriguing athlete. He is remarkably dynamic in the screen-and-roll, a deft finisher at the basket and a terrific passer in the half-court. While he doesn't possess the same explosive first step that many NBA elite point guards have (think Derrick Rose, Rajon Rondo and Russell Westbrook), Lin makes up for it with a wondrous north-south game that allows him to get to the exact spot he wants.
Young point guards will often dance with the ball and not attack. When Lin sees even the smallest of crevices, he uses his low and steady handle to get the defender on his hip. This forces defenders to play him close, making up for a lack of explosion. According to Synergy Sports Technology, Lin ranks in the NBA 99th percentile in the 17-foot to three-point range this season. He is also deadly inside of 16 feet, where he has shot 42 percent from the field and scored on 10 out of 12 such scenarios.
But it's his off-the-dribble metrics and ability to beat opponents off the bounce that had Kobe Byrant demanding to guard him late in New York's surprising 92-85 victory on Friday night. In 22 situations this year, Lin has scored 22 points and has shot a healthy 55 percent from the floor, putting him in the 96th percentile of the NBA. More impressive is his knack at getting -- and finishing -- in the lane.
At six-foot-three and 200 pounds, he has good size for a lead guard and it shows. In addition to the pick-and-roll -- mostly with Tyson Chandler -- Lin has proven to be a superb isolation player, scoring at nearly the same clip while converting roughly half of his attempts around the rim with stellar body control. He is a splendid lob-passer and displays a 'Harvard-like' feel for the game, knowing when to push tempo and when to run offense.
"When I'm on the court, I try to play with all my emotion and all my heart," Lin said after his Herculean 38-point effort against L.A. "I don't really try to hold too much back."
With such swagger and confidence, it is hard to imagine that the 23-year-old has been cut twice and until recently was playing for the Erie Knighthawks of the NBA D-League.
"We should have kept (Lin)," Houston Rockets G.M. Daryl Morey tweeted. "Did not know he was this good. Anyone who says they knew misleading U."
Despite his remarkable early success, the qualms with Lin are that he's turnover-prone and doesn't value the ball enough to be a consistent lead guard.
The one thing about Knicks head coach Mike D'Antoni's clubs -- even as they meddle through mediocrity -- is elite point guard play. You can put Steve Nash is in his own category, but let us not forget that Chris Duhon averaged 11.1 points and 7.2 assists (career highs) just three years ago in New York and Raymond Felton almost made the All-Star game last season.
All three are in different categories in the NBA pantheon of point guards, but they share something: turnovers.
Nash, for all his brilliance as a two-time MVP, averaged a career-high 3.3 turnovers during his first season in Phoenix in D'Antoni's system, after an average below 3 throughout his career in Dallas. In the seven years since (the Suns still run that offense under head coach Alvin Gentry), Nash has never dipped below an average of 3.4 turnovers per game.
In his 54 games with New York, Felton averaged a career high 3.3 turnovers and Duhon, during his one full season as a starter, averaged 2.8 turnovers, also a career high. To be fair, he was also playing longer and shouldering more responsibility, but the theme with D'Antoni's point guards remains clear: They excel because it's an unrivaled system to run an offense, but they turn the ball over because the system depends on decision-making and a supremely high usage rate for the lead guard.
Lin falls directly into this category.
As well as he's performed thus far, he was shockingly ineffective with Golden State, where last year he shot under 39 percent from the floor and barely averaged an assist per game. One thing he did well, though, was protect the basketball, averaging a respectable 2.3 turnovers per 36 minutes, way below his 4.5 average this season, according to Basketball Reference.
In his five starts for New York, Lin has forfeited the ball 4.6 times per game, a glaringly high number, but not nearly as bad as it looks. With Toney Douglas relegated to the bench and Iman Shumpert playing off the ball more than he has all season, Lin has handled most of the of the ball-handling and decision duties for the Knicks. Turnovers -- especially for such an inexperienced player -- simply come with the territory.
Meanwhile, the team has improved its field goal percentage from 43 percent to nearly 46 percent (during the five games), while Lin himself has shot over 51 percent from the floor. The Knicks have won five consecutive games (after losing 11 of 13) and reinvigorated a fan base so desperate for a winner that fans are calling Lin's performance against the Lakers the most memorable game at Madison Square Garden since the Reggie Miller comeback.

Email me at jordan.schultz@huffingtonpost.com or ask me questions about anything sports-related @206Child for my upcoming mailbag.
Plus, check out my new HuffPost sports blog, The Schultz Report, for a fresh and daily outlook on all things sports and listen to my radio spot on 1280 The Zone every Friday night at 6:25 EST.
Calling all HuffPost superfans!
Sign up for membership to become a founding member and help shape HuffPost's next chapter