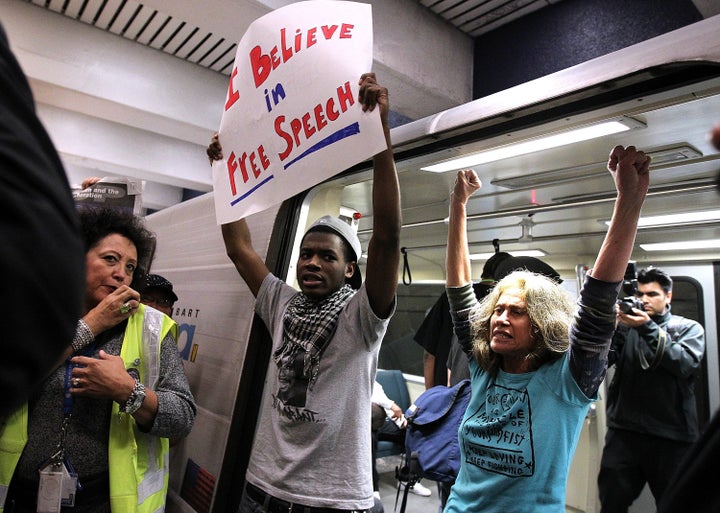 It has not been an easy few months for former BART spokesman Linton Johnson.
Johnson, who has been on leave since late August, has returned to a position at the transit organization. He has been reassigned from his role as the media's main point of contact with BART management to, as the San Francisco Chronicle puts it, "develop and implement large-scale communications strategies for major district programs."
Jim Allison and Luna Salaver will now fill the role of official spokespeople.
"They're telling me I no longer speak for the district," Johnson said in an interview with the San Francisco Examiner, where he claimed to have only heard about the reorganization on Monday morning--the same day it was announced to the public. "If you want answers, you'll have to go the communications department that I built."
Johnson will retain his same salary, as BART executives insist the move isn't intended as punishment. "Linton has been on-call 24/7, so it was taking its toll," BART Board of Directors President Bob Franklin told SF Weekly. "I think it's the best thing for BART and for Linton right now...His job description is changing, but I don't think his work ethic will change."
The former television reporter took over BART's communication department in 2004, but only rose to national notoriety when a BART police officer shot and killed transient Charles Hill inside San Francisco's Civic Center station in July. This incident was the second fatal shooting of a civilian by a BART police officer in three years, and sparked the threat of a protest.
In an effort to lessen the protest's disruptive potential, BART turned off the antennas broadcasting cell phone service inside the system. While that particular protest never materialized, it incited large-scale public outrage--particularly from online "hacktavist" group Anonymous, who objected to the phone service shutoff on First Amendment grounds. The animosity eventually became focused on Johnson after he was discovered to be the idea's source.
Johnson was also subject to criticism when leaked emails revealed that he instituted a program to plant "loyal riders" at a public press conference with the intention of having them ask agency officials sympathetic questions. Only one such rider contacted by the organization to participate in the program actually attended the press conference.
Johnson's image problem came to a head when hackers accessed one of his personal accounts and released an explicit picture of the BART spokesman exposing himself at a club. Johnson went on leave soon afterward.
As per a recommendation in the management audit of the BART's police force by the National Organization of Black Law Enforcement Executives, BART is in the process of hiring a dedicated media relations officer exclusively dedicated to handling issues stemming from its controversial internal police department.
Check out this awesome Taiwanese animation detailing the scandal:
REAL LIFE. REAL NEWS. REAL VOICES.
Help us tell more of the stories that matter from voices that too often remain unheard.