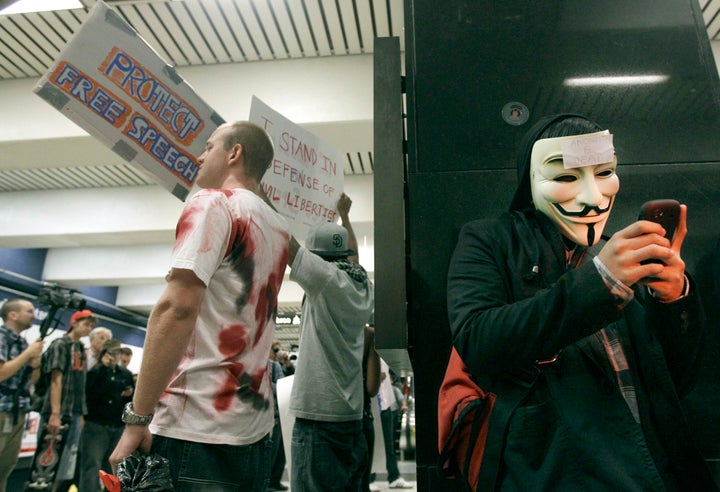 UPDATE: BART spokesman Jim Allison returned a call to The Huffington Post to discuss the photo leak. "I'm not going to comment on the private life of an employee," said Allison. "But I will say that I condemn anyone who attacks an individual and invades their privacy. This is not only unethical, but illegal. And that is all I have to say about that." BART was previously unaware of the photos.
On Wednesday morning, Anonymous seriously upped the ante.
The famed hacker group has been protesting BART since the organization shut off cell phone service in stations to avert a demonstration on August 11. After organizing a second Monday night protest and releasing a new list of demands Tuesday, the group revealed its ruthlessness by circulating nude photos of BART Chief Communications Officer Linton Johnson, SF Weekly reports.
The post contains eight images available here. (CAUTION: photos contain nudity.) Three show a partially nude Johnson, pulling down his shorts to reveal his genitals, beside another man in swim shorts. Other photos display Johnson partying shirtless, with glow sticks, glitter and armbands. Beneath the photo is all of Johnson's contact information, including his cell phone number. Above is a simple message: "If you are going to be a dick to the public, then Im sure you don't mind showing your dick to the public. Umad Bro? #Bartlulz"
Neither BART nor Johnson immediately returned calls for comment.
Are these actually pictures of Johnson? We can't be sure, but the photos are convincing. If so, Johnson is certainly red in the face by now. But we can't help but applaud the usually tight-lipped spokesman for privately being a true representation of San Francisco.
Also included in the post is a dramatic, apocalyptic video lionizing Anonymous and its operations, and reminding BART of its power, titled "What We Are Capable Of." (The lion animation at the eight-minute mark is worth the wait.)
Check out the Johnson photos and let us know what you think: Is this really Linton Johnson? Vote in our poll. Then, watch Anonymous' video, "What We Are Capable Of" below:
Calling all HuffPost superfans!
Sign up for membership to become a founding member and help shape HuffPost's next chapter