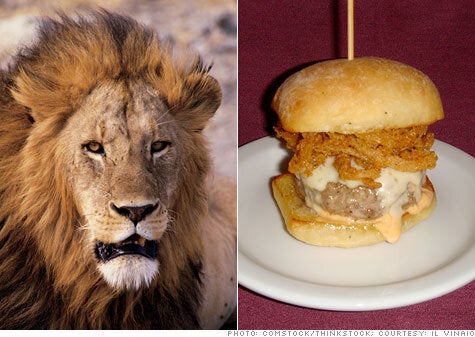 The internet has been bubbling all day on word of a restaurant in Mesa, Arizona serving a World Cup-inspired Lion Burger. The story was first reported by the British tabloids, of all places (here are the Telegraph, the Sun, and the Daily Telegraph, which probably had the first "roar" pun of the day with "Lion burgers hit roar nerve").
During one of the restaurant's Wine-Pairing dinners, where they serve wine with other uncommon meats such as wild boar, customers heard about the availability of lion meat and seemed interested in trying it. [Owner Cameron] Selogie was inspired by the FIFA World Cup's location and decided to serve the meat to coincide with the games.

The restaurant advertised their decision through their e-mail newsletter club to keep the attention to a minimum, but one member and animal activist, Susan Cooper, spread the word. -- azcentral.com
Since then, Selogie has been bombarded by emails and phone calls, and even an alleged bomb threat, from animal rights activists and other upset citizens, to which Selogie has responded:
"In Africa they do eat lions, so I assume if it's OK for Africans to eat lions then it should be OK for us." Mr Selogie added: "We thought that since the World Cup was in Africa that the lion burger might be interesting for some of our more adventurous customers." The meat is from a lion that was raised at a free range farm in Illinois, which is regulated by the US Department of Agriculture.
USDA spokesman Jim Brownlee confirmed that while lion is served infrequently, "he knew of no prohibitions against it."
Selogie said he bought the meat through a Phoenix distributor, Gourmet Imports-Wild Game -- a one-man operation owned by Rick Worrilow. Selogie says he did his research, and was told that the meat came from a free-range farm in Illinois that is regulated by the United States Department of Agriculture.

Meanwhile, Worrilow, who essentially serves as a middleman between farms, meat processors and restaurants, also said the meat came from a completely legal plant in Illinois. And even though he didn't know the name of that plant, Worrilow said he was confident that the meat was inspected by federal regulators.

So where's this supposed African lion farm in Illinois? Well, here's one clue: When the meat arrived at Il Vinaio on Tuesday evening, Selogie said it came in packaging with the name "Czimer's Game & Sea Foods." Czimer isn't a free-range farm. It's a butcher shop located just outside of Chicago in Homer Glen, Ill.
Czimer's proprietor, Richard Czimer, sells an array of wild game, like not-uncommon pheasants, quail, ducks, venison, buffalo, but also camel, llama, and yes, lion. And Czimer told CNNMoney.com that he gets that lion from another man, who he wouldn't name, who runs a "skinning operation":
"This man buys and sells animals for the skin, and when I need something and he has ability to get it, I will bargain for the meat. It's a byproduct," he said.

And where does that mystery man get the lions? "I wouldn't have any idea," said Czimer, who operates a small retail store in addition to his wholesale business. "He has his sources, and I do not infringe on his business, just as he does not infringe on mine." (emphasis added)
And just when you think it can't get any worse, it does:
Czimer's exotic-meat dealings have landed him in hot water before. Back in 2003, Chicago newspapers covered his conviction and six-month prison sentence for selling meat from federally protected tigers and leopards. Czimer admitted to purchasing the carcasses of 16 tigers, four lions, two mountain lions and one liger -- a tiger-lion hybrid -- which were skinned, butchered and sold as "lion meat," for a profit of more than $38,000. (emphasis added)
Here's a brief ABC TV report on the lion burger, with Il Vinaio owner Cameron Selogie and footage of the restaurant and the packaged lion meat:
Support HuffPost
A No-B.S. Guide To Life
Related
Popular in the Community