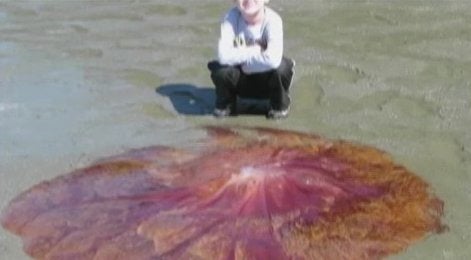 It's official, jellyfish are both awesome and terrifying.
Now, they're claiming the beaches.
"Wake Up With Al" reports that on Friday, a gigantic jellyfish, probably a lion's mane, washed onto the shores of Puget Sound in the state of Washington, much to the shock of a little boy and his father.
Lion's mane jellyfish have impressive dimensions. The largest documented lion's mane jellyfish was seven feet, six inches in diameter, and had tentacles 120 feet long. According to The Week, it is the largest jellyfish in the world and has hundreds of poisonous tentacles that it uses to drag in and eat its prey.
Well, it certainly looks like one to us.
Although you may need a lot of vinegar for a jellyfish of this size.
Related
Popular in the Community