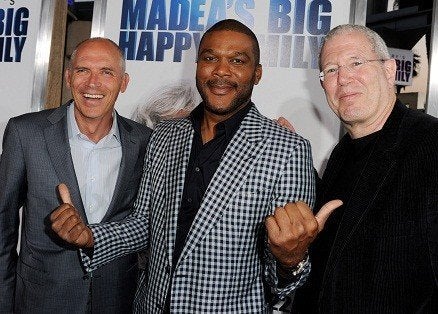 As if Tyler Perry hasn't already etched his name across Tinseltown, the multitalented media mogul may soon follow in the footsteps of his dear friend Oprah Winfrey and launch his very own cable network, tentatively called Tyler TV.
The report, which originated from the New York Times on Tuesday, states that Perry and his longtime film distributor, Lionsgate, are reportedly looking into several alternative routes for distribution, including a possible rebranding of the TV Guide Network.
Lionsgate CEO Jon Feltheimer confirmed the reports on Wednesday during a conference call with financial analysts, when he declared the media maverick a "rare piece of talent that can bring an audience anywhere. Tyler is one of those rare resources that one could launch a channel with," he said. "We have a lot of options if we choose to go down that path."
In addition to releasing ten of Perry's top-grossing films, the leading independent film studio also distributes his two cable sitcoms, "Tyler Perry's House of Payne" and "Meet The Browns." As one might expect for Tyler TV's initial network programming strategy, the two partners are planning to rerun Perry's vast collection of films and sitcom episodes, as well as other third-party programs that fit with Tyler's sensibilities.
Popular in the Community