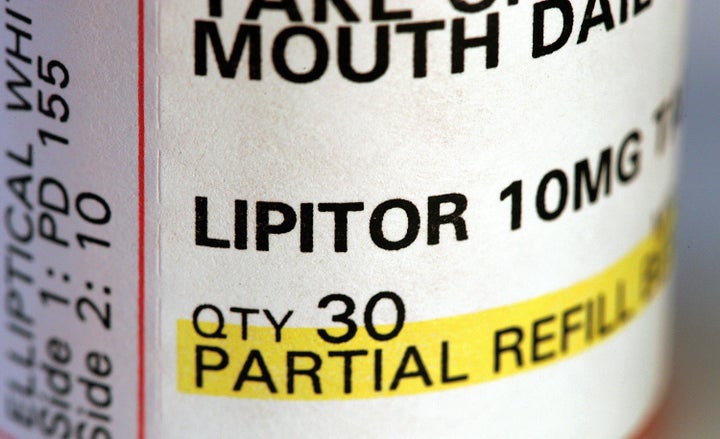 People on a high-dose regimen of the cholesterol drug Lipitor may have a slightly increased risk of developing type 2 diabetes -- particularly if they have several of the classic diabetes risk factors, a study published Monday finds.
A number of studies have linked Lipitor (known generically as atorvastatin) and other cholesterol-lowering statin drugs to a small increase in users' risk of diabetes.
This latest study, based on data from three large clinical trials, strengthens evidence of a connection.
But it also suggests that the risk may largely exist among people who also have the well-known risk factors for type 2 diabetes -- including excess weight, high blood sugar, elevated triglycerides (a type of blood fat) and high blood pressure.
Those four factors appear "very good at distinguishing people at high or low risk for developing new-onset diabetes with atorvastatin," lead researcher Dr. David D. Waters, of the University of California at San Francisco, told Reuters Health in an email.
So managing those risk factors -- by shedding excess pounds, for example -- would be important for curbing any extra diabetes risk, Waters said.
He also stressed that the diabetes risk tied to statins is small.
"An important point," Waters said, "is that the risk of developing new-onset diabetes and its complications (is) greatly outweighed by the benefit of statins in reducing cardiac death, heart attack and stroke."
The findings, published in the Journal of the American College of Cardiology, are based on data from three clinical trials comparing high-dose atorvastatin (80 milligrams) with either a lower dose statin or placebo pills in people with cardiovascular disease.
In the trial with the placebo group, the study found, atorvastatin users had a higher risk of developing type 2 diabetes over 5 years. Just under 9 percent did, versus 6 percent of the placebo group.
That trial included 3,800 adults who were diabetes-free at the outset; all had a history of stroke or "mini" strokes known as transient ischemic attacks.
When Waters and his colleagues accounted for a number of other factors -- like age, weight and smoking habits -- atorvastatin use was linked to a 37 percent increase in the odds of developing diabetes, versus the placebo.
But a closer look showed that the extra risk appeared limited to patients with at least two of the "big-four" risk factors for diabetes.
Of patients with all four risk factors, nearly half of atorvastatin users -- 26 of 56 -- developed diabetes, versus just over 20 percent of the placebo group (11 of 52 participants).
Waters' team found no strong connection between high-dose atorvastatin and diabetes risk in the other two trials.
In one, researchers compared 80 mg of atorvastatin against 20 mg of simvastatin (Zocor) in nearly 7,500 heart attack sufferers who were free of diabetes. Over 5 years, 6.4 percent of atorvastatin users developed diabetes, as did 5.6 percent of simvastatin users.
The third trial compared high-dose atorvastatin against a 10 mg dose of the drug in people with stable heart disease. Of the 7,600 who were free of diabetes to start, 9 percent in the high-dose group and 8 percent in the low-dose group developed diabetes over 5 years.
Statins are not the only drugs that have been linked to diabetes risk. Certain high blood pressure treatments (beta-blockers and thiazide diuretics), niacin (sometimes used to lower cholesterol and triglycerides) and glucocorticoids are among the others.
In most of those cases, the reason for the risk appears to be the drugs' effect on the body's ability to control blood sugar.
In contrast, it's not yet clear why statins would contribute to diabetes, Waters said.
He and his colleagues suggest that doctors might want to carefully monitor atorvastatin users for diabetes. But, they write, the benefits of the drug "clearly outweigh" the risks for people with heart disease or a history of stroke.
People without heart disease or prior stroke may be able to first try diet changes and exercise alone for lowering their cholesterol.
Waters and other researchers on the study have financial ties to Lipitor-maker Pfizer Inc. as well as other drug companies. Three co-researchers are Pfizer employees.
SOURCE: bit.ly/d1cHYE Journal of the American College of Cardiology, online March 28, 2011.
Related
Popular in the Community