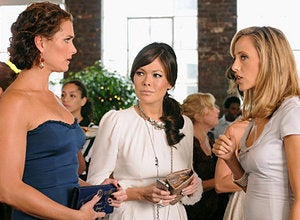 The New York Times' Bill Carter reports:
But as of this week, the show is breathing again. The reason: it showed signs of life this past Friday, and it picked up 50 percent more viewers when delayed viewing (from DVRs and other devices) was included in the episode a week earlier.

The show also received an outpouring of support from fans.

Ben Silverman, the co-chairman of NBC Entertainment, said Monday that NBC will now definitely finish the 13 episodes that the network originally ordered -- it has 4 more episodes to run -- and may order more if the show "grows more."
"They thought that because My Own Worst Enemy has been shut down that the same thing had happened to us, and it's not true. They're not breaking down the sets. We're still working. We still have more to do, so it's erroneously presented that we've been canceled, thank God.

"Our bosses are saying, 'You're not canceled, don't worry. We're just trying to figure out how to make this make sense.'

"I mean, we're basically No. 1 if you look at DVR. And you look at all that. So the public is watching it."
Popular in the Community