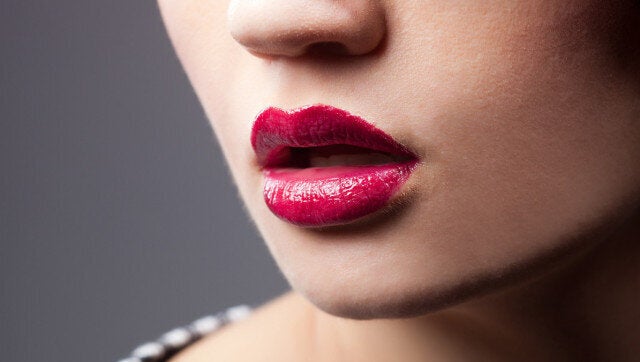 Lip colors are one of the key products to creating a stellar makeup look. Whether they are an accessory to your sultry eyes or a statement on their own, no one wants their lipstick disappearing by lunch time. Using these tips you are sure to maintain a longer lasting lip color.
Preparation: Before applying any makeup, preparation is key, even for a small area of the face such as your lips.
Exfoliate: Some people prefer to exfoliate their lips prior to lip-color application, but if you have sensitive lips try to stay clear of this or do it the evening before. Exfoliating will remove flaky skin from the lips and ensure a smoother application of lip color. You can either use a specialized lip scrub or use a wash cloth soaked in warm water. Remember to always rub in small, circular motions for the best results.
Hydrate: Using lip balm is essential before applying lip products as it provides hydration to your lips and has a waxy texture which prevents the lip color from absorbing into your lips. Be sure to apply your lip balm atleast 10 minutes before your lip color to ensure it has the opportunity to soak in and allow you to really experience the full benefits of the product. (Short for time? Apply your lip balm first thing and do your eye makeup and face makeup while it's absorbing!)
Anti-Feather: It's not attractive to have your lipstick all over your face, ever. Try using a small amount of clear mascara or brow gel around the outside of your lip line and your lipstick won't be going anywhere!
Blotting: Blotting is one of the most important steps in ensuring that your lip color lasts, but there is a key to doing it. Rather then biting the tissue or sticking it half way inside your mouth, kiss the tissue gently or rub the tissue over your lips. Doing it any other way can cause your lip color to fade unevenly and look patchy. You should blot after each step you do in the preparation and application of your lip products. (Try using an oil-blotting sheet instead of a tissue. It will work much better and won't leave lint on your lips!)
Color: Now it's time for the fun part -- color! Whether you choose a firey red, a ladylike pink or a winter plum, remember it is your choice.
Line: This is one of the key steps to getting your lipstick to last. Lip liners are very waxy in texture so they help your lipstick to adhere better and prevent feathering and bleeding. You should fill in your entire lips with a lip liner (rather then just the outside, otherwise once your lip color fades you will end up with an outline around your lips) that matches your lipstick shade exactly. Otherwise, you can use a clear lip liner which is specifically designed for anti-feathering.
Apply: The final step is to apply your lipstick. It's best to use a brush to apply, rather then directly from the bullet, as this will give you the longest lasting effect. For even longer staying power, it's also a good idea to use long-wearing lipstick formula and be sure to apply a few layers for intense color and staying power.
Finishing touches: After you've applied your lip color, there are a few additional steps you can do to make sure it lasts the whole day.
Liner: After you've applied your lipstick, it's best to go over your lips with a small amount of lip liner once again. This will ensure the color is applied evenly and the waxy formula will lock all the color into place.
Teeth: One of the most embarrassing things, as a women, is finding out that you have lipstick on your teeth. This is where the old Hollywood tip comes into play. After you've applied your lip color, take your index finger and place it in your mouth and pull it out slowly. Any lipstick that would have ended up on your teeth will be on your finger instead.
Powder: Lip gloss can cause your lip color to come off quicker due to it's formula which often contains oils and can break up your lip color. So ditch the gloss and instead take one-ply tissue, hold it over your lips and dust a bit of translucent powder over it with a fluffy blending eye brush to keep it in place.
Touch Ups: If you still find your needing to touch up your lip color, it's best to start from scratch, otherwise your lip color can end up looking uneven, cakey and messy -- which no one wants. If you can't be bothered repeating the process, try blotting your lips, then gently dabbing some of your lip color onto your lips. Otherwise, a slick of gloss is always the way.