If you like to be at the forefront of new makeup trends, wave goodbye to the bedazzled nail art that celebrities flaunt for the red-carpet "mani-cam." The daring beauty statement du jour is a purple, blue, black or green lipstick, and some of the best products are being sold by cosmetic companies you haven't heard of yet.
"It's not there to be liked -- it's there to show some kind of individuality," says Merle Ginsberg, senior style writer for The Hollywood Reporter, of the unnatural lip look. She credits Lorde, the 17-year-old singer of the hit "Royals," for bringing punk pouts back into vogue by wearing a dark purple blend of two MAC Cosmetics lipstick shades -- Heroine and Cyber -- at the Grammys in January. "All these girls at the Grammys were trying to be sexy... strapless gown, pretty hair, pretty lipstick... pretty, pretty, pretty. She totally stood out." Not only did Lorde win two Grammys that night, but the buzz generated by her purple lips led to the recent announcement that she will collaborate with MAC on a summer makeup collection. Style watchers expect the line to feature some of Lorde's signature dark hues.
MAC -- a top seller of lipsticks in department stores -- has long done limited editions of edgier colors. Its 2013 Punk Couture collection included a matte black lipstick called Hautecore. Last month, the company caused a stir again by mixing three of its pigment products to create a matte, dark-blue lip for clothing designer Ann Yee's runway show. But, while the big beauty company got the press, a similar shade is already available, minus the mixing, from Melt Cosmetics, a company that was started last May by makeup artist Lora Arellano and actress Dana Bomar. The sassily named DGAF blue, priced at $19 a tube, tends to sell out as soon as it hits Melt's website, but other options include grey-blue Space Cake, lavender Darling and black Bane.
Black lipsticks are a mainstay of upstart cosmetics companies' offerings, just as Russian Red has been a MAC classic since the 1980s. Kim Damio even named her business the Portland Black Lipstick Company after her favorite shade. "Who doesn't look good in black?" she asks, laughing. Damio -- who, as a graduate student of Chinese culture, translated a beauty manual from the Ming Dynasty -- has seen her sales double every year since she launched in 2011. Lipsticks are $12 each.
Indies like Portland Black Cosmetics make their ingredients a selling point. In 2012, Jenna Acebo founded Pretty Zombie Cosmetics to sell $11 vegan liquid lipsticks and already has annual sales topping $100,000. Her version of black is called Black Cat, while her most popular shade is a deep purple called 3 Witches. Ka'oir Cosmetics, founded in 2011 by model Keyshia Ka'oir, puts annual retail sales at $5 million a year thanks, in part, to a rainbow of gluten-free lipsticks with prices starting at $15.99. "The most popular color varies weekly," says a spokeswoman. "One week it might be our very dark burgundy shade called Sex and another week it can be our bright turquoise blue called Pool Party." Ka'oir's black lipstick is called Night.
The last time Morticia Addams-worthy lips had such a big moment was in 1995, when Chanel created a frenzy with its black-red Vamp, first offered as a nail polish color, then as a matching lipstick. The following year, a company named Urban Decay got its start by asking, "Does pink make you puke?" in ads for provocatively named nail and lip colors such as dark-brown Roach and metallic-blue Frostbite. The fashion cycle eventually shifted back to classic reds, pinks, plums and nudes, though Hillary Belzer, founder of the Makeup Museum website, says there have been "smaller moments" between the '90s and Lorde "that really sent edgier colors to the forefront -- planting the seeds of the colors we're seeing today." Belzer cites Chanel's introduction of its Black Satin nail polish in 2006 and Yves Saint Laurent's creation of a black lipgloss in 2008. Blue has made appearances before too: Pop star Kesha wore a metallic blue lip in 2010, and Rihanna tried blue last year.

Those blue hues didn't come from Urban Decay, which is now owned by L'Oreal, and has annual retail sales in excess of $415 million. Neutral eyeshadow palettes called "The Nakeds" are among the company's top sellers (though the company last week added a neon "Electric" palette) and, while original lipstick colors like deep-red Gash are still available, Frostbite is no more. "We didn't sell that much blue lipstick," explains co-founder and current chief creative officer Wende Zomnir, but "... to kick down the door of the cosmetics department we needed to make that really bold statement."
These days, new companies don't have to worry about cosmetics departments. They sell through their own websites, generating cult followings of makeup lovers who share their looks on online. Melt fan Nailah Smith recommends browsing social media before buying: "I did a lot of research via Instagram before spending my money." The 24-year-old math tutor says that while shades such as Space Cake get occasional "weird stares" in her quiet Brooklyn neighborhood, they get "compliments up and down" in Manhattan.
But you don't have to be a 20-something like Smith to wear outrageous lip colors, say Tish and Snooky Bellomo of Manic Panic. The sisters (Tish has pink hair; Snooky has blue) have been selling green lipstick and purple hair dye since 1977. Their customers -- who buy from outlets including Sally Beauty and Hot Topic, ringing up annual retail sales of over $25 million -- range in age from tweens to women in their late 80s. This month, the company revealed 26 new shades of its $15.50 Lethal Lipstick; the velvety black is called Nosferatu. The sisters point out that lipstick is a low-risk way to be wild. "Try everything!" Tish urges. "You never know." If it doesn't work, Snooky adds, "Wipe it off!"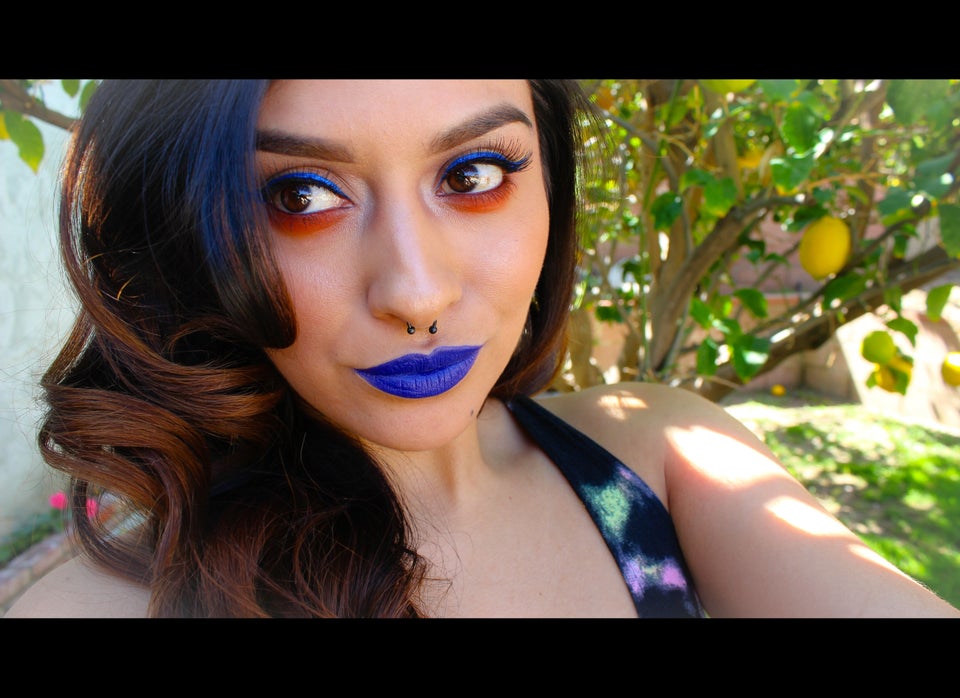 Black Lipstick on Your Collar?
Related