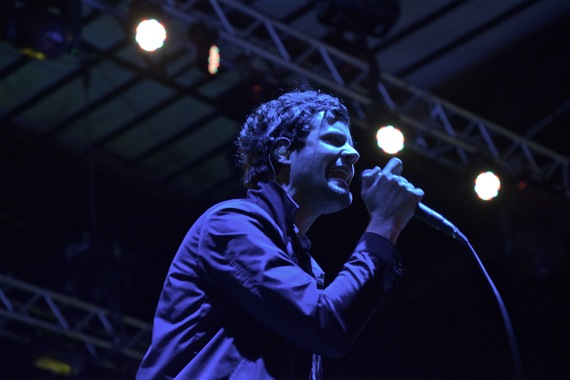 Passion Pit's Michael Angelakos performs at the Lipton Be More Tea Festival in North Charleston, SC, October 24, 2015 (photo credit: Jordan Levine).
This weekend, Lipton took over North Charleston, SC's Riverfront Park, bringing some of today's coolest bands along with them to help celebrate the storied brand's 125th birthday. Named the Be More Tea Festival, the company gave away over 10,000 tickets to residents of the area, inviting them to come and party. I mean, if you're turning 125, you need to throw one hell of a party, don't you?
The company picked a prime location in the southern city for their festivities, turning the park into a proper festival ground, making sure everything was as large as the momentous occasion. The beer pong required volleyballs, the Connect Four game board was larger than even the tallest person, and the company invited the mayor to have a drink of sweet tea from the world's largest cup of tea (certified by Guinness).
The show warmed up with mid-afternoon sets by the likes of pop-rap favorite Outasight and rocking newcomer BORNS, both of whom got things going for the upcoming night's headliners. Both artists had released new albums the day prior, so there was no shortage of material for them to fill their half hour sets. After those two had their turns, it was time for St. Lucia, who really amped things up with their signature island-pop sound. The band's energy was infectious, and you could tell that they were enjoying themselves just as much as the crowd, if not more so.
Walk The Moon were on next, and as always, they brought their A game. The group has seen their popularity explode this year, as they have gone from relative indie obscurity to taking the stage next to headliners. Their hour-long set was proof that while the masses may only know them almost exclusively for their top ten hit "Shut Up And Dance" (which they performed just halfway through their time, surprising many), they really have so much more to offer. Their latest single, "Different Colors", was a particular highlight for those open to discovering new music.
After a short break, the crowd, which had been waiting for The Roots all night, was treated to what they'd come for. The many-membered group took to the stage, and for just over an hour they showed everyone why they are just now at the top of their game, twenty-something years into their careers. Bouncing from straight up hip-hop backed by a live band to a DJ spinning Nintendo-inspired beats to a killer cover of Drake's "Hotline Bling", the set had everything. In fact, the one hour where The Roots were on stage might have been more varied in styles and genres than the rest of the festival combined. When was the last time you saw a hip-hop group bring a tuba on stage?
By the time Passion Pit went on, the sun had set and the few thousand people that had showed up seemed to be happily relaxed, with many having spread out blankets and lawn chairs. Though he didn't say much, Michael Angelakos' high pitched singing got people to their feet yet again, and the night ended on a high note thanks to the indie pop mainstays.
In a conversation with an executive from Lipton, I was told that Charleston was chosen from many other cities because it felt right, and because it was genuinely a cool city. Well, that's certainly true, and having the hippest acts of the year come to the city for an all day party certainly didn't hurt what is quickly becoming one of America's must-visit places.