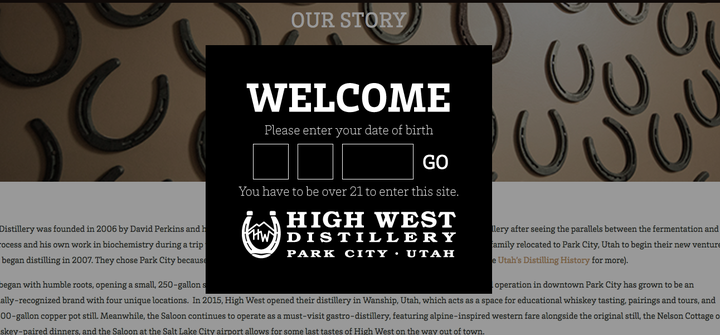 If you've ever visited a beer, wine or liquor website, you've been faced with an age verification page. It adds an annoying three additional steps ― month, date, year ― before you can get to the information you want to reach. And half of the time, folks don't even bother entering their actual birthday. You can't really stop an underaged visitor from lying, so what's the point?
If a company is actually selling alcohol online, age verification would make sense ― it's akin to showing your ID ― but age verification on a website that only talks about alcohol is a little confusing.
We reached out to Marvin Cable, who teaches internet law and policy for the University of Massachusetts ― and who is also a policy expert in the field of drug and alcohol law and marijuana reform activism― to explain why this happens.
Are age verifications on alcohol websites required by law?
"There is no law or regulation per se that requires age verification," Cable bluntly told HuffPost.
That's right. Alcohol companies willingly put those age verification pages on their webpages.The reason they're there is because some people believe it will help keep youths away from these sites, and those people have convinced many in the alcohol industry that this is an effective tool.
"These proponents believe that the less youth know about or are exposed to alcohol subject matters, the less that youth are harmed by alcohol. But this belief is heavily debatable," explained Cable.
Do these age verification pages actually work?
Of course we all want to protect young people from the dangers of alcohol, but whether these pages actually achieve that goal is a guess.
"Harm-reduction studies contradict each other on this point, and there are almost too many factors to account for," says Cable.
Actually, some believe that the more information people have on a topic ― even young people and alcohol ― the better equipped they are to make good decisions.
"From a policy perspective, there's evidence to suggest that more access to and knowledge about alcohol is an even better harm-reduction method than prohibition," said Cable.
"In looking at laws in various other countries around the world, we see that sometimes more access to and knowledge about drugs and alcohol has a better effect on harm reduction than less access and knowledge."
What happens if a minor enters a false birthday?
This is more serious than you might think, and could potentially lead to federal criminal charges. The way minors could get caught varies from case to case Cable says, but it can be serious.
"Under the Computer Fraud and Abuse Act (CFAA), persons under the legal drinking age (LDA) face criminal charges when they lie about their age," explained Cable. That's criminal charges for looking at a website that doesn't even sell alcohol.
"In doing so, said users inherently violate the terms of use for the website and accordingly the CFAA. Violations of the CFAA can result in serious consequences," Cable elaborated.
"It seems that they find out about lying after the fact. So, for example, a parent finds out that his or her child bought alcohol illegally, and reports it. And, actually that scenario was the impetus to several investigations and sting operations by our prior attorney general about a decade ago. In other words, it varies from case to case. "
So it turns out that these pages are not just annoying, but they could be putting people under the drinking age at risk of some serious punishments for just lying about their age while looking at an alcohol company's website.
Something to think about the next time you enter your DOB.
Support HuffPost
A No-B.S. Guide To Life
Popular in the Community