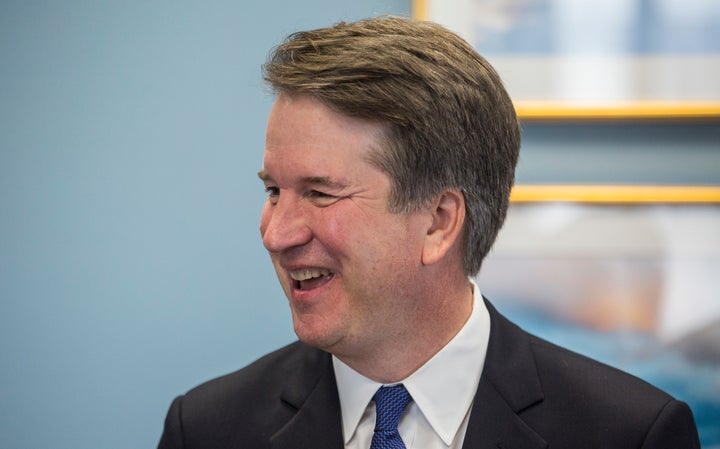 When Supreme Court nominee Brett Kavanaugh goes before the Senate Judiciary Committee on Tuesday, he'll be introduced by Sen. Rob Portman (R-Ohio), former Secretary of State Condoleezza Rice and attorney Lisa Blatt.
Blatt is the least well-known of the trio, but her function is just as important. She is a former clerk for Justice Ruth Bader Ginsburg and heads the appellate and Supreme Court practice at the elite law firm Arnold & Porter. She's a powerhouse lawyer, having argued 35 cases before the Supreme Court ― more than any other woman.
Her main role at the hearing will be to lend some bipartisan credibility to Kavanaugh as the author of an op-ed in Politico called, "I'm a Liberal Feminist Lawyer. Here's Why Democrats Should Support Judge Kavanaugh."
In other words, sure, Kavanaugh served in President George W. Bush's administration and investigated President Bill Clinton as part of Kenneth Starr's team. But he has a liberal lawyer who believes he is "supremely qualified" and "one of the warmest, friendliest and kindest individuals I know," so he can't be all bad news for Democrats.
Ethics experts say what Blatt is doing is not necessarily untoward. Ellen Yaroshefsky, a legal ethics professor at Hofstra University, said it's a "commonly accepted practice" and Stephen Gillers, a legal ethics professor at New York University said that there was "nothing in the judicial conduct code or the rules of professional conduct for lawyers forbids this."
Blatt, who didn't return a request for comment, may genuinely like Kavanaugh. And while nothing forbids Blatt from vouching for Kavanaugh ― she's certainly not the first person to do something like this ― these bipartisan displays should be viewed skeptically.
"For a Supreme Court lawyer like Blatt, vouching for Kavanaugh is a transactional ploy to gain favor with someone she may argue before in the future," said Brian Fallon, executive director of the group Demand Justice, which is working to defeat Kavanaugh's nomination. He added that she was "selling out progressive causes in order to advance her corporate clients' interests."
Blatt has made a name for herself representing major corporations, and Kavanaugh, conveniently, is expected to further cement the court's pro-business leaning. As a federal appellate court judge, Kavanaugh has often sided with businesses in cases about the environment and consumer protection.
That sort of record is excellent news for Blatt and her clients. And there's a good chance that if he is confirmed, Blatt will appear before him in a case ― and she'll then stand before a friendly face she helped get on the Supreme Court.
The Washington Post credited her with being the "legal mind" behind the Washington football team's fight to keep its federal trademark registrations for the Redskins, in the face of objections from Native Americans and activists that the name is a racial slur.
In one case that likely made more people in her party happy, Blatt argued a case for GlaxoSmithKline that barred peremptory challenges of jurors based on sexual orientation. Although Blatt has donated to both Barack Obama and Hillary Clinton, in 2015, she also donated to the political action committee of Scott Pruitt, the business-friendly Oklahoma politician who went on to become President Donald Trump's chief of the Environmental Protection Agency.
Popular in the Community