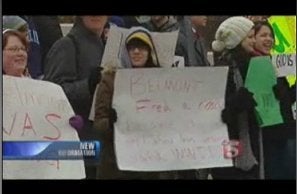 Belmont University's former head soccer coach Lisa Howe may have been dismissed from her post because she is a lesbian, according to the Tennessean.
Howe told her team that she would be leaving the Christian-affiliated university late last week, shortly after announcing that she and her partner were expecting a baby in May. Howe had been denied permission to share this information with her team.
Belmont Athletics Director Mike Strickland said in an e-mail Thursday night that Howe had resigned voluntarily. On Friday morning, however, Strickland sent out a second e-mail stating that her removal had been mutually decided by her and Belmont officials, reports the Belmont Vision.
Members of the soccer team, however, believe that it was Howe's decision to tell them of her impending motherhood that led to her termination. Junior Ashley Hudak told the Tennessean that, "[Howe] said she needed to resign or she was going to be fired because of the choices she had made with her life."
In an attempt to clarify the situation, team captain and Belmont junior Sari Lin asked Strickland to explain why the coach was asked to leave. "He basically said we have the 'don't ask, don't tell' policy and when [Howe] told us about the pregnancy, it violated that," Lin said. "He pretty much told me that once the baby was born she was going to get fired anyway, so it's better to do it sooner than later."
Outraged team members and other Belmont students staged a rally on Sunday to condemn the unfair dismissal and speak out for LGBT rights on campus. Belmont alum Guy Farmer told the Vision that they hoped to demonstrate support for Howe and other gay administrators and students and to pressure the university to extend its anti-discrimination policy to include sexual orientation.
Howe -- who helped the team achieve an impressive 52-48-16 record, told students in an e-mail published by the Vision that,
I appreciate Belmont University giving me the opportunity to lead the women's soccer program for the last six seasons... I want to thank all the student-athletes who worked so hard for and dedicated themselves to me and the program. I am at a point in my life where I am satisfied to move on, and I wish the Belmont women's soccer team continued success.
Below, check out News Channel Five's coverage:
What do you think of this situation? Let us know in the comments section.

Related
Popular in the Community