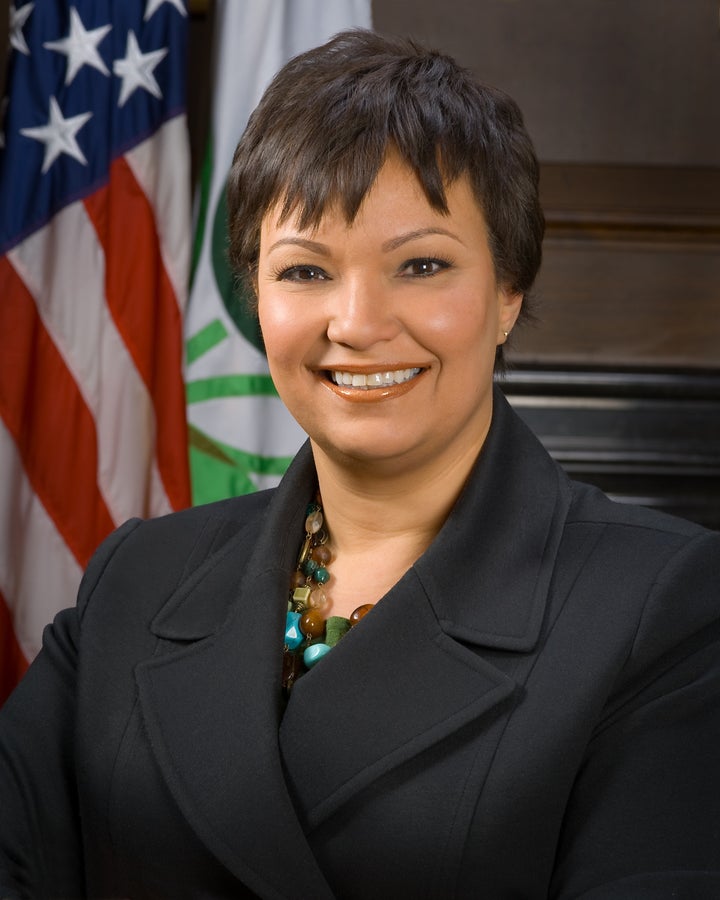 A special series profiling trailblazers in energy innovation and champions of the environment. See previous stories here.
"From the time I was little I wanted to be a doctor. Back in those days, the thing people would say to a good student was 'Oh, you're going to grow up and be a doctor,'" Lisa Jackson remembers. "I also had a female pediatrician and I know it sounds a little weird, but from a very early age it never occurred to me that women couldn't be scientists or healthcare professionals."
Despite those early dreams, that little girl from New Orleans would never work in a hospital and never treat a patient. Instead, she would forge an even bolder path to become the first African American to lead the Environmental Protection Agency (EPA) in U.S. history.
"I went to an all-girls high school, which was really great because we never had that pressure... or feeling like we couldn't be the best in class. Obviously, the best in class was a woman. It was a very nurturing environment," Jackson says. "It's not to say that you have to go to an all-girls school, but it's important to make a special reach-out to young women, especially in the middle school years when we know they begin to doubt whether or not they should stay with the STEM [science, technology, engineering, math] fields."
After placing first in the state's Algebra II academic competition, Lisa attended a summer program at Tulane University thanks to support from the National Consortium for Minorities in Engineering. "I can honestly say that I didn't know what an engineer was until that summer after my junior year in high school," Jackson says. "And I found it really intriguing." Nonetheless, Lisa enrolled at Tulane thinking she would pursue chemical engineering pre-med in anticipation of becoming a doctor. But she had yet to discover her true passion.
Jackson says, "It was the issues of the day--Love Canal and the beginning of the Superfund hazardous waste cleanup program" that compelled her to change course. "We had this remarkable industry that developed in chemicals and oil and it was all done by engineers," she says. "And I remember thinking, 'If an engineer can create the processes that produced all of this pollution, it's going to be an engineer that figures out how to clean it all up.' And, that's when I made the decision to stick with engineering."
At Tulane, Lisa was one of only two women in her chemical engineering class and when she arrived at Princeton for her master's degree, it was precisely the same. But like a tree growing in the wind, any adversity or discrimination she faced appears only to have made her stronger.
"It became almost something I didn't think about, because it was unusual, but it was normal back then, that there were so few women in the scientific careers," Jackson explains. "And I think one of the real successes over the last few years is the huge jump in the number of women who are pursuing degrees and graduate degrees in the STEM fields."
Although Lisa didn't become a doctor, she still sees herself as part of the public health community. "Every time we take action to enforce our nation's environmental laws, like the Clean Air Act and the Clean Water Act, it's like preventative medicine. Air pollution causes premature deaths, hospital visits, asthma attacks, bronchitis, cancer... and we are preventing hundreds of thousands of deaths," she says. "We have done study after study--as have outside groups--and the benefit of the Clean Air Act in health care costs avoided is 30 dollars for every dollar spent. There simply is no truth to the idea that we have to choose between a clean environment, healthy air and a thriving economy."
As for the oft-mentioned, but still nascent green economy, Jackson says "The President's leadership has always been about realizing this is a transition... we need to move our economy to cleaner, more sustainable forms of power that are not dependent on foreign sources." But she notes the push for cleaner energy and lower pollution as a central component of the nation's energy policy is hardly new.
"The first time around back in the 1980's, there was a real call toward cleaner energy, but it was sort of stopped in its tracks. The big question here is: 'Are we going to be stopped or are we going to continue to move forward?'" Lisa says. "I'm just really proud to work for an administration where the president continues. Even in the face of tough budgets, we have to invest in the infrastructure that will help us win the future, that will help make our country stronger."
But not everyone shares this view, or approves of the EPA acting to limit industrial emissions that scientists say are linked to climate change. Though it didn't ultimately become law, the House recently voted to revoke authority given to the EPA by the Supreme Court to do so.
"It's disappointing to hear people talk about defunding or stopping the work of the EPA, especially because survey after survey shows that the American people, even in these tough budget times, not only want--but expect--their environmental laws to be enforced," says Jackson. "CNN did a poll the day after the budget agreement was announced, and 71 percent of the American people said they were in favor of the EPA doing its job and did not support the idea of cutting back on the EPA's authority."
Amidst immense pressure and political vitriol, Jackson appears unflinching--steadfast in her resolve to fulfill the mission of the agency she helms. No doubt, some would argue such strength and fortitude could serve as no better example for the promising young women of today.
And for those who contemplate following in Lisa's footsteps, she has a few words of advice: "One of the things that I think often times discourages young women from pursuing STEM careers is they believe that somehow science is a cold, unemotional profession. And it's anything but," she says. When women become scientists, we tend to bring our sensibilities to it, and that's a missing part of the equation. So find that which you love. For me, it was protecting public health and our environment. For someone else it could be a totally different field, but science is going to be the foundation that gets you there."
At a Glance
Hometown: New Orleans, Louisiana
Education: Bachelor's in Chemical Engineering, Tulane University. Master's in Chemical Engineering, Princeton University.
Professional Highlights: Chief of Staff to New Jersey Governor Jon S. Corzine, Commissioner of the New Jersey Department of Environmental Protection,
EPA Administrator
Advice for Young Women: "If you have a talent and an ability and an interest in science, nurture it. And nurture it with an eye toward looking for that which you really feel passionate about and enjoy."