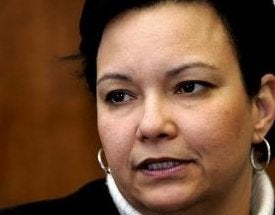 The AP reports that Obama intends to name Lisa Jackson, the former Commissioner of the New Jersey Department of Environmental Protection, as his Environmental Protection Agency administrator.
Democratic officials say President-elect Barack Obama intends to nominate Steven Chu for energy secretary, Lisa Jackson for environmental protection agency administrator and Carol Browner as his energy "czar."

Obama is expected to make the announcements in the coming weeks. Still unclear is whom Obama will tap for interior secretary.

The officials spoke on condition of anonymity because they were not authorized to reveal selections that have not been made public.
Popular in the Community