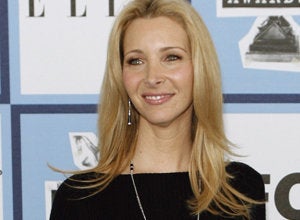 Although NBC's celebrity roots series, Who Do You Think You Are?, is only about to embark on its second season (February 4 , 8/7c), it already has many diehard fans. Imported from the U.K. by executive producer Lisa Kudrow, the show appears to be on the verge of provoking a nationwide epidemic of roots fever.
As a lifelong genealogist, I am thrilled with the popularity of this series, and as the author of the show's companion, how-to book, I am delighted to have the opportunity to share celebrity profiles from the first season. Since we have Ms. Kudrow to thank, it seems only appropriate to start with her.
From 1994 to 2004, Lisa Kudrow came into our homes every week as Phoebe Buffay -- streetwise and naive, blunt but generous -- on the hit sitcom Friends. Her performance earned her an Emmy and international fame. In real life, Lisa is an actress-producer (and an executive producer of Who Do You Think You Are?) who lives in Los Angeles with her husband, Michel Stern, and their son, Julian. Her parents, Lee and Nedra, both children of Jewish immigrants, live close by.
Lisa has always had a close relationship with her father. She describes Lee as a kid from Brooklyn who pulled the family out of hard times. Lee was raised by his mother, Gertrude, who had immigrated to the United States in 1921 and married David Kudrow. They had three children: Gershon, Blanche, and Lee. But misfortune visited the family early and often. The couple lost their firstborn in 1930, and David was killed by a truck in 1936. In 1948, at the age of eighteen, Blanche also died, leaving just Gertrude and Lee.
Since he retired from a successful career as a doctor, Lee has become an amateur genealogist and has spent many years building an extensive family tree. However, there are a couple of questions that he's never been able to answer. In the late 1940s, Lee's cousin Yuri Barudin arrived in New York from Europe. This was the first time Lee had met his cousin Yuri, who was dressed in a Polish naval uniform. Yuri told Lee that their grandmother, Meri, had been killed in the Holocaust. When Gertrude emigrated, her mother, Meri, had remained in their hometown of Ilja, located in modern-day Belarus. The family never heard from Yuri again. In fact, they'd heard that he died. Lisa wanted to find out what became of Yuri and to uncover the details of what actually happened to her great-grandmother. She was determined to find a final resting place for Meri and to pay her respects to those who were lost. Sixty years on, Lisa decided that she would attempt to answer her father's questions.
Lisa went to New York to meet with her father's cousin Gerry Meister in the hope that he might remember further details about Yuri's visit. A few years older than Lee, Gerry was able to recall meeting Yuri and to provide Lisa with a couple of crucial details. He explained that Yuri was from Gdynia, Poland, and that he was a crew member of the Polish merchant ship the Batory. He, too, had no idea what had happened to Yuri Barudin, but he did provide Lisa with a photograph of Meri. This was me first picture that Lisa had ever seen of her great-grandmother, and she was startled by how much Meri resembled Gertrude.
Wanting to know more about her grandmother's family and the details of what happened to her great-grandmother in the Holocaust, Lisa flew to Minsk, Belarus, to meet with historian Tamara Vershitskaya, an expert on the Holocaust in Belarus. Tamara explained that before the Second World War, Jewish citizens accounted for 50 percent of Minsk's population, but after the war the Jews were reduced to just 5 percent. Almost the entire Jewish population of Belarus was murdered at the hands of the Nazis and their collaborators.
A trip to the Molodechno Archives confirmed her great-grandmother's residency in Ilja. Tragically, it also confirmed her death -- her name appeared on a list of people who were "killed and burned" in Ilja during World War II. With this confirmation, Lisa wanted to travel to Ilja to see where her grandmother lived and her great-grandmother died. She hoped to find the final resting place for all those massacred in Ilja.
Upon her arrival in Ilja, she met with an elderly resident who remembered Lisa's family and the arrival of the Nazis. Using eyewitness accounts, Tamara reconstructed the events surrounding Meri's death in March 1942. Together they went to the market square, the location where Ilja's Jews were gathered and the selection process took place. Ilja's Jewish citizens had been marched to a storage building just outside the town. According to witnesses, they were forced to remove their clothes and enter the building, where they were shot at from all sides. The Nazis then threw oil on the walls and set the building aflame. "How do you prepare for that last moment of your life, knowing what's coming?" Lisa wondered. "You watch the people before you and know that's your fate while you're standing there naked and humiliated, waiting for your turn to get shot." Lisa visited the memorial at the site of the massacre and placed a stone in memory of her great-grandmother and the 750 other Jews who were murdered that day.
Lisa now knew the awful truth about her great-grandmother's death but she still didn't know what became of Yuri Barudin, her father's cousin who had brought the dreadful news to her family in New York sixty years earlier. A search on Ancestry.corn revealed multiple records for the ship named Batory. There was only one crew member listed with the name Barudin, but his first name was Bolesław, not Yuri. Could this be the same man? Closer inspection of the ship manifest revealed that he'd been discharged in Gdynia, Poland, and he was the right age. These details meshed too tidily. Yuri and Bolesław must have been the same man.
There was one last place on Lisa's itinerary: Gdynia, Poland. She was determined to find out the fate of Bolesław Barudin. In Gdynia, she earned that Bołeslaw had married and had a son. Hoping to determine if his son still lived there, she asked for a phone book and was stunned to find Bolesław listed. A quick call later, she was elated and on her way to meet her father's first cousin.
Lisa listened intently to his survival story. At last Lisa had found something to celebrate. Bolesław was alive, and he introduced Lisa to his son Andrzej and grandson Tomek. After such a difficult journey, Lisa was thrilled to have this unanticipated reunion to share with her rather. "This to me has been more than worth it," she said. "Even the hard parts."
Popular in the Community