Dr. Lisa Levy, S.P. (self-proclaimed) is an artist, performer, comedian and faux-psychotherapist who is hosting free therapy sessions in her Brooklyn studio. Prospective clients are invited to sit down on her very Freudian couch and receive a standard 50 minutes of counseling -- though we imagine the content of that counseling to be a little less conventional that what people are used to during their sessions.
Levy has made a name for herself with her own brand of mental healing in her performance project, "Psychotherapy Live!" in which she offers therapeutic advice to volunteers on stage. But for her series "Thoughts in Your Head," each individual not only has the opportunity to receive one-on-one treatment, but they are given the option of upping the ante of their psychotherapy sessions with an on-site painting by the artist. For $500, she will paint a a large text portrait inspired by your intimate sessions, immortalizing in paint your momentary admissions and emotional breakthroughs. She may not be versed in psychiatric methods, but her mixture of performance and comedy certainly forces her "patients" to confront their array of defense mechanisms and overburdened egos.
We asked the performer a few questions about her psychotherapeutic techniques and what potential clients can expect during their 50 minutes with Levy: Scroll down for images.
HP: What kind of experience can your "patients" expect? Take us through the steps of a typical session.
LL: I treat the session as any professional therapist would. It starts on time and lasts 50 minutes. I have a couch that my patients lie down on. Like Freud, I feel it helps people free associate. I try to help people either define a problem and work on it or alternatively, we will dive into and explore their background and personal history. I believe that it's important to be productive and aim to give my patients some insight.
HP: Have you studied psychotherapy at all or attempted to model your sessions after any one specific therapist?
LL: I have been practicing psychotherapy on and off for about 10 years now, so I would say I have a lot of practical experience from both sides of the couch. I also do a lot of reading on the topic and try to stay current. I, like many "real" therapists I believe, use an amalgamation of different psychotherapy schools. I work very instinctually and try to fit the style in which I work to the patient. I focus on being productive, and use whatever technique will best help the patient.
HP: In your other performance project, "Psychotherapy Live!", you conduct counseling sessions on stage. Will the "Thoughts in Your Head" sessions be completely private? If so, how do you think this will change the dynamic between you and your patients?
LL: I have been doing individual therapy for almost as long as I have been doing it on stage, and I will continue to do both, so in that way nothing will change. I also have a variety of video-taped, one-on-one sessions, with the patients approval of course, which I've edited and posted them on YouTube. The last week in August I am planning on having a performance with patients that I have seen during the month.
Therapy on stage is very different than a 50-minute private session. The sessions on stage are really quick and need to be entertaining as well as helpful. I ask the audience to chime in with their help as well. I'll say to them, "SInce I have no formal training, I need your help. Call out with any helpful thoughts or suggestions you may have. Pretend you're at a sporting event."
HP: Can you tell us a little about "Thought in My Head," the series of paintings that preceded your work now?
LL: I studied illustration in college and have always made art objects and installations. I fell into performing along the way and since I was also working as an art director in advertising I didn't have time to continue making physical art objects while I was working at a high-pressure job and doing performance in my off hours. I really missed making visual art and last summer I got a residency and had a chance to make these text paintings that were simple, carefully edited versions of literally the thoughts in my head. Over this past year I had the inspiration to combine them with my psychotherapy practice and make "portraits" of people through a therapy session. I'm thrilled that I am having the chance to synthesize making visual art with performing therapy. It really seems as if what I am passionate about doing has come full circle in a particularly gratifying way for me.
Dr, Levy's doors will be open until August 31st, 2012. So while therapists and art professionals alike may have left you to fend for yourselves during this vacation month, Dr. Lisa Levy, S.P. is here to meet your various needs. You can email her at imahomemaker@yahoo.com (yes, that's her address) to set up your session.
Check out images from Levy's project in the slideshow below and tell us what you think of the artist's therapeutic pursuits in the comments section.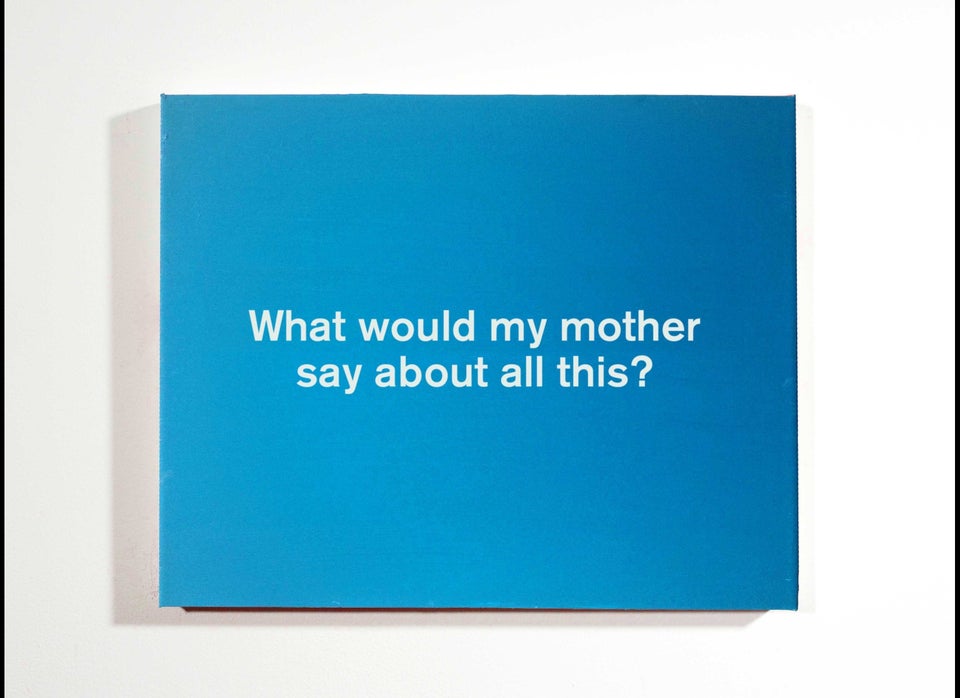 Lisa Levy's "The Thoughts in Your Head"
Related
Popular in the Community