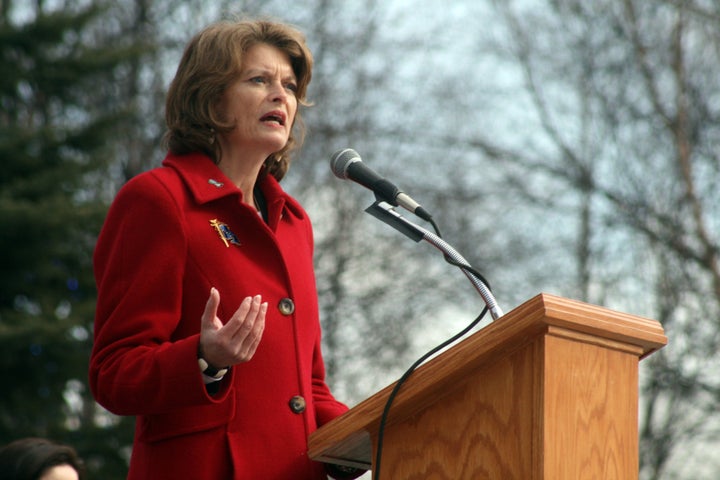 Sen. Lisa Murkowski (R-Alaska), the incumbent recently defeated in a contentious GOP primary by Tea Party favorite Joe Miller, talked recently about the potential that her decision to run as a write-in candidate could eventually lead to her leaving her party to caucus with Democrats.
Though Murkowski told Time in a recent interview that a party switch was not in the works, she did suggest that if she were to win reelection under the current circumstance her allegiances could change due to the political leanings of voters who might write her name in at the polls in November.
"I'm not my party's nominee. Does that give me a little more flexibility and independence? Perhaps, yes," Murkowski told Time. "Keep in mind, our demographics of our state, how it breaks down in terms of political affiliation: over half the people in this state chose not to align themselves with any party at all. So, in order for me to represent them, I think I have to have that approach that I have demonstrated over the years: that you're not going to find me 100% in alignment with the party position but I'm 100% aligned with Alaska's position."
Though Murkowski did accept that Alaska was more of a conservative state, which might imply that she would feel beholden to legislate based on that political ideology, she seemed to admit that she'd need the support of Democratic voters in order to return to the Senate seat in November, which could also change the Senator's loyalties.
"[Democratic Senate candidate] Scott McAdams is a nice guy, but I don't know that most Alaskans believe that he's electable," Murkowski said. "And so if you're given a choice between a Democrat that you consider not electable in a relatively conservative state, you look at what the other two options are. I think Alaskans are looking at me as one who has clearly demonstrated that I can represent all Alaskans and I think the real question is whether Miller and the views that he represents could really represent all Alaskans."
As for the long-shot odds that recent polls have given Murkowski's re-election hopes, the Alaska Senator isn't buying them.
Murkowski told Time that one of the reason's she was not stripped of her post as top Republican Senate Energy and Natural Resources Committee was because her colleagues were thinking: "You know what? Lisa might be a risk taker, but she's got a real shot at coming back here, and it only makes good sense that we would not want to be so punitive that she would be discouraged by the actions of her colleagues."
Sarah Palin, apparently unforgiving of Murkowski taking the liberty of voicing what she thought other GOP Senators were thinking, took exception to this quote over Twitter, writing:
Always odd to hear politicians speak in 3rd-person; Murkowski: "You know what? Lisa might be a risk-taker, but she's got a real shot..."Odd
Popular in the Community