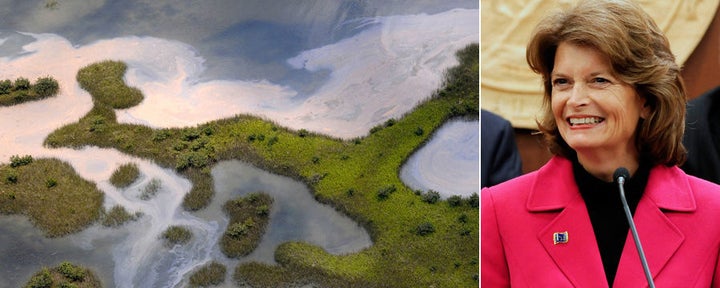 A bill to increase the liability cap for oil spills from $75 million to $10 billion was defeated Thursday by Sen. Lisa Murkowski, R-Alaska.
Bill S.3305, the "Big Oil Bailout Prevention Liability Act" would cap BP's liability at $10 billion, even if damages from the gulf oil spill surpass that figure. The company already estimates that spill will cost $450 million to clean up.
It would be impossible or perhaps close to impossible for any energy company that is smaller than the supermajors, smaller than the national oil companies, to operate in the O.C.S.

$10 billion in strict liability would preclude their ability to obtain financing, to obtain the bonds, or insurance for any exploration. And look at who is producing in the offshore? It's the independents.
Sen. Robert Menendez, D-New Jersey, said Murkowski's argument didn't hold up. "The risk is what has to be calulated here. If you drill, you need to be able to pay for the damages," Menendez said.
Menendez derided Murkowski's characterization of "independent" oil and gas companies. "This isn't mom and pop in the grocery store around the corner.''
Sen. Patty Murray, D-Wash., said she was disappointed that Senate Republicans "once again put Big Oil profits" over taxpayer interests. "This is a simple issue of fairness: If an oil company causes a spill, they should have to pay to clean it up," Murray said.
Menendez along with Democratic Sens. Frank Lautenberg (D-NJ) and Bill Nelson (D-FL) said they would try again to move the bill forward.
The Obama administration has said it would like to see the liability limit increased, but has not set a specific figure.
In addition to her argument that a $10 billion cap would hurt oil and gas companies, Murkowski reasoned that the law currently allows for unlimited damages. If businesses and individuals lose money, they can sue:
...the law expressly allows for unlimited damages.

You've got unlimited damages in state courts where the compensatory, the punitive damages are already being... sought.

As we speak, the Louisiana shrimpers filed a class-action lawsuit against BP, Transocean, Halliburton and Cameron for their economic losses and alleging negligence and seeking both economic and punitive damages.

I think state of Florida on May 10 announced they filed a suit against BP.

On May 12, the fishermen filed another such lawsuit in Mississippi, recognizing that again they have the ability to go after unlimited damages in those forums.
While it's possible in theory for those hurt by an oil spill to be made whole through litigation, that's not what happened in Murkowski's home state of Alaska.
More than 20 years after the Exxon Valdez spilled 11 million gallons of crude oil and wiped out the fishing industry in Prince William Sound, Alaska, many are still struggling to get back to where they were before the spill.
While an Anchorage jury awarded claimants $5 billion in punitive damages, subsequent rulings, including a U.S. Supreme Court verdict, whittled the figure down to $507.5 million.
In the wake of the Gulf oil spill, The New York Times returned to Prince William Sound and profiled a community still struggling to recover:
In December, Exxon sent the last of a nearly $500,000 payment to John Platt, but Mr. Platt said he never saw it. Straight to the state and the bank it went, to clear the liens on his boats and his fishing permits, to dig out of the debt he accumulated, some through his own admitted missteps, in the two decades since the wreck of the Valdez.

The payments were initially supposed to be much higher, before Exxon successfully fought, all the way to the Supreme Court, to have them reduced.

"The money was supposed to bring closure," Mr. Platt said. "Deep down inside I was really banking on it, but it didn't happen."
WATCH: Murkowski blocks $10B liability cap
Related
Popular in the Community