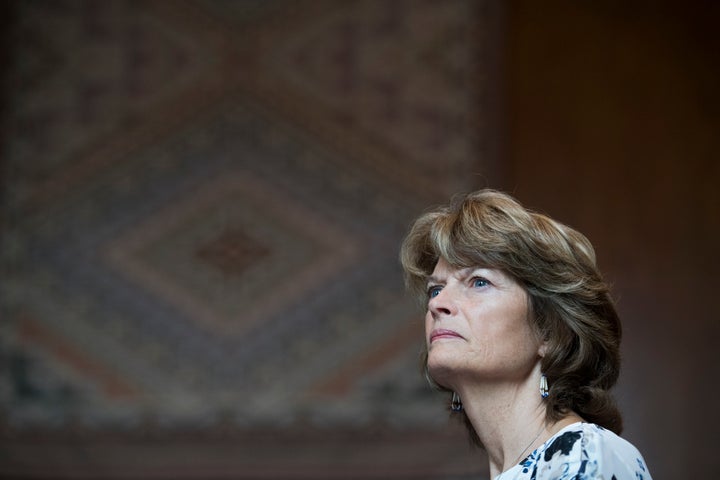 WASHINGTON ― Somewhere in between a California woman's allegations of attempted rape and a Supreme Court nominee's unhinged behavior in front of a Senate committee, in between the lies and threats and claims of a rigged process, in between the president mocking a sexual assault survivor and the throngs of other survivors demanding to be heard outside the Capitol building, Sen. Lisa Murkowski (R-Alaska) took a step back.
Her party was plowing ahead with putting Brett Kavanaugh on the Supreme Court, even as it was driving Washington's already toxic environment to a new low. GOP senators were lining up to praise Kavanaugh and dismiss Christine Blasey Ford, who had accused him of sexual assault. But Murkowski was nowhere to be seen. Nobody knew how she planned to vote until the Senate held a vote to advance Kavanaugh's nomination.
When her name was called, Murkowski stood up at her desk, looked dead ahead and said in a barely audible voice, "No."
In the end, she was the only Republican who did not support Kavanaugh. Her vote did not prevent his confirmation. (Technically, she voted "present" on the final vote as a personal gesture for a senator who had to miss the vote. The Congressional Record will reflect that she was a "no" on the nomination.)
It was a bold move by Murkowski ― and, of course, President Donald Trump wasted no time in warning that she "would never recover" from it politically, which shows how little he knows about her or Alaska politics. And the reasoning behind her vote spotlights her as the only senator in her party who actually acted as the Constitution intended.
In a sobering Friday night speech on the Senate floor, Murkowski said she didn't vote based on a particular policy issue, though she was certainly under pressure to oppose Kavanaugh over abortion rights (she is pro-choice), health care (she supports preserving the Affordable Care Act) and tribal protections (Alaska Natives strongly opposed Kavanaugh). It wasn't about believing Ford over Kavanaugh either, she said, or the "horrible" and "overtly political process" that marked the debate over him and left all involved miserable.
Murkowski said she voted "no" on Kavanaugh because she's worried that confirming him after the nasty, partisan fight sparked by his nomination would further erode the already waning trust people have in government.
"We are at a time when many in this country have lost faith in the executive branch," she said. "And here in Congress, many around the country have just given up on us. They've just completely said, 'We've had enough.'"
But people still have hope in the judiciary as an independent, nonpartisan, fair and balanced branch, Murkowski said. "It's that hope that I seek to maintain ... because it is so critical that we have that public confidence in at least one of our three branches of government."
When it came to Kavanaugh, she said she looked to the Code of Judicial Conduct, Rule 1.2, which states that a judge must "act at all times in a manner that promotes public confidence in the independence, integrity, and impartiality of the judiciary, and shall avoid impropriety and the appearance of impropriety."
"A judge shall act at all times — not just sometimes when you're wearing your robe — in a manner that promotes public confidence," she said. "Public confidence. Where's the public confidence?"
This is, simply put, where Kavanaugh failed to meet the standard, Murkowski said.
She referred to the Sept. 27 Senate Judiciary Committee hearing at which Kavanaugh ― flushed with anger at times, weeping at other moments ― blamed revenge-minded Democrats for besmirching him as he refuted Ford's allegations.
"It became clear to me, or it was becoming clearer, that that appearance of impropriety has become unavoidable," Murkowski said. "I could not conclude he is the right person for the court at this time."
"Where's the public confidence?"
Trump isn't the only Republican griping about Murkowski's vote. Alaska GOP party leaders are considering reprimanding her for opposing Kavanaugh. The state party chairman told The Associated Press that the leadership may also withdraw its support for Murkowski and ask her not to seek re-election in 2022 as a Republican.
A Murkowski spokeswoman did not respond to a request for comment. Murkowski, though, is no stranger to bucking political norms. She won a re-election battle in 2010 as a write-in candidate after a Tea Party insurgent defeated her in that year's GOP primary.
A source close to the senator, who requested anonymity to speak freely, said her Senate speech seemed to be sending a message to three distinct people:
― "Dr. Christine Blasey Ford, I hear you and understand you."
― "Judge Kavanaugh, this is a cerebral branch of government designed to be filled with exceptional, seasoned intellects."

― "President Trump, the three branches are expected to have standards and behaviors, mores and metabolisms, that I deeply believe in."
The source added that Murkowski was arguably taking the "truly conservative" position by voting "no" on Kavanaugh in an effort to preserve the institutional role of the Senate as "the full 'saucer that cools tea' function envisioned by the founders."
At least one longtime federal judge caught Murkowski's speech and told HuffPost that she "hit the nail on the head" on a topic that many want to ignore: how crucial it is that people have faith in the courts. Murkowski's words were reassuring to this judge, who requested anonymity to speak freely.
"It's not WHAT we address, it's HOW we address it that can either heal or harm," the judge said in an email. "Much harm has been done [by Kavanaugh's confirmation process]. For those of us who care deeply about people, institutions and decency in debate and disagreement, it is a painful time."
Murkowski said in her speech that she agonized over her vote but ultimately did what she thought was right.
"I am really worried that this becomes the new normal, where we find new and even more creative ways to tear one another down," she said. "The hateful, the aggressive, the truly, truly awful manner which with so many are acting now has got to end. This is not who we are. This is not who we should be."
This story has been updated to clarify that Murkowski voted "present" on the vote to confirm Kavanaugh, but that the Congressional Record will reflect that she was a "no" on his nomination.