ANCHORAGE, Alaska ― At 74, Carroll Knutson has seen Alaska go through a lot of changes. She lived here before it was even a state. She remembers when most Alaskans were Democrats. She remembers when the oil industry came in ― and with it, lots of money ― and turned the Republican Party, her party, into "really crazy right-wing nuts."
But if there's been one constant, it's that people here pride themselves on being fiercely independent. And for Knutson, who lives on a homestead near the tiny town of Soldotna, there's one Alaskan in particular who's been embodying that spirit lately: Lisa Murkowski.
"Out of 100 members in the Senate, she's the only one that's really wearing the balls right now," said Knutson, in between bites of salmon at a 70-year-old's birthday party in Anchorage that HuffPost crashed. "I don't know if you can put that in your story."
Murkowski caught everyone's attention last month when she helped kill her party's effort to repeal the Affordable Care Act. She was one of three Republicans ― Susan Collins of Maine and John McCain of Arizona were the others ― who voted with Democrats to sink a bill that would have gutted President Barack Obama's signature health care law.
Most of the buzz about that vote centered on McCain, who returned to the Senate after a brain cancer diagnosis to cast a dramatic, last-minute vote against the bill. But it was Murkowski who stuck her neck out more than anyone.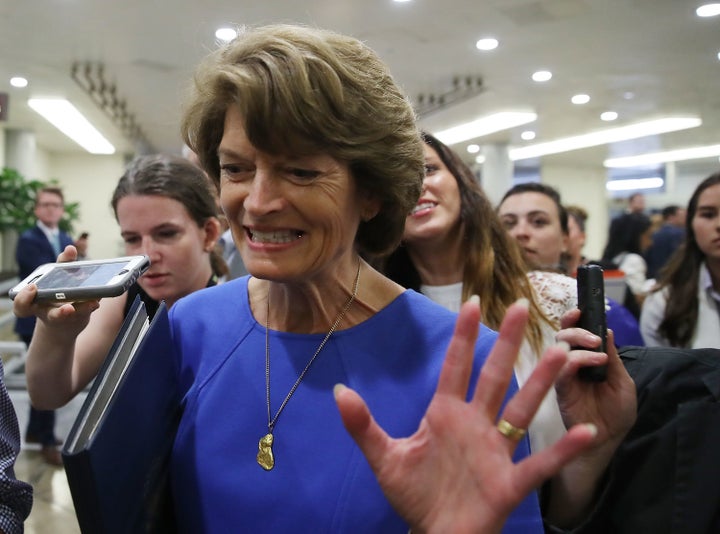 For weeks, she and Collins resisted intense lobbying by their party to vote for various repeal bills. That was a particularly risky move for Murkowski, who, unlike Collins, represents a heavily Republican state. President Donald Trump lashed out at her on Twitter over her opposition, saying she'd "really let the Republicans, and our country, down." Interior Secretary Ryan Zinke called her to warn that energy projects in her state were at risk if she didn't vote to repeal the law. For good measure, two separate House Republicans criticized her, too.
And yet, Murkowski didn't budge. She maintained that the repeal bills would be devastating for Alaskans. She was right; among other things, 25 percent of people in her state rely on Medicaid, a program the bills would have gutted. She also criticized the rushed, closed-door process GOP leaders used to bring the bills to the Senate floor. While Obamacare isn't perfect, she's argued, lawmakers need to take a more thorough approach to changing the law, one that includes public hearings and working with Democrats.
Her votes infuriated party officials in Alaska. But she was hailed as a hero by constituents who had been urging her for weeks to vote "no." People hugged her at the airport when she flew back home. They held a rally for her that included a plane flying above with a massive "Thank You" sign. They delivered roses to her office. In a Q&A with her summer interns that she posted on YouTube, she said her vote against repeal was the biggest difference she's made in her roughly 15 years as a senator.
"The constant is remembering who you work for," Murkowski told the kids. "I don't work for the party. I don't work for the president. I work for the people of Alaska. And sometimes that's hard."
"There are pressures that would allow you to forget that, that would put you in a place where it would just be easier if I just went along with what everybody else is doing," she continued. "But if it doesn't fit with who you represent, why are we here, if not to serve the people who sent us here?"
This is the Lisa Murkowski many Alaskans have long wanted to see.
Ever since 2010, when she pulled off a stunning re-election victory, the mixed-up coalition of people who helped her win that year have been hoping she'd get all mavericky. That was the year she lost the Republican primary to a tea party challenger. She responded by running as an independent, launching a write-in campaign featuring now-famous ads (see below) that carefully spelled out her name, M-U-R-K-O-W-S-K-I. Against the odds, and with no support from the Republican Party, she won, making her the first candidate to win in a write-in Senate campaign since South Carolina's Strom Thurmond in 1954.
It doesn't get much more exciting than that, and the people she won over in 2010 ― a smattering of Democrats, moderate Republicans and independents ― hoped she'd head back to D.C. emboldened to break from the GOP and go her own way. After all, Alaska may be a red state, but more than 50 percent of voters here are "undeclared" or "nonpartisan."
"When she ran as a write-in candidate, she really spoke to me," remembers one of those undeclared voters, 52-year-old Alyse Galvin of Anchorage. "I thought, here's a woman in a very difficult state to be a strong woman, who seems to be willing to work in a bipartisan way. I bought in hook, line and sinker. I think most of Alaska did."
But back in Washington, there weren't obvious signs she'd changed. She continued to vote mostly in lockstep with GOP leaders. It wasn't until this year that something shifted. In February, she was one of two Republicans who voted against confirming Trump's education secretary, Betsy DeVos. She's condemned Trump for berating the media. When the health care debate began in July, Murkowski voted no on a procedural step to even begin debate, and went on to oppose every version of Obamacare repeal that came up.
Galvin, who is a co-founder of a local chapter of Great Alaska Schools, a statewide coalition that advocates for quality public education, led a petition and letter-writing campaign urging Murkowski to oppose DeVos' confirmation. She said she's been impressed with her senator, both for taking the time to truly understand education and health care policy, and then voting based on what's best for Alaskans, party politics be damned.
"The idea that she did that ― voted against repeal ― at a time when she knew it really counted, makes me feel even more strongly that she's the kind of leader that I think the whole nation should be looking to right now," said Galvin, who was having lunch in a cozy Anchorage cafe with her two college-aged kids. "She gets the connection between her decisions and our lives, and I appreciate that wholeheartedly."
HuffPost spent several days in central Alaska in August, interviewing residents of small towns and the state's biggest city about how they're feeling about Murkowski these days. There was a theme: hard-line conservatives are miffed, and everyone else seems thrilled to see their senator stray from the party line.
"I think with her vote on health care, she finally recognized that she's in a unique position to actually be independent," said Vered Mares, 42, a Democrat in Anchorage. "Even though she is a Republican, and I disagree with her almost unilaterally on her general policy decisions, on this issue she listened to the people who were calling into her office."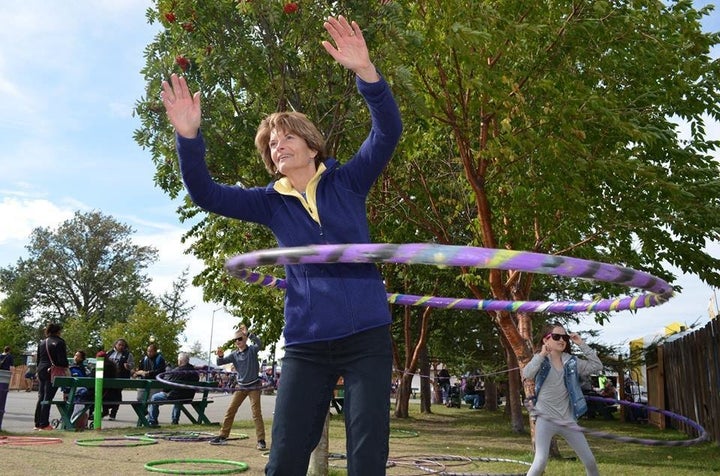 Murkowski has already distinguished herself from most of her GOP colleagues by being pro-choice, and her defense of Planned Parenthood funding during the health care debate didn't go unnoticed back home. She still votes mostly with GOP leaders, though. Some Democrats don't know what to make of her.
"I mean, she has been really good on women's rights," said 35-year-old Shona Mull of Anchorage, who was chasing her toddler around a park in the town of Girdwood. "With Trump threatening to take away federal funds for energy and stuff, we were calling her and saying, 'Are you kidding me? You're Alaskan, you can't be bullied by this jerk.' So, I had a lot more respect for her there. I feel like there's more she could do, but ... yeah."
Darren Lowry, a local beer distributor in the conservative town of Wasilla, was less impressed. He wants the state's senior senator to step down.
"Being a Republican voting against Trump on the repeal bill, I could use words, but I'm not going to," grumbled Lowry, 48, as he wrestled with a beer tap at a local AMVETS outpost. "I'd like to flour bomb her. You ever seen that before? When there are celebrities that people don't like very much, they get a sack of flour dumped on their heads?"
Carl Seutter, a 48-year-old optician in Wasilla, said he didn't like that Murkowski voted for an Obamacare repeal bill in 2015, when it was a show vote, but opposed it this year when it could have become law.
"She ran on saying one thing, and then turned around and did the opposite," said Seutter, fidgeting with a tube of kitchen caulk in an aisle at Lowe's.
Murkowski can take the criticism. She's been in politics since 1998, when she was elected to the state House of Representatives. In late 2002, her father, Sen. Frank Murkowski, appointed her to fill his seat after he was elected governor. Some Alaskans resented the fact that she got her Senate seat because of her last name. Bumper stickers surfaced around the state that read, "Lisa, who's your daddy?"
"I think that's how I learned that word 'nepotism,' through Lisa Murkowski," said Sean Galvin, 23, who is Alyse's son.
But the senator was re-elected in her own right in 2004, and then came the 2010 campaign. That was a tough period. Her mentor, longtime Sen. Ted Stevens (R), died in a plane crash two weeks before the primary. Not only were they close, but she had lined up ads for the final weeks of her campaign that featured Stevens endorsing her. She pulled the ads and didn't have much to replace them with, which arguably contributed to her loss to tea party candidate Joe Miller.
Her party completely dropped her after that. She was in Senate leadership at the time, and had to resign from her post. Her Republican colleagues were furious that she launched a write-in campaign against the GOP candidate, and they debated stripping her of her top seat on the Senate Committee on Energy and Natural Resources. She ultimately kept it.
Andrew Halcro, a longtime friend and former Republican colleague of Murkowski's in the state legislature, remembers her being "stunned" by the fallout from her primary and learning quickly that she was going to have to go it alone if she wanted to keep her Senate seat.
"It's one of those things where you wake up one day like, wow, I don't have any friends," he told HuffPost. "They didn't care about Lisa. They didn't care about Joe Miller being an absolute nut bag. They just didn't care. He was a Republican; they wanted a Republican. She was an independent."
Until 2010, Halcro said he'd had some concerns that Murkowski wasn't voting like the moderate, pragmatic Republican he'd known in the state legislature. But he thinks the write-in campaign jolted her back to her centrist roots, and that she's finally realizing the leeway she has to carve her own path.
"I think she's come full circle," he said. "She is rightly focused on the people that actually get her elected and those are the ones, Republicans and Democrats and independents, that want a U.S. senator that actually thinks about policy, not just about politics."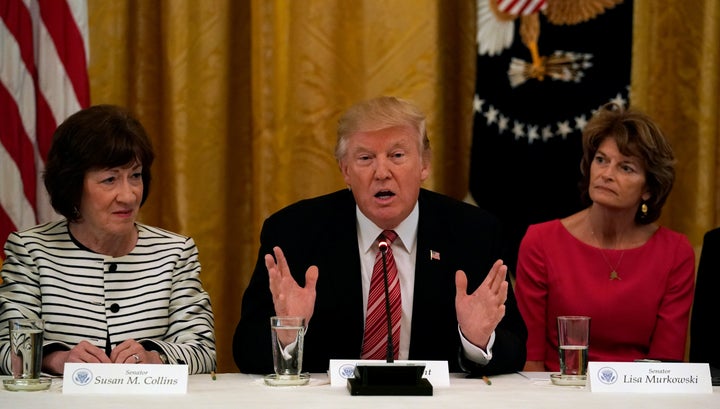 If it seems wacky that a veteran Republican senator in a red state would count on people in all parties to get reelected, consider the mixed up politics of Alaska. It has an independent governor, who was once a Republican, paired with a Democratic lieutenant governor. Its junior senator, Dan Sullivan (R), defeated a Democratic incumbent for his seat, and he votes with Trump on everything. Alaska's lone House member, Don Young (R), has held his seat for more than 40 years and is best described as the curmudgeonly, mildly offensive grandfather who will always be the way he is. Sullivan and Young voted for Obamacare repeal; Murkowski did not. Yet, they all represent the same state. What?
"I think it's because we Alaskans, we appreciate characters here," suggested Alyse Galvin. "If they have a history of some sort, we tend to keep 'em along."
On some level, it makes sense. Alaska is remote. It's massive. Its roughly 750,000 residents are spread all over the place. Name recognition and legacy go a long way here. So does securing federal money for the state, which, among other things, has some of the worst health problems in the country. Sullivan is still just a first-term senator banking on the Trump vote. But Murkowski and Young have much deeper roots, and their famous names give them a certain freedom to do what they want.
"People do respect independent thinking. And they see [Murkowski] as picking up the legacy of Ted Stevens, who was dedicated to bringing federal benefits to Alaska," Stephen Haycox, an Alaska historian, said in an email. "Young is a forthright, unreconstructed states' rights conservative … He styles himself a last frontiersman. His office is full of the heads of dead animals."
If ever there was a time for Murkowski to let her independent streak shine, it's now. She's not up for re-election until 2022. She proved in 2010 she doesn't need her party to win over her constituents. She's excited people back home, eager to see what she'll do next. At a time when Congress is painfully polarized, she could be a bridge to bipartisanship (which is far better than a Bridge to Nowhere). The question is whether she'll go that route.
HuffPost reached out several times to Murkowski's office for an interview, either by phone or in-person in Alaska. Her aides repeatedly she said was not available. (She was available for an interview about growing lettuce in her office, however.)
Knutson said she recently quit the Republican Party, after decades of being involved in politics, and became an independent. She said she's tired of "these Trump-like buffoons" like Young and Sullivan who she said seem out of touch with regular Alaskans. She's thrilled with Murkowski, though, who she said has never lost sight of the constituents who put in her in office. She said she'd even campaign for Murkowski if she ran for president.
"We only have one voice of reason in Alaska," said Knutson. "Because Don and Dan aren't listening. But Lisa is. And when you call, you can still talk to her."
Support HuffPost
The Stakes Have Never Been Higher
Before You Go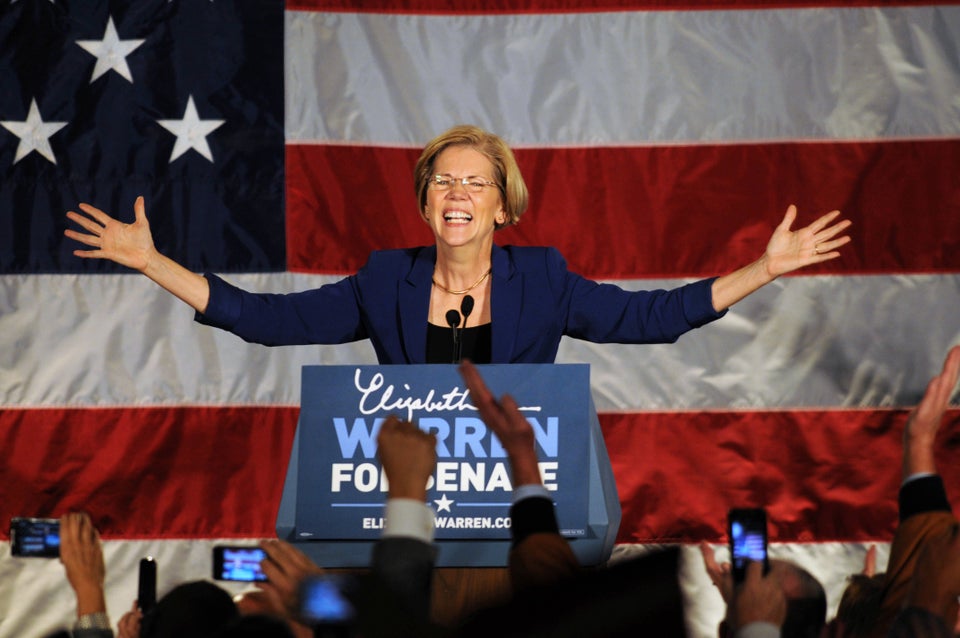 Women In The U.S. Senate
Popular in the Community