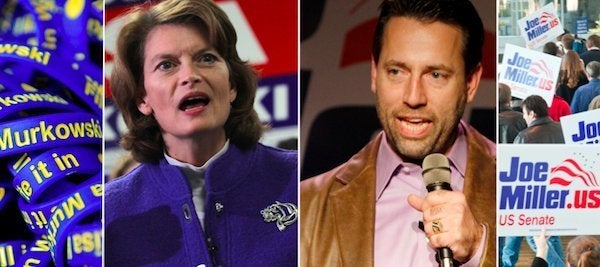 A state court judge has moved a lawsuit over Alaska's still-disputed U.S. Senate race from Fairbanks to the state capital, Juneau.
Judge Douglas Blankenship said Monday that the case brought by Republican Joe Miller raises statewide issues and that he believes it's inconvenient for the state to be involved in a case in Fairbanks.
He said it may be necessary for a recount or for disputed ballots to be inspected and that he did not want to do anything that might "further risk the integrity of the election" - like moving the ballots from Juneau to Fairbanks.

Blankenship told attorneys a status hearing would be held Wednesday.
However, the judge declined to issue a ruling on whether Sen. Lisa Murkowski could intervene in the lawsuit brought forth by Miller. Last week, the incumbent senator's campaign filed a motion seeking a swift resolution to the unresolved race. Attorneys for Miller's political operation pushed back against the legal action.
Murkowski ran as a write-in candidate following her loss to Miller in the GOP primary. Unofficial results show her leading Miller by 10,328 votes. Excluding votes challenged by Miller observers, she still had a 2,169-vote lead.
However, a federal judge has conditionally halted certification of the race, saying Miller's challenge to the counting of write-in ballots raises "serious" legal issues that should be decided by a state court.
The Washington Post reported over the weekend:
Miller, a tea party favorite who beat Murkoswki in the GOP primary, has alleged bias on the part of state officials as well as voter fraud, arguing that some of the ballots have suspiciously similar handwriting. He has attacked the state Division of Elections for accepting minor misspellings of Murkowski's name. He has complained that the hand-count of the write-in ballots started too early to give him enough time to train his volunteers to monitor the outcome.

And he has asked for a hand recount of all the ballots, saying the machine-counted votes that went largely for him should receive the same scrutiny - and potentially benefit of the doubt - as the write-in ones cast for Murkowski.
However, according to the Associated Press, "Election officials, pointing to case law, used discretion in determining voter intent, allowing for ballots with misspellings or those phonetic to Murkowski to be counted toward her tally."
Murkowski campaign attorneys reportedly accused Miller of demonstrating "a disregard for the truth" in court documents filed on Monday. The incumbent senator's team charged that allegations being hurled by the embattled contender -- "that he's not challenging ballots with the ovals filled in and Murkowski's name spelled perfectly" -- is "not even close to accurate."
They point to challenged ballots that read "Murkowski, Lisa," which Miller's camp has acknowledged should not have been challenged. Others had "Republican" written behind Murkowski's name, her name scrawled below the write-in line or sloppy penmanship.

Her attorneys also took issue with Miller's claim that he did not have enough time to adequately prepare for the hand count of write-in ballots, saying Murkowski had the same notice as Miller. Miller attorney Thomas Van Flein told Blankenship logistics prevented Miller's camp from having a full complement of ballot watchers when the count began Nov. 10.

Miller spokesman Randy DeSoto told The Associated Press in an e-mail Monday that because of this, "it is quite likely that hundreds, if not more, of misspelled ballots were counted over the first few days without being challenged."

Murkowski's attorney, as part of their pleadings, provided an affidavit from state GOP chairman Randy Ruedrich, who said he was told by a Miller campaign worker on Nov. 5 that the campaign was ready for the count.
As the 2010 Alaska Senate race stands, Miller reportedly would be unable to make a comeback if he won all 8,153 challenges his campaign made to write-in ballots cast in the race.
Nevertheless, the Tea Party-backed hopeful recently signaled to the Anchorage Daily News that he believes he still has a shot at winning. "I don't think it's impossible," he told the Alaska-based outlet.
Miller's most ardent supporters say they are concerned by the allegations of fraud and negligence - and that more is at stake than the outcome of one race.

"I don't think it's a win or lose for him at this point," said Greg Pugh, a campaign volunteer from Wasilla. "What he's trying to say is, there were certain anomalies that have happened and the law has not been upheld. He wants to see that the election process has integrity for future elections."
Popular in the Community