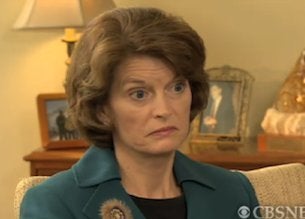 Republican U.S. Sen. Lisa Murkowski says she doesn't think Sarah Palin has the leadership qualities to be president, nor the "intellectual curiosity" needed to make good policy.
Murkowski shared her take on the matter during an appearance on Monday's edition of "CBS Evening News" with Katie Couric.
"I just do not think that she has those leadership qualities, that intellectual curiosity that allows for building good and great policies," explained the incumbent lawmaker when asked about a previous suggestion she's made that she wouldn't support Palin for president. "You know, she was my governor for two years. And I don't think that she enjoyed governing."
Elaborating on her view, Murkowski continued, "I want somebody that goes to bed at night and wakes up in the morning thinking about how we're going to deal with our national security issues, how we're going to deal with our economy, how we're going to deal with providing better education or peace in the Middle East."
An e-mail sent Monday from The Associated Press to Palin's media team wasn't immediately returned.
Palin, a former vice presidential nominee, resigned midway through her first term as Alaska's governor last year. She's seen as a potential 2012 presidential contender.
Despite their differences, Murkowski she says she's still Palin's senator and will "work hard to represent her, too."
Murkowski is seeking to defeat Palin-backed candidate Joe Miller in the still-undecided Alaska Senate race. Murkowski ran as a write-in candidate after losing the primary to Miller.
Popular in the Community