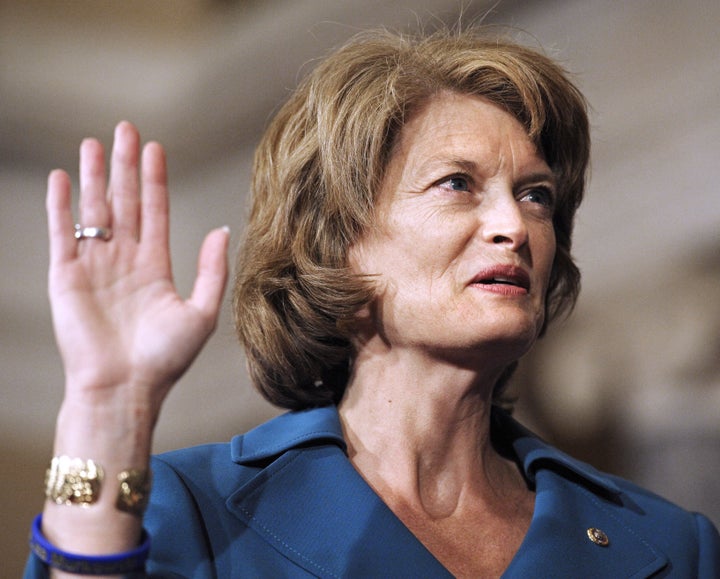 Everyone loves the story of an underdog making a comeback, and in the world of politics, they don't get much better, or unlikelier than this one. Last August, Lisa Murkowski, Alaska's senior Senator and a moderate Republican who had been in office for eight years, was unexpectedly defeated in the Republican primary by Tea Party candidate Joe Miller, a Fairbanks attorney who had won the endorsement of Sarah Palin.
It was one of the biggest political upsets of the year, and Lisa Murkowski was left for dead by pollsters, pundits and the very Republican colleagues for whom she had once raised money.
With the 2012 presidential election around the corner, and the Tea Party stronger than ever, the Republican Party is having an identity crisis, facing a schism between moderates like Murkowski who see themselves as "big tent Republicans" and Tea Party purists who vow "no compromise" on spending cuts, conservative values and working with the White House. Lisa Murkowski's near-death experience is a cautionary tale for what is becoming an endangered species on Capitol Hill: the moderate. But to those Senators who could face Tea Party challenges at home in the fall, including Senators Olympia Snowe (R-ME), Richard Lugar (R-IN) and Orrin Hatch (R-UT), Murkowki's victory may also provide a road map of how to win. Hint: it takes a third party group infused with corporate cash and a healthy dose of luck. Her opponent made serious gaffes on the campaign trail.
In a lengthy interview with me last week, Murkowski did not pull her punches at her disappointment that Senator John Cornyn, a Republican from Texas and the Chair of the National Republican Senatorial Committee, spent nearly $500,000 in campaign ads against her. "Did I expect more? I guess I did, I guess I did," Murkowski told me. She reserved most of her anger though, for Senator Jim DeMint, the Tea Party standard bearer from South Carolina, who attempted to strip her of her senior position on the Senate Energy Committee when she decided to mount a write-in challenge to Joe Miller. "What he did was inappropriate and wrong," she said. The decision by the GOP to throw their weight behind her opponent, Joe Miller, backfired, because now she's back and, she told us, she feels "a sense of freedom" that's not reined in by the Republican Party.
Joe Miller welcomed us to his home in Fairbanks, where he lives with his wife and six children (two other children are away in school.) He told us that he has no immediate job prospects, but plans to continue to be a messenger for the Tea Party platform of fiscal and social conservatism. "Hundreds of billions isn't enough," he said of some Tea Party's proposed slash-and-burn spending cuts. Of the Republican Party today he asked, "Are they gonna be willing to shut down the government? Are they gonna be willing to sit back and say, 'Hey, we aren't gonna raise the debt ceiling? Are they gonna be willing to make those hard decisions that I think those in the Tea Party expect, or are they gonna be co-opted?" Miller predicts the Tea Party is going to become "a major third party force" in the 2012 presidential election.
Of Alaska's other female politician, Sarah Palin, Murkowski gave her credit for being an individual who is able "to motivate and to inspire people." But she said she did not think she would support Sarah Palin for president. I asked her if that meant she would pick President Obama over Sarah Palin, she paused at length and asked "Should I say that we have proven that write in campaigns can actually work?"
As for Joe Miller, Murkowski told us she might not have challenged him at all had he been more gracious during her concession call. Another lesson for the campaign trail... that anyone's mother could have passed along for free.

Dan Rather Reports airs Tuesdays on HDNet at 8 p.m. and 11 p.m. ET. This episode is also available on iTunes.
Popular in the Community