Three Greenpeace activists were taken into custody after deploying a floating banner in the atrium of the Hart Senate Office Building in plain view of a favorite destination for polluter lobbyists - Senator Lisa Murkowski's Washington DC office. The banner exposed Murkowski's close relationship with dirty energy interests and promoted PolluterHarmony, a spoof online dating site launched just before Valentine's Day to help connect polluters, industry lobbyists, and politicians.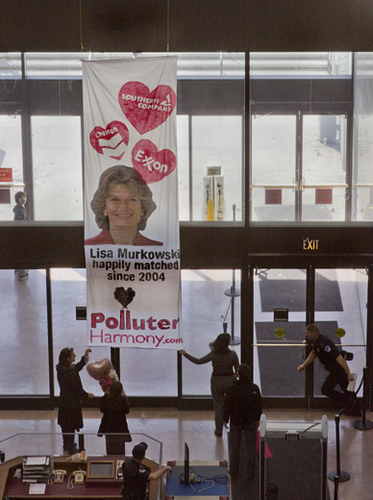 A security guard attempts to grab banner as it rises to the ceiling of the Hart Senate Office Building near Senator Murkowski's office.
It is extraordinary that while Alaska is especially threatened by global warming, and entire villages are lost, Senator Murkowski continues to promote the interests of the very industries that are driving climate change. While Alaska is transformed by warmer temperatures, drilling for oil in the Arctic National Wildlife Refuge would further threaten important habitat for caribou, polar bears, and other wildlife.
Promoting reckless oil drilling and trashing the Clean Air Act might entice dirty energy interests to write campaign checks but they have no place in sane national energy policy.

Related
Popular in the Community