 One of our favorite beauty brands, Carol's Daughter, is zeroing in on the craze with a new three-step kit for women who want to transition from chemically relaxed hair to their natural tresses.
Lisa Price, the founder of Carol's Daughter, recognized that women who were searching for information about how to transition to natural hair didn't have the necessary resources, physical (how do I handle my hair?) or emotional (am I going to like the way I look?), to make the change.
The natural hair process has basically come down to two things: shears and social media. Women are either opting for the "big chop" -- cutting off all their hair to start from scratch -- or "transitioning" by cutting off their chemically treated hair little by little as new hair grows in. Both methods rely heavily on communities of women sharing information, tips and inspiration gained via the Internet.
And while there are plenty of websites that offer suggestions for random brands and homemade concoctions for naturalistas, there have not been to date any specific product lines to address women who are coping with two different textures while transitioning.
To that end, Price developed the "Transitioning 1-2-3" kit and has also launched an online platform for community discussion and a home for comprehensive information on the topic of going natural.
"I want people to be comfortable with whatever decision they make," Price told The Huffington Post. "I have no problem if someone wants to keep relaxing their hair, it's not that I'm an anti-relaxer person. But I don't like the idea that they are a prisoner to a way of managing their hair because there's absolutely no other choice."
And Price isn't simply jumping on the natural hair revolution bandwagon: She has personally gone through the transitioning process several times. So if anyone is going to know about the trials and tribulations of embracing their natural tresses, it's Price.
There were no blatant (or underlying) issues of self-hate or lack of racial pride that prompted Price's relaxers regimen as a little girl.
"Some people grow up in situations where textured or kinky hair is not acceptable or attractive," says Price. "In my house it was more about manageability and having to learn how to take care of my own hair."
While her hair did become easier to style and maintain, Price went through transitioning-to-relaxer, relaxer-to-big chop a number of times, until she went completely natural in 1997. Having worked through so many hair reincarnations, Price has honed in on what's need to make the change successfully.
In short, the kit's first step is a detangling, moisturizing and clarifying shampoo; the second step focuses on clearing excess buildup and helps turn over the cells that have been damaged by chemical relaxers (bonus: special designed nozzle is perfect for women wearing weaves or protective styles, like wists, braids, etc). Lastly, the anti-breakage treatment addresses the lines of demarcation, where the new growth and relaxed sections meet.
"I've always wanted to meet every woman's needs," Price told The Huffington Post. "I feel like we're in a place now where we have something for everyone," Price told The Huffington Post.
Check out the newest video starring Solange Knowles from the Carol's Daughter "Transitioning" campaign.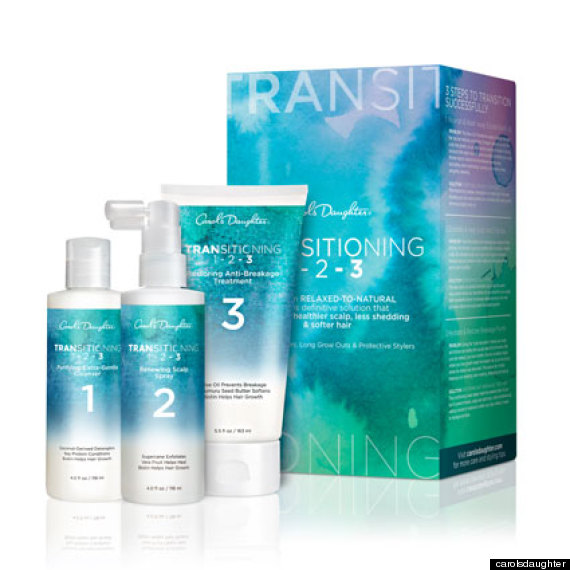 REAL LIFE. REAL NEWS. REAL VOICES.
Help us tell more of the stories that matter from voices that too often remain unheard.