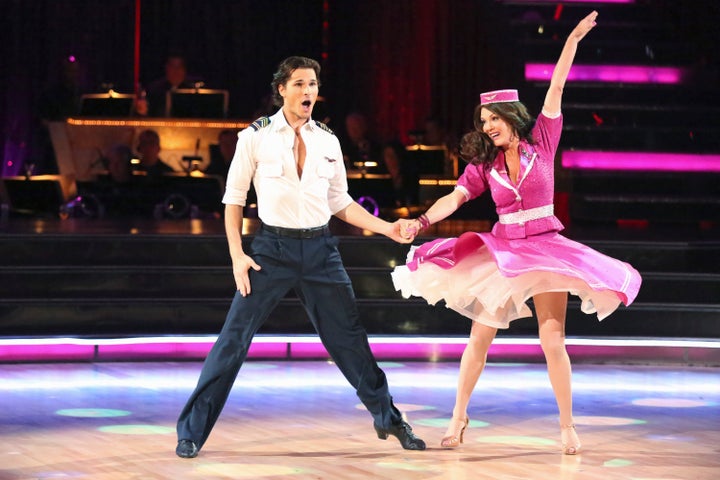 No, it's not some plan castmates and former friends Kyle Richards and Adrienne Maloof cooked up -- just unfortunate timing.
"I think it was hard because we weren't in the bottom three for dancing, but my show airs in the two hours that 'Dancing With the Stars' airs," Lisa told The Huffington Post in a phone interview. "It was my wedding renewal last week in our finale and the first part of our reunion. I think a lot of my fanbase was watching that show. I think that hurts us. We really just need guys to vote and support us. More than anything, we're just having an amazing time."
Lisa's partnered with Gleb, a first-time dance pro on the hit ABC reality series, and the two certainly have the odds stacked against them. Read on to learn what's been the most difficult part of the competition, their Twitter woes, who's supporting them and more.
Do you think the judges were too hard on you this week?
Lisa: "I think they were a little tough. I mean, when I played it back and we all looked at, we were like, "Wow, they really had a good time." It's a very fast dance. Maybe we would've liked a couple of sevens in there, but we had four days to learn it. But looking back, it looked pretty fun."
Gleb: "I think they expect a lot from Lisa. The way she looks, the way she holds herself. They expect a lot and something super dance-y, which obviously you can't learn in three weeks."
Who have you gotten along best with in the competition?
Lisa: "I was very close to Dorothy [Hamill] and really sad to see her go. That to me, regardless with standing there and possibly being eliminated, the saddest thing was to see her in pain and leave. That was a huge moment. I'm very close with Andy [Dick] and Jacoby [Jones]."
Gleb: "I think we're pretty much close to everyone. It's like a big 'Dancing With the Stars' family. Everyone supports each other, almost like voting for each other. Everyone is very good friends. You don't feel like it's a competition."
Gleb, had you seen "Real Housewives of Beverly Hills" before meeting Lisa?
Gleb: "Yeah, yeah, yeah. I watched a couple of shows and I didn't know exactly that I was going to be dancing with Lisa, but I watched the show before."
So you weren't surprised by Lisa's sharp tongue?
Gleb: "No, I was like, 'Oh wow, I'm dancing with Lisa!' I was super excited. That was really cool."
For both of you, which dance are you most looking forward to?
Gleb: "I'm looking forward to all of the sexy dances."
Lisa: "Oh for God's sake. Here we go! Don't even get him started!"
Gleb: [Laughs.]
Lisa: "The sexier it is, the happier he is."
Gleb: "Exactly."
Lisa: "And the more I'm like, 'Oh my goodness.'"
So is Ken really jealous?
Lisa: "Well, I saw a lot of press saying Ken's jealous. I was asked, 'Is Ken jealous?' and I said, 'I hope so!' Listen, last week I had to wear my seatbelt for the flight attendant, this week it's my chastity belt."
Lisa, you're the first "Real Housewives" cast member to make it to "Dancing With the Stars." There were stories that you guys were banned from being a part of the show. How do you feel representing the show?
Lisa: "I think we're all individual characters. I don't think it's about representing the show. It's about representing yourself, really, because we're all so different. But I think it was an honor to be asked. I mean, even if I went home early in the competition, already I've had a couple of great fun dances, an amazing time, made incredible friends and being challenged in a way I never would have. It's just been wonderful, really."
Do you think your "Real Housewives" cast members are voting for you? Are Kyle and Adrienne getting the vote out?
Lisa: "Don't be ridiculous. Have you seen my show?"
I have! I'm a big fan. I was hoping for a biting response from you.
Lisa: "Brandi was there and she's been very supportive. Yolanda is actually really ill and dealing with Lyme disease in Florida, so she wasn't but she's there in spirit. The rest of them ... have stayed silent, but that's fine."
Gleb, you're the new male pro. Was it nice to be new together?
Gleb: "Well, I think for Lisa it was a double stress. I'm a new guy on the show and she's never seen me performing and dancing, my choreography or anything. For me, I think of course it has been stressful, but also exciting and I have a lot of pressure. I have to work double hard to prove to everybody else that I'm actually worth it, you know what I mean? I don't have a fanbase. When I started the show, I had like 243 followers on Twitter. Now I went up to 6,000, but it's not enough. Other people like Cheryl [Burke], Karina [Smirnoff] and Val [Chmerkovskiy], they have like 300,000, 400,000 followers. For us, it's really hard. I think it's one of the reasons. People don't really vote because they don't really know me. That's why we were in the bottom as well."
What's been the most challenging part so far?
Lisa: "For me, I think obviously, the time constraint. I run my businesses and do my other show, 'Vanderpump Rules' and a lot of other things going on. I have another restaurant in development, so yeah, that's hard for me. Yesterday, my day started at 3 a.m. and tomorrow it will start at 3:30 a.m. That's hard for me, especially because I have nighttime businesses."
Gleb: "The most challenging I think is ... "
Lisa: "Dancing with an idiot?"
Gleb: [Laughs.] "We have a good time. We laugh all the time. We only had like two weeks preparation before we started, right? So we're just having a good time and starting to get to know each other. Lisa has a great sense of humor, but at the same time, it's hard work. You have to put the choreography together and perform at the end of the day. You have to think about that as well. Sometimes I have to be very strict with her -- that's the most challenging part because we laugh and then I have to be very strict. That doesn't go together. That's the most difficult part. Plus, as Lisa already said, she's very busy with work -- we don't have as much time as the other dancers and celebrities have. We have like maybe three to four hours a day in which we can really concentrate and work hard. We don't have time to sit down and have a cup of tea or something like that. That's the part of the process that's the most challenging, I think."
"Dancing With the Stars" airs Mondays, 8 p.m. ET and Tuesdays, 9 p.m. ET on ABC .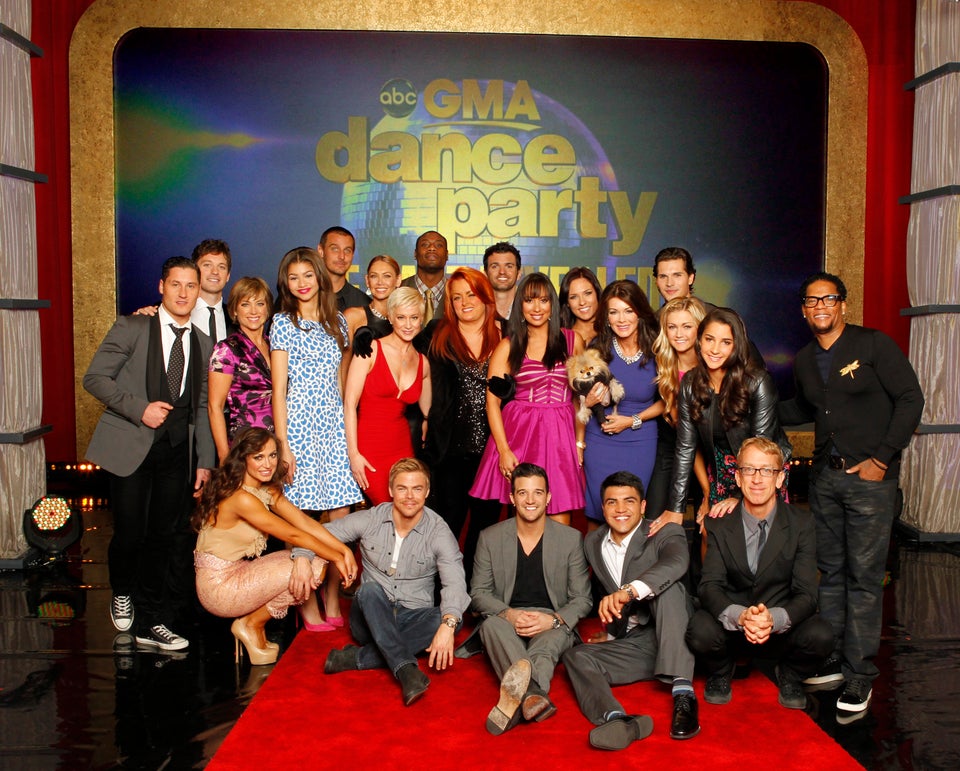 "Dancing With The Stars" Season 16 Cast
Related
Popular in the Community